Dan asked me if my IAXy can be used with WiFi. I said "no." And it can't, really: you need to plug it into a hard-wired Ethernet.
Which got me thinking about a product that would be a small device, not much bigger than a deck of cards, that would have an Ethernet port and enough guts inside to bridge that port to a nearby WiFi network.
It turns out that these things exist: this gizmo from Netgear is an example. It talks to your WiFi access point, and has an Ethernet jack. They pitch it as a device that can "[b]ring it all together — your PC, gaming console, Internet Radio, and wireless network."
It also turns out that a plain old Apple iBook laptop can be used for the same thing using the OS X "Internet Sharing" feature (found under "System Preferences" and "Sharing"). If you select "Share your connection from: Airport" and then click "On Built-in Ethernet," then you can plug other devices into the Ethernet port on the iBook and they'll be "on the network."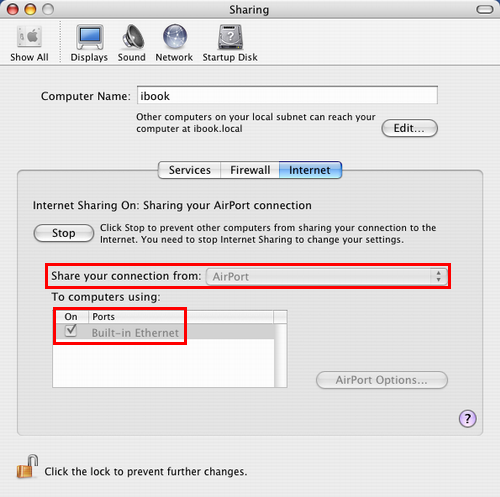 I just tried it — plugged my iMac into the Ethernet on the iBook — and it works. Neato. This means that, in theory, I could bring my iBook, my IAXy and a plain old telephone to the Formosa Tea House and run the entire operation from there. Perhaps I'll try that tomorrow.