Prince Edward Island is holding a Plebiscite on Mixed Member Proportional Representation System on November 28, 2005.
On Plebiscite Day voters can vote at any one of the polling stations in their electoral district. This is different from a Provincial General Election, where each elector falls into a polling division and must vote at a specific poll in their district.
To aid voters in locating the polling stations (along with the advance polls, for those that need to vote early) in their district, we've leveraged Google Maps to create an interactive Polling Station Locations Map.
The map uses various bits of the Google Maps API to show the polling locations for each district when its name is clicked on. Clicking on any polling location shows the address and the hours for voting at that location. All the regular Google Maps functionality — zoom, pan, etc. — is available as well.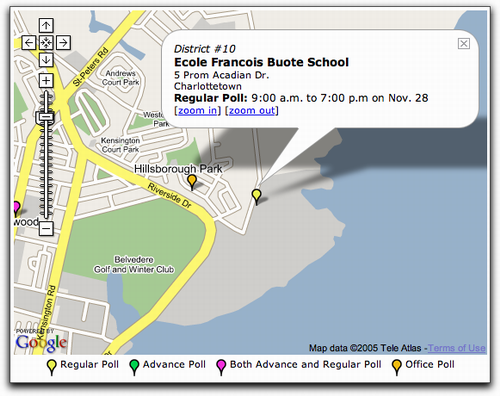 I'm becoming more and more pleasantly surprised by the versatility of the Google Maps API — it's possible, with a little bit of PHP and a little bit of JavaScript to create extremely powerful applications, application that, in an earlier day, would have been impossible to create or taken weeks of custom coding.