As you may know, I've long been an evangelist for Plazes, the "where" web project based in Berlin. I've done radio interviews and art gallery talks about Plazes, developed applications and code for talking to Plazes, and later this week the wraps will come off a series of instructional screencasts I've been working on this fall.
All of this extends from a demo I had of Plazes at reboot in 2005: I was simply so impressed with the imaginative spark that gave birth to Plazes, and the elegance of the idea, that I wanted to advocate for it, support it, and be involved with its evolution.
Plazes is all about nouns. At its core it's about leaving digital bread crumbs in your wake: publishing information about your location, contributing to the richness of data about locations, sharing the locations of others.
At reboot in 2006 I saw a demo of another elegant idea, one that's very complementary to Plazes: Jaiku.
If Plazes is about where I am, then Jaiku is about what I'm doing: it's a system that lets me publish information about my "presence" to my personal Jaiku website, and also to the Jaiku-enhanced contacts application in Series 60 mobile phones.
Here, for example, is a screen shot of my Jaiku presence page:
What you see integrated there, in chronological order, is a combination of manual updates I've made on Jaiku.com — Hacking Drupal, for example — posts from my weblog, my del.icio.us links, and updates I've sent by SMS message to Jaiku — "Stuffed bun and lemon iced tea" — when I've been out of the office.
Taken together this "presence stream" gives you a decent idea of what I've been up to lately, and my "current presence" — the latest entry — gives you some idea of whether it's a good time to invite me out to coffee ("Procrastinating and Lonely") or not ("Working heads down for a deadline").
Interestingly, the killer Jaiku feature for me is its simplest: while you can use the fancy mobile app, and RSS feeds, and SMS messages to set your presence, you can also use a simple web app right on the front page of the Jaiku website. It looks like this: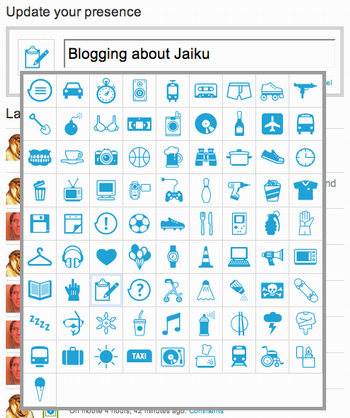 Somehow those pale-blue icons roped me in, and took Jaiku to a whole other level for me. I don't want to oversell this feature, but sometimes it's the small elegances like this that can add an intangible allure to a web application.
Plazes and Jaiku are obviously both "playing in the presence space" and there is some overlap in their utility. But it's also not hard to imagine them working together quite well, and integrating hooks for one into the tools of the other.
Plazes is obviously the more mature of the two right now — several years in and several website revisions later there's a polish and feature-set at Plazes, along with a rich API, a set of code snippets in many languages, and a large user base.
Jaiku is just getting started, and I find myself wishing for more flexibility and utility — an API to grab and publish my presence, for example, and an RSS feed of my presence stream. But the signs are good that there's more to come.
When I emailed my Dad a link to an early draft of the Plazes screencast, he emailed me back "I can't for the life of me though understand why it's important to have the information that Plazes gives you."
Truth be told, although I've probably put Plazes to as much practical use as anyone — and it is a useful tool by times — I think we're all in the process of figuring out exactly what the "practical" use of location and presence tools is. I enjoy mucking about inside Plazes, and now Jaiku because, if nothing else, it's interesting experimenting on myself to see what the answer to Dad's question might be.
Or, as my friend Cynthia just messaged me:
Oh my frigging god…it's not bad enough we know where each other is, now we will know what each other is doing, if we choose.
You can follow Cynthia's verbs and Cynthia's nouns to truly understand.