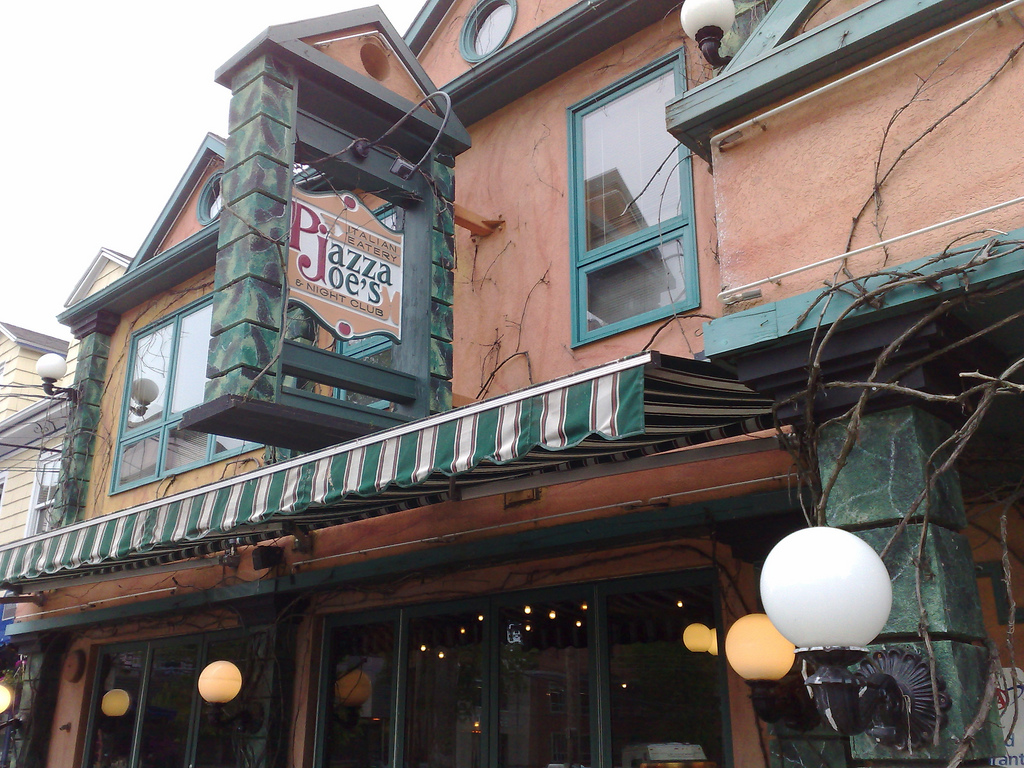 We had plans to go out to the Thai place on Kent Street for a Father's Day dinner last night but, frustratingly, they were closed for a private function. So we ended up across the street at Piazza Joe's.
It's hard to believe, but Piazza Joe's took over the old Tradewinds in 1996, twelve years ago. I still think of it as "that new Italian place on Kent Street" but it's not been that for a while. And we hadn't been there for a long, long time.
In the beginning, Piazza Joe's had aspirations: read the article from The Guardian that they have mounted in the downstairs men's washroom and you learn that the plan was that the Kent Street location would be the first of many spreading out across the country. That was in the days before East Side Marios, Boston Pizza et al, and I suspect that the world domination plans were long-ago set aside.
Although Oliver and I walk by the front door every morning on our way to school, I hadn't eaten there, well, at least since Oliver was born. Probably in a decade. Something about the "bread bar" and the plastic bricks and the faux Italian dioramas put me off. Their recent drive to take over at night where Myron's left off as the happening dance place for the kids didn't help. And I never really like their take on Italian food.
So, in other words, there wasn't exactly a "oh wow, Piazza Joe's!" smile on my face when I walked in the door.
But they surprised me.
You can't walk into Piazza Joe's hoping for anything remotely resembling actual Italian food. The chicken comes from a bag. The ice cream comes from 5 gallon tubs. The "Expresso" sign having in front of the bar belies the lack of an actual espresso machine. In short, Piazza Joe's fills the same culinary niche for Italy as having a plate of sweet and sour chicken balls at the Canton Café fills for China.
But once you set aside your Euro pretensions, they do pretty well on everything else.
Our server was friendly, witty, and capable, indeed all the staff were really nice, and pleasantly free of the amped up "maximum service, always" attitude that infects most chainy places these days.
The food itself — Chicken Tetrazzini for Catherine, "Kickin' Chicken" for me, and kid-sized lasagna for Oliver — was surprisingly tasty (there actually was a kick to the chicken, which is rare in an city where the "Super-Spicy Baconator Killer Burger" comes with mild barbeque sauce).
Even the bread bar — you take a slice of bread, slather it with "spreads" of various types and put it on a open grill — was a welcome respite from severe hunger, and a Fun Activity for Oliver. They had 6-grain bread, which was nice.
I love places that offer an expensive tiny dessert option, and their tiny brownie sundae fit the bill perfectly: $2.99 for a tiny brownie, a tiny scoop of ice cream, a tiny bit of whipped cream and a tiny dolop of chocolate sauce.
All in all, a not-unpleasant night out. Not remotely like "going out to eat in Milan," but a lot better than I expected 2 blocks from our house, and executed, for what it is, very, very well.