Three weeks ago I received an intriguing proposal from my friend Kevin Lewis. Kevin was helping to organize an event at Government House to commemorate the 90th birthday of Her Majesty Queen Elizabeth II to which all Prince Edward Islanders turning 90 years old themselves this year would be invited. The Lieutenant Governor wanted to present something to each attendee to mark the day, and Kevin wondered whether this might be something I could set and print. It's not every day that such an opportunity comes along, and so I readily agreed to become, for a moment, a de facto Queen's Printer.
Kevin sent me the text that needed to be set on April 29 in a Word document; it looked like this: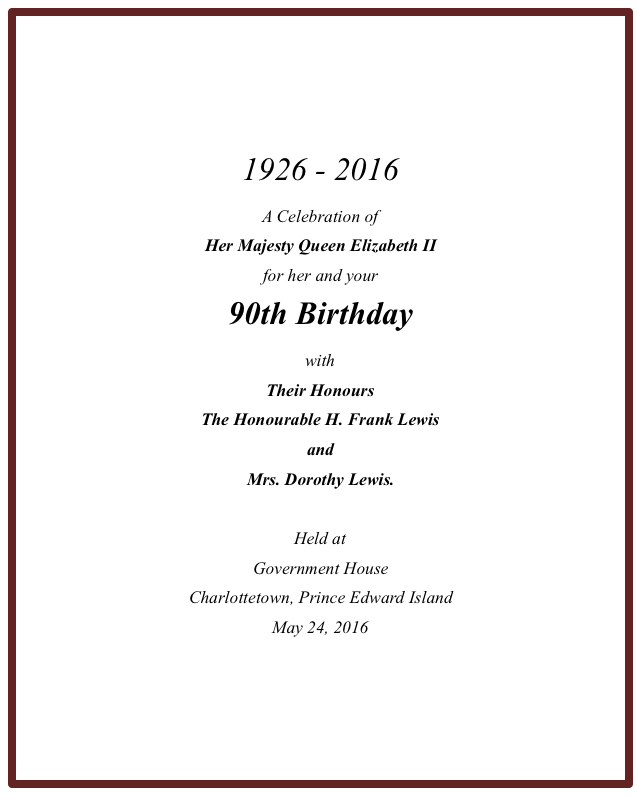 For the primary typeface, I selected a font of Bodini 24 point bold that I acquired four years ago from a printer in Montreal. It was the right type size, and it's in fine condition, in part because it's foundry type.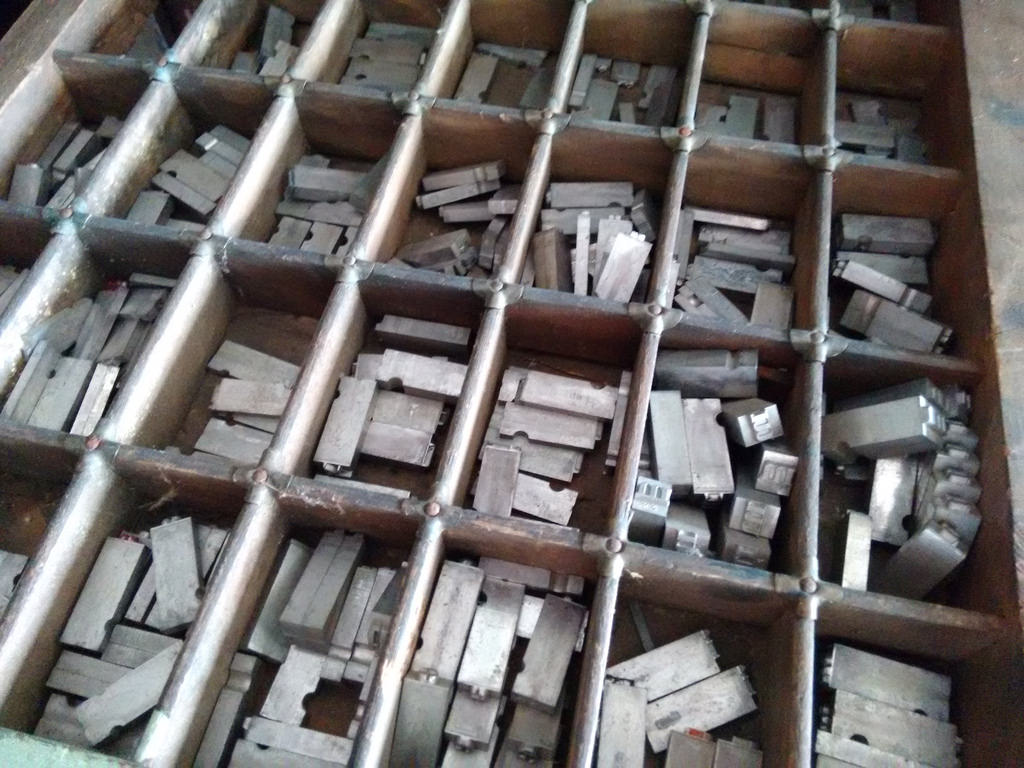 For the "1926-2016" and "90th Birthday", which needed to be called out, I set on 30 point Futura Bold, acquired last summer on a trip to New England from Letterpress Things in Massachusetts: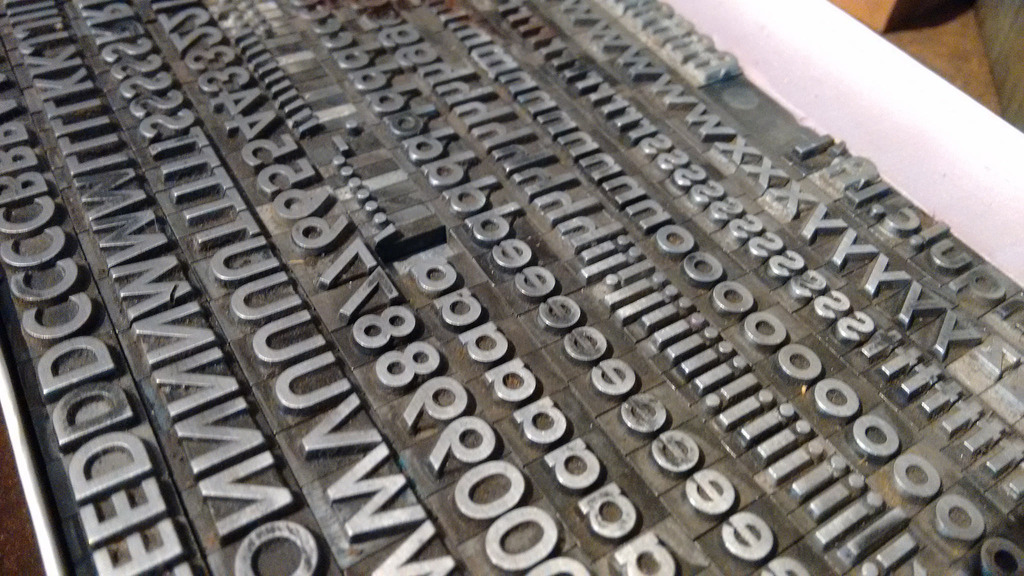 It was at about this time, before any type was set or cards printed, that I decided to take an impromptu trip to Europe for 10 days. I alerted Kevin that this would mean cutting setting and printing time close, and I offered to bow out, but he bravely asked me to soldier on, so I did, returning to the print shop last week upon my return.
I experimented with several layouts. My first proofs had the bottom two lines set in 14 point Bodini, but I didn't like that, so I reverted to using the same 24 point as for the rest of the piece. I tried various klischees out for the separator between the body and the bottom two lines, eventually settling on a small one of a flower. And I learned that I'd be able to print on card stock already pre-printed with the vice-regal emblem in gold, so I mocked that into the final proof.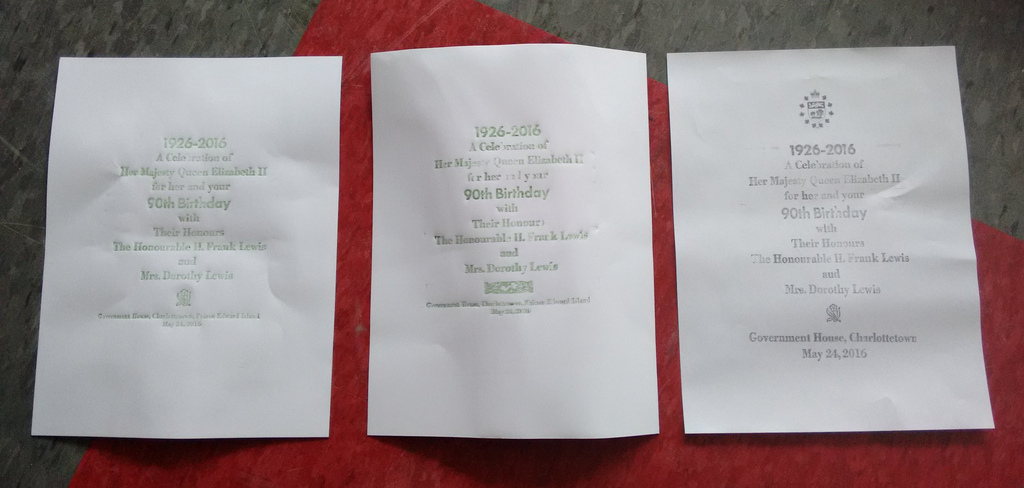 With the final design completed, and the copy approved by Government House, I went into the print shop on Sunday afternoon for the printing. This is what the final type, all locked up in the chase and ready for printing, looked like: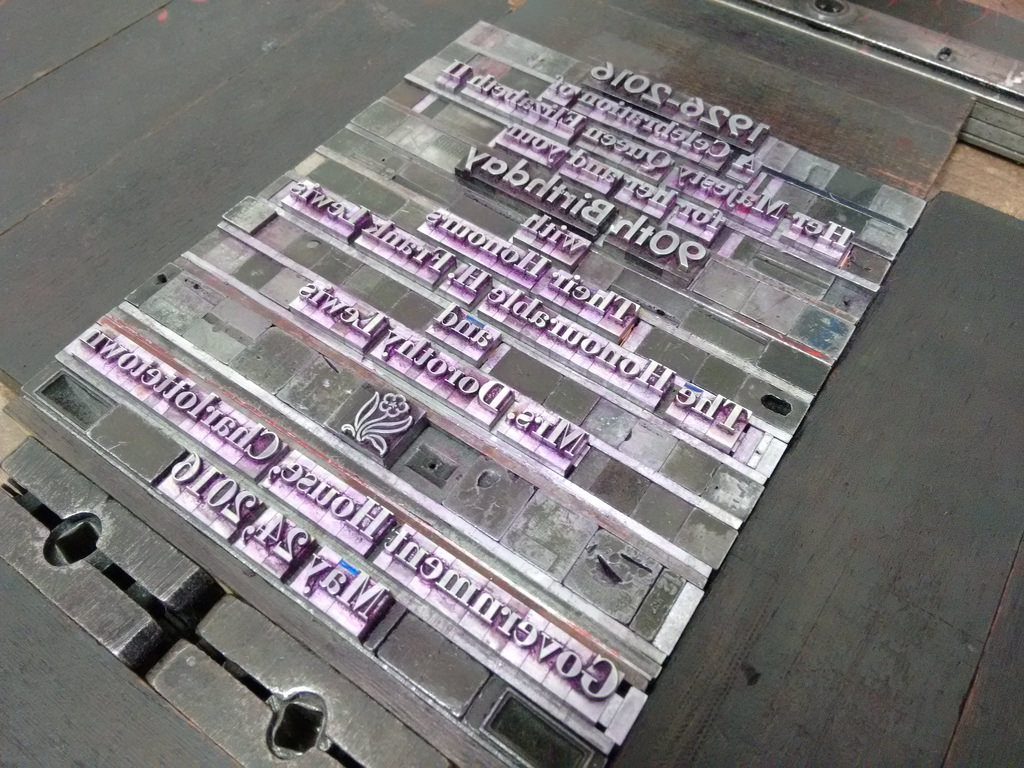 Here's the type locked into the press, with the ink disc ready with purple ink (a donation from KKP here in Charlottetown several years ago that I kept around just for this very moment):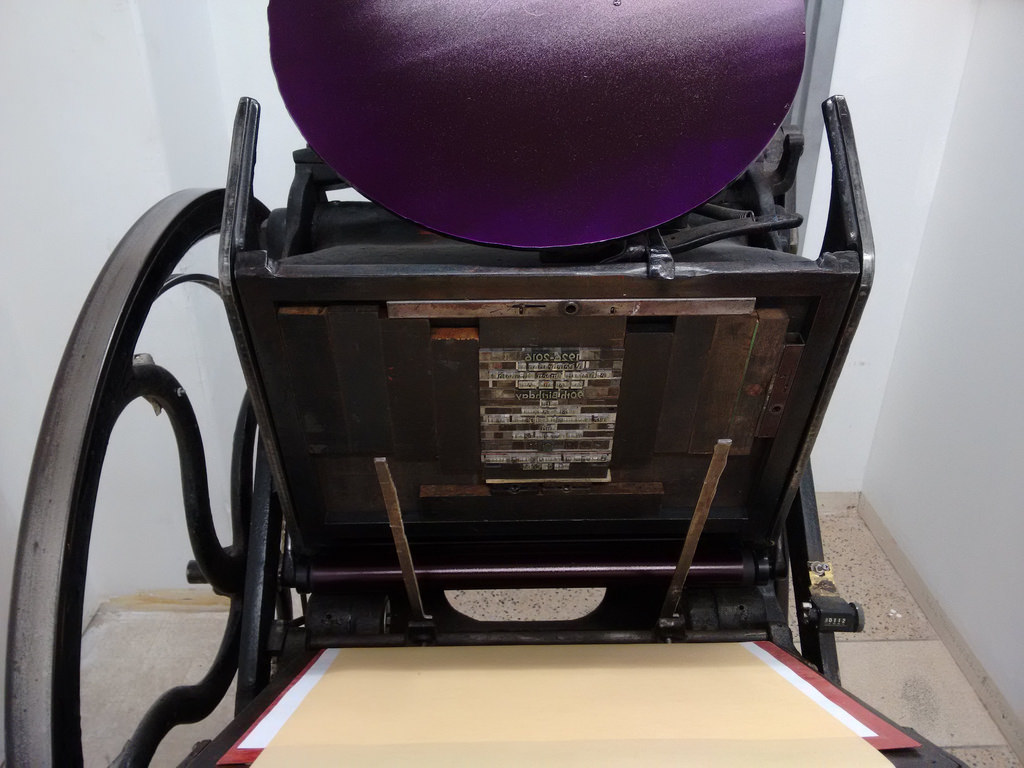 Here's the first test print, marked up with guides so that I could properly position the gauge pins: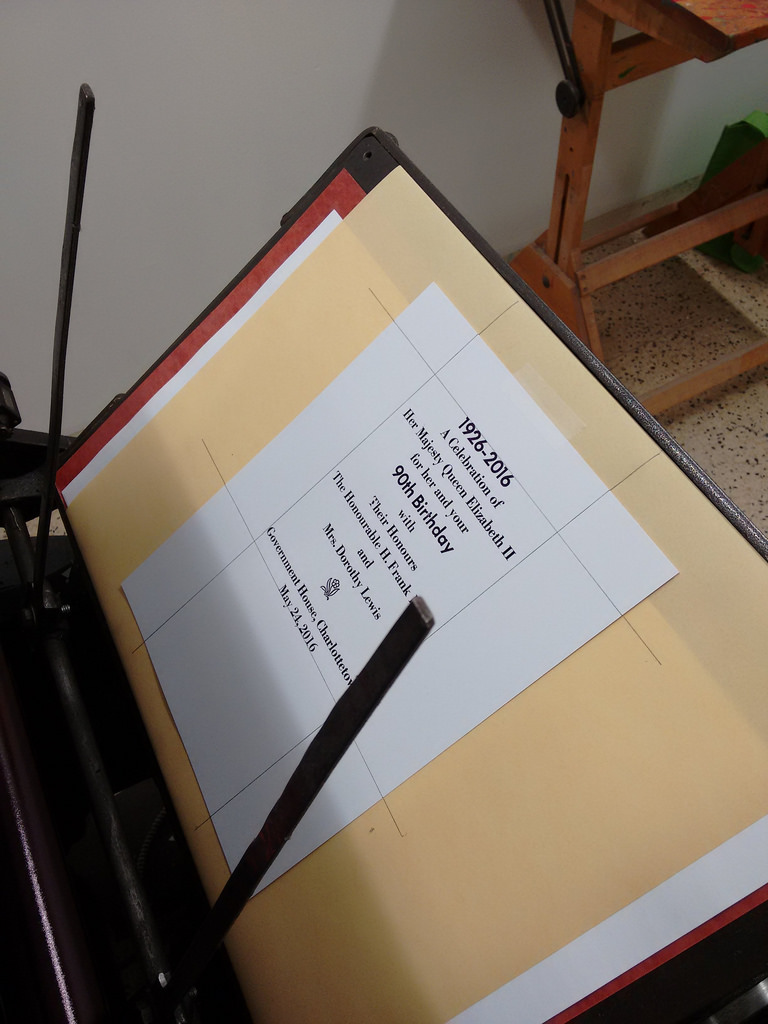 And here's the final version of the card. Truth be told, it's the just-previous-to-final version, as you'll note that on the second line, the second letter "e" in "Celebration" isn't printed completely; it turned out there was a nick in the letter, solved by replacing it: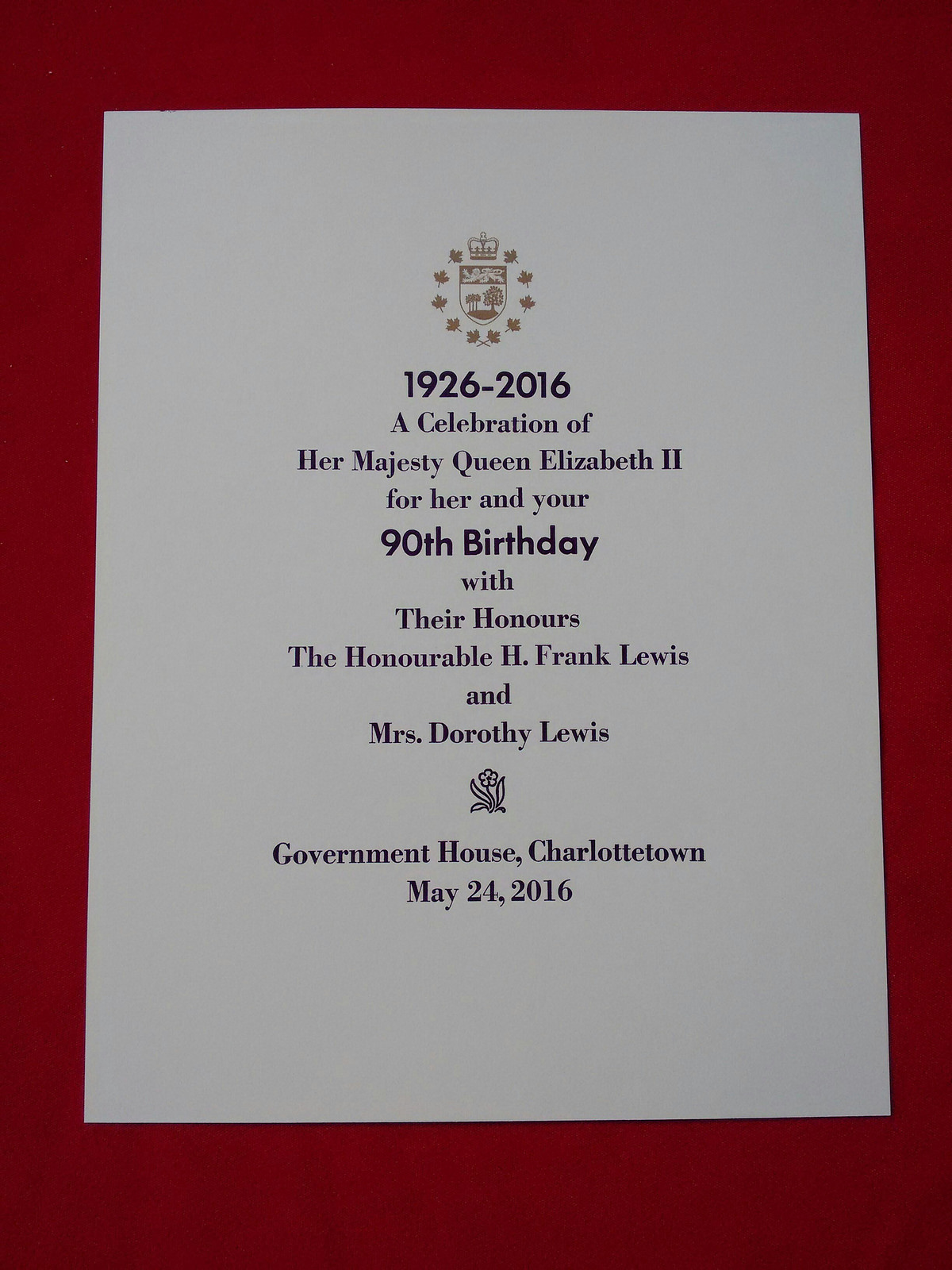 I printed 115 copies – there were 71 people signed up for the tea party, and it never hurts to have extras. I set the cards out to dry overnight in the gallery downstairs at The Guild – luckily empty for the Victoria Day holiday – and packaged them up and delivered them to Kevin yesterday afternoon (still, as it turned out, a little tacky to the touch, necessitating they be spread out all over Kevin's house).
Government House generously extended an invitation for Catherine and I to attend the first of two tea settings this morning (there turned out to be so many 90 year olds on PEI that they needed to split the group into two!) and so at 11:00 a.m. this morning we set off in our Sunday best, a little timid at our somewhat-younger-than-90-year-old-ness.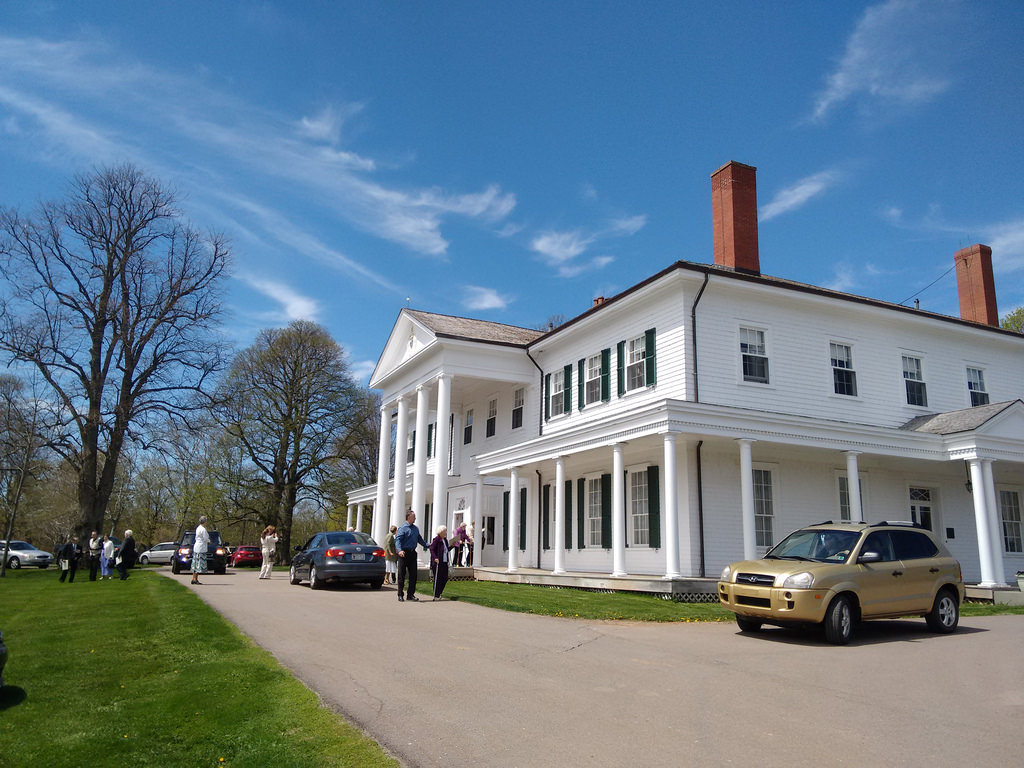 We need not have worried: it was a delightful event. We had the pleasure of being seated across from Mary Hooper and her son (Mary, this being Prince Edward Island, is the grandmother of my Guild office-mate Michelle Hooper – and the brother of the late Milton Acorn to boot). There were sandwiches with the crusts cut off. Tiny cupcakes. Shortbread cookies. And birthday cake.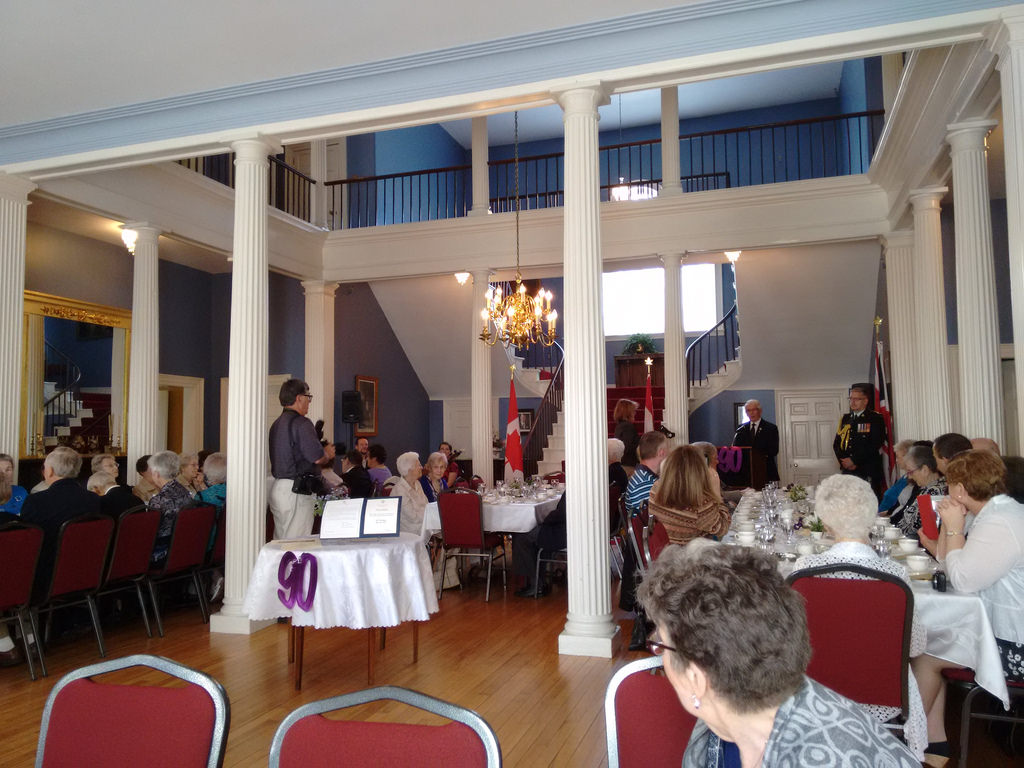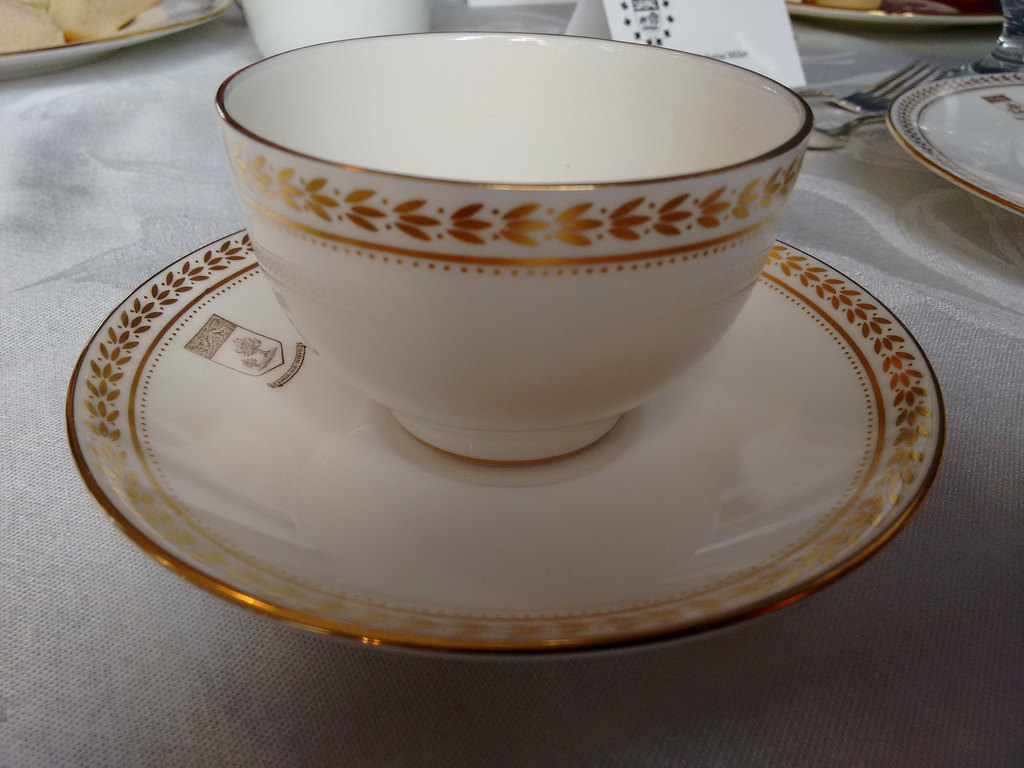 As letterpress commissions go, it doesn't get much better than this; thanks to Kevin for entrusting me with the work.