Back last year, when my friends Luisa and Olle put their Malmö apartment up for sale, they had some lovely photos taken by their real estate agent, including this one of the wall in their living room, a photo that, as it happened, featured a number of the pieces of printing I'd sent them over the years:
I closely associate such a wall-of-ephemera with Olle and Luisa, and I've always been jealous of their sophisticated Scandanavian hanging system that makes it possible.
I tried my hand at something similar in the old Reinvented HQ on Fitzroy Street using 3M damage free hooks and a roll of twine, but I was never satisified, neither with the tautness nor with the fact that it eventually all came tumbling down.
This summer, with a collection of my own printed ephemera growing by the month, I resolved to find a solution and, after banging away in Google with search phrases like "wire rope hanging system," I found my way to Ikea's Digniet curtain wire, which seemed like exactly the Scandanavian hanging system I was looking for. I ordered three sets – if I was going to solve this problem, I was going to solve it everywhere – and they arrived a few weeks ago.
Tonight I finally managed to assemble the screws and anchors (not included by Ikea), electric drill and level, and, along with a handy installation guide from a woman in California and I set to work. Thirty minutes later, this is where I've ended up: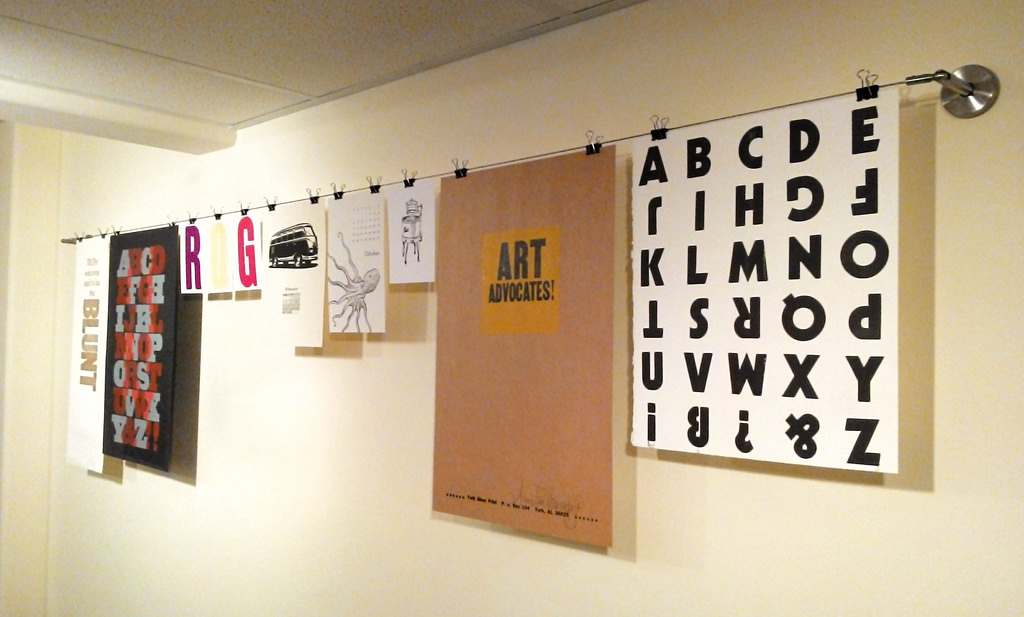 The work is mostly by others, the exception being the alphabet book on the far-right, which is perhaps my favourite of all the things I've printed, and the Thor washing machine two spots to the left (from a letterpress engraving loaned to me by Ian Scott), which I've always liked. Otherwise there are a few pieces from the Gaspereau Wayzgoose, some colourful letters from Drukkerijmuseum Meppel and a few of my favourite calendar pages from the letterpress calendars I've collected over the years.
The Digniet curtain wire system's instructions are a little complicated to parse, being delivered in traditional "why use words when complex illustrations will do?" Ikea fashion:

The news about the screws and anchors not being included is the only information delivered with words – in 29 languages, no less! The customer is advised "for advice on suitable screw-systems, contact your local specialised dealer," wording that makes me perhaps thankful that they opted for the illustrations rather than the words for the rest of the story.
Once I parsed the instructions – something aided greatly by the advice from California – it all turned out to be rather ingenious and very satisfyingly taut when tightened. I'm very happy with the result.
Now, to find a place for the other two…