On the list of things that can happen to someone like me, coming across an unexpected cache of paper maps – beautiful, richly colourful, paper maps on subjects ranging from the Northwest Passage to Polish geology to Ugandan agriculture – is right up there on the list of "greatest things ever."
And that's exactly what happened today: walking the halls of the fourth floor of the Taylor Family Digital Library here at the University of Calgary I spotted a door marked Spatial and Numeric Data Services.
How could you not walk through a door with such an intriguing title? It was like coming upon the Department of Dark Arts and Magical Incantations.
So in the door I did walk. Where I was warmly greeted by a friendly map librarian, who told me all about the services, spatial and numeric, that her section offers. I told her about maps at the University of PEI, and about Island Imagined. She told me about their aerial photographs collection and their GIS services.
And then I spotted a table in the middle of the room marked FREE MAPS.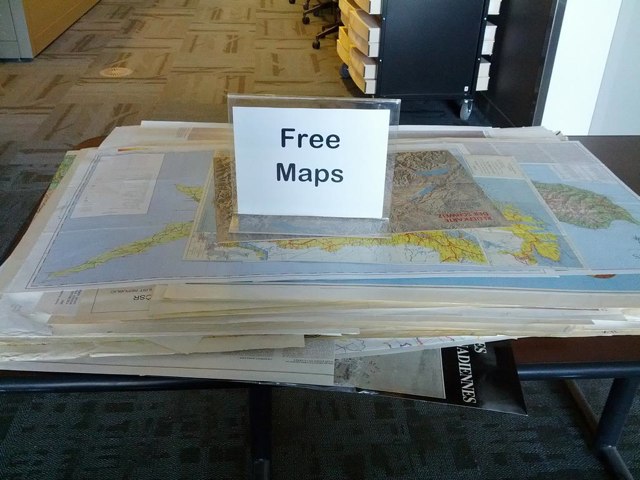 Were they really free maps?, I asked. Yes.
And so I spent an ecstatic 20 minutes browsing through maps of north and south and east and west. Satellite maps. Topographic maps. Index maps. Maps of Africa (a lot of maps of Africa). Maps of northern Canada. Maps of Iberia.
I couldn't take them all, but I also couldn't pass up the opportunity to take some of them with me, even if it did mean carrying around a cumbersome roll of Polskie mapy geologiczne for the rest of the week.
I curated a nice little selection, rolled them up, and asked the friendly librarian where I might purchase a tube to carry them home in. She generously pulled an old one out of their collection – don't tell anyone I told you this, as no ill should befall her for this kindness – and I was on my way.
With the cumbersomeness of the tube quickly becoming apparent as I walked around the library for the rest of the afternoon, at the end of the day I made my way to the local Shoppers Drug Mart Canada Post Outlet and invested $15 in postage to mail the tube home.
Be thus warned: I will likely be prone to holding forth on the geography of the maize growing areas of greater Kampala in the weeks and months to come.