Our great benefactors – indeed, the great benefactors of the entire dog guide community – the Lions Clubs across Canada each year organize local Purina Walk for Dog Guides events in their local communities on this weekend in May. There are a lot of Lions Clubs in PEI – 22 in total – and a number of those are in the Charlottetown area. We knew we wanted to participate in a walk – but with which club?
Fortunately Easter interceded and answered the question for us: Catherine and Oliver were out at the Charlottetown Mall the weekend before Easter and were flagged down by a couple from the Winsloe Lions Club who saw Ethan. They were operating a "have your picture taken with the Easter Bunny" booth in the mall, fundraising for Dog Guides, and offered to take Oliver and Ethan's picture. Catherine struck up a conversation with them, and they invited us to walk in the Winsloe walk.
Which is how the Ethan's eye view this afternoon looked something like this: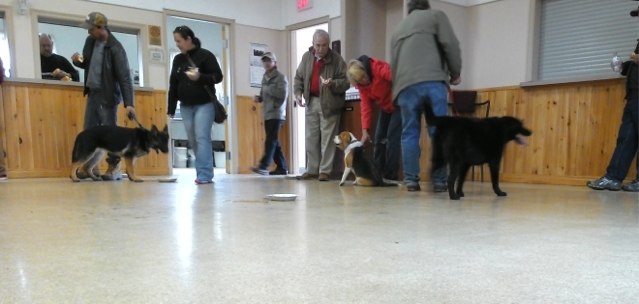 There were 9 dogs in total who turned out. Ethan was the only service dog in the bunch: the rest were just regular everyday dogs doing their part to raise money for Dog Guides Canada.
For Ethan it was a little bit more than a challenge to be in the midst of a bunch of interesting-smelling dogs while "on the clock" for Oliver, and therefore unable to dive in for some dog-on-dog smelling action (we did give him a little break halfway through to make the acquaintance of his fellow dogs).
We all walked out of the Winsloe Lions Club building (just of Rte. #2 in the heart of Winsloe) and up the handy-by Confederation Trail toward Royalty Junction; halfway out we stopped for a rest (and the aforementioned smelling), and then headed back for a hot dog BBQ.
Ethan got a chance to meet some other dogs; we got a chance to meet some other people, and to talk about Ethan and Oliver and Dog Guides Canada. It was a good way to spend the afternoon, and we came away with an even warmer feeling about the Lions' involvement in the dog guides program. The club raised over $2000 for Dog Guides Canada through this event.
We're back out to Winsloe on June 7th to take the club up on its kind invitation to their "Charter Dinner" where we'll get another chance to talk about Ethan, this time to the whole club.