Oliver and I happened to be walking by the ticket booth for the Peake's Wharf Boat Tours last night last as the 8:00 p.m. sunset cruise was set to depart. And so what started off as our regular after-supper walk along the waterfront turned suddenly into a spontaneous after-supper harbour cruise.
It can never hurt to see the place you live from a new perspective, and certainly Charlottetown-from-the-water is a different way of looking at the city: you see how everything fits (or doesn't fit) together in a whole new way. And see things, like this retired oil tanker pylon, you never knew about before: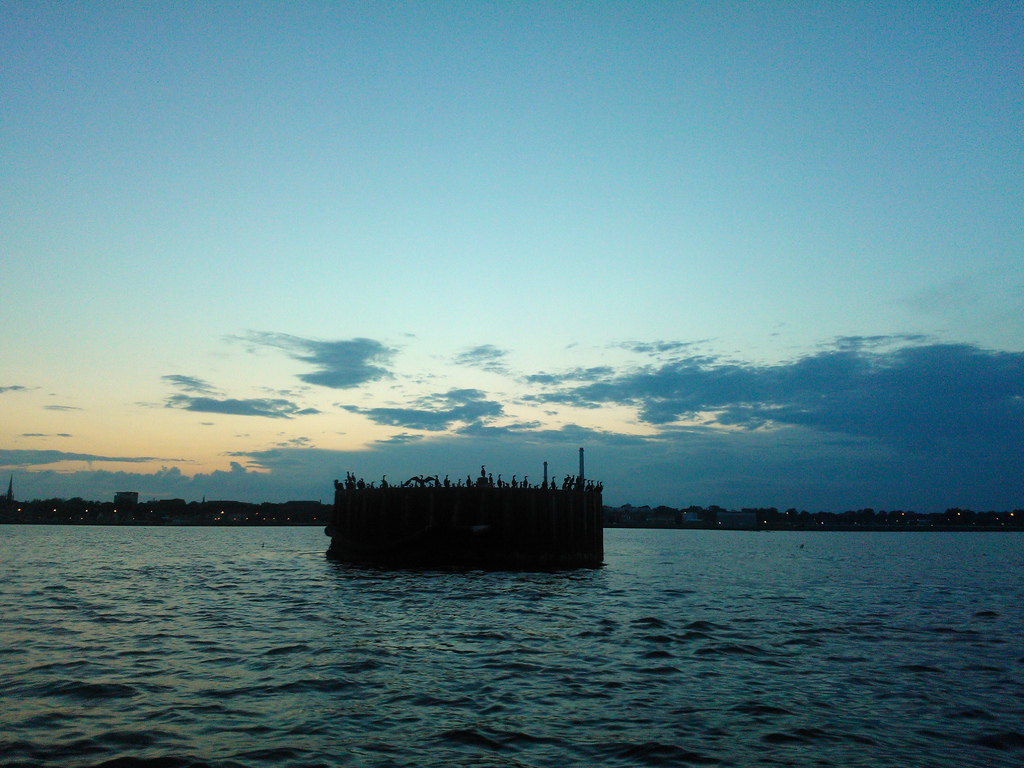 The night was balmy, the sea was calm, and, even though the "sunset" was mostly obscured by the clouds, the 70 minute cruise was an enjoyable way to spend the evening. We sailed up toward the Hillsborough Bridge, then circled back along the waterfront by the Charlottetown Yacht Club and Victoria Park and then out the mouth of Charlottetown Harbour until we were just opposite the Warren Cove lights. Then, under cover of darkness, we headed back to port.
There were only 6 others on the cruise with us, so we had lots of opportunity to move about the boat (they've got a full licensed bar and sell snacks too; we were the only ones who took advantage of this, buying a bag of chips for the sail toward home).
The cruise isn't cheap — $25 for me and $12.50 for Oliver — but it's a lot cheaper than buying a boat, and certainly the cheapest way of going overseas from home if you happen to live up the hill on Prince Street.
("One if by land and two if by sea" is a line from Paul Revere's Ride by Henry Wadsworth Longfellow).