Here's how you get to Omotesando Koffee in Tokyo: take the Chiyoda (C) metro line to the Omotesando station. Once you arrive at the station, walk to exit A2 (there are a lot of exits in this station, and if you take the wrong one you could be wandering around for hours). Walk out the exit up the stairs (taking care to note the "up" and "down" arrows on the stairs so you know what side to walk on).
At the top of the stairs walk out and then take the first street on the right, a tiny alley-size street. Watch out for cars and trucks and bicyles, all competing for space. Walk up this street, past the Lawson's and the HMV on the right, past the Starbucks on the left, until you come to a T-junction wih a chopsticks shop on the right and a Royal Host restaurant on the left. Turn left.
Walk past the See's Candies on the right and then, the next block, past the parking lot on the right, and then take the next street right, along an even-smaller residential street. Just after you cross the next street, look for Omotesando Koffee on your left; watch out for the square metal sign near the opening to a small courtyard. It looks like this: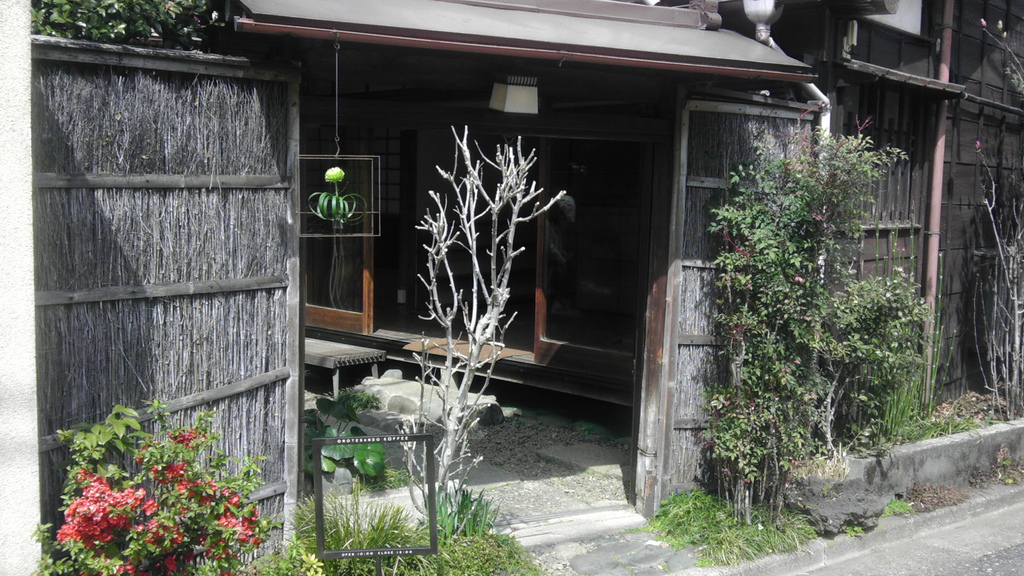 If I had to pick one transcendent destination on our trip to Japan last month, it would be Omotesando Koffee, this tiny perfect coffee shop in a quiet residential neighbourhood. We visited half a dozen times over two weeks. I loved the coffee; Oliver loved the cubes of baked custard; we both liked enjoying the March sunshine sitting on a bench in the small garden.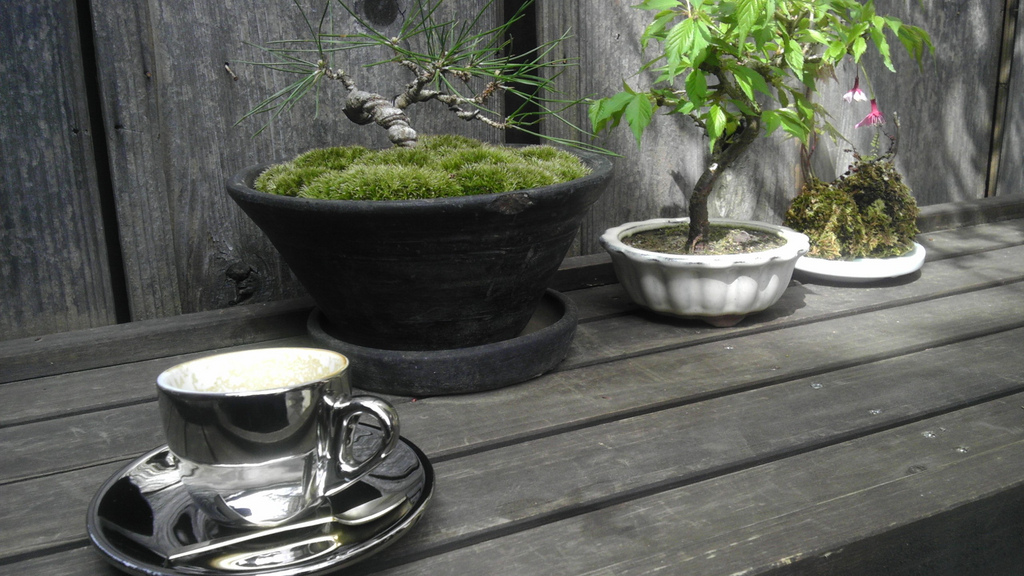 You walk into Omotesando Koffee through this garden, and then up a step into the main room of an old, simple house (be sure to watch your head on the way in; you'll bang it if you're anything like me). Inside there is a steel frame cube containing a counter, a coffee machine, and a single person, a friendly man who will take your order and make your coffee.
The coffee is really, really good. The "kashi" – Oliver describes it as sort of like crispy crème brûlée – was Oliver's favourite morning food in Japan. There's jazz on the stereo inside which drifts out into the garden, where there are a couple of benches to sit on, one of which you can – almost – keep dry on if it's raining. It's amazing that it's such a quiet, calm and peaceful place given the crazy busy intersection that's only 5 minutes walk away. Here's what our coffee sounded like one morning:
I found Omotesando by way of Peter Bihr, who has now steered me right on two continents. If you're a lover of coffee and design and calm, I highly recommend a visit next time you're in Tokyo.