I'm fairly certain that I went to my high school graduation, but I'm sure.
I had a complex end to high school: although I spent the first four years of the (then-five-year, including grade 13) experience at Waterdown District High School, doing my final year at the Ontario Science Centre Science School meant that I technically graduated from the nearby Don Mills Collegiate Institute in Toronto. That said, I have a memory of being allowed to join my peers at WDHS for the final graduation (as well as a memory that my brother Mike and I, independently, each opted out of wearing a gown to do so). But those memories are vague, and I may have made the whole thing up.
Oliver, however, did graduate from high school this week: I know this both because I was there, and because scenario-planning for the various and sundry ways that the perfect storm of crowded anxiety-ridden events could go sideways has consumed my spare thoughts for most of the last couple of months.
But it didn't go sideways: thanks to a combination of a formidable effort by Oliver to keep calm, a lot of advance planning and practice, and a well-executed event, it all went off without a hitch.
Derrick Comes to Town
One of the best things that ever happened to Oliver is that, as he entered grade 9, Derrick Biso came into his life as an after-school and summertime support worker. Over three years Derrick and Oliver developed a strong bond, and there are few people in the world Oliver trusts more.
Unbeknownst to us, Oliver had invited Derrick to come back to the Island for the graduation and Derrick blessedly agreed. And so Derrick has been here all week: they went to prom together on Tuesday, Derrick sat beside Oliver at graduation, and they went to the "safe grad" activities afterwards. Everyone should be so lucky as to have someone like Derrick in their lives, and that Oliver's week went as well as it did is due in part to Derrick's presence.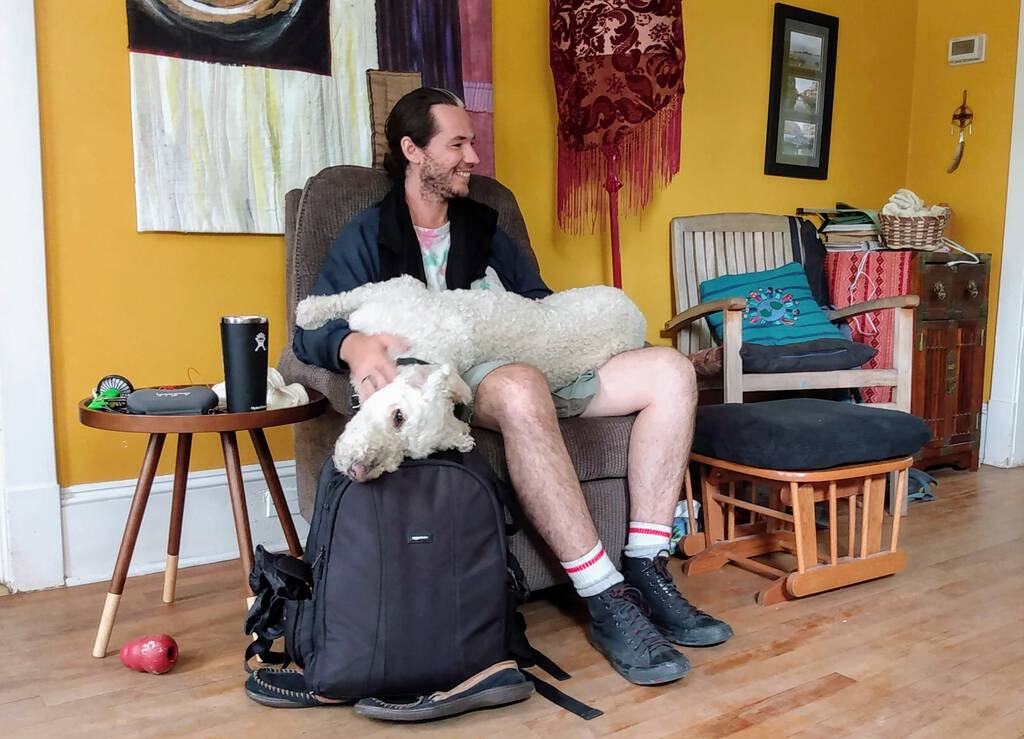 The Morning Run-Thru
We started the day at the Chi-Wan Young Sports Centre at the University of PEI (where all the Charlottetown-area high schools hold their ceremonies, so as to accommodate all of the students, teachers, staff, families and guests at the same time). We met Shelly Mann (the Inclusive Education Coordinator at Colonel Gray and Oliver's educational spirit guide), Dave Morrow and Maritza Vessey (Oliver's morning and afternoon educational assistants, respectively, for the last three years) in the gym so that Oliver could get the lay of the land, and do a practice walk across the stage.
It was a great idea to do that, as it meant that when he went to do the real thing, later in the afternoon, it was old hat.
With the run-through out of the way, we went home for a few hours of rest, some lunch, and to get dressed for the ceremony proper.
To the Ceremony in the Rain
As the day progressed the projected rain materialized. And the rain got heavier and heavier. Oliver and I left the house just before 1:00 p.m. to go to Colonel Gray to pick up his gown, and then back to UPEI for 1:30 p.m. Although we were relatively early, the parking lot was already full enough that we had to park in the back-back and wade through a torrent of water to get inside (it was during this walk that I reconfirmed that my shoes had holes in them).
Walking into the gym we were greeted by Enes Alisic, who'd taught Oliver's political science class last semester (and who proved to be a kind and estimable educator who developed a strong connection with Oliver).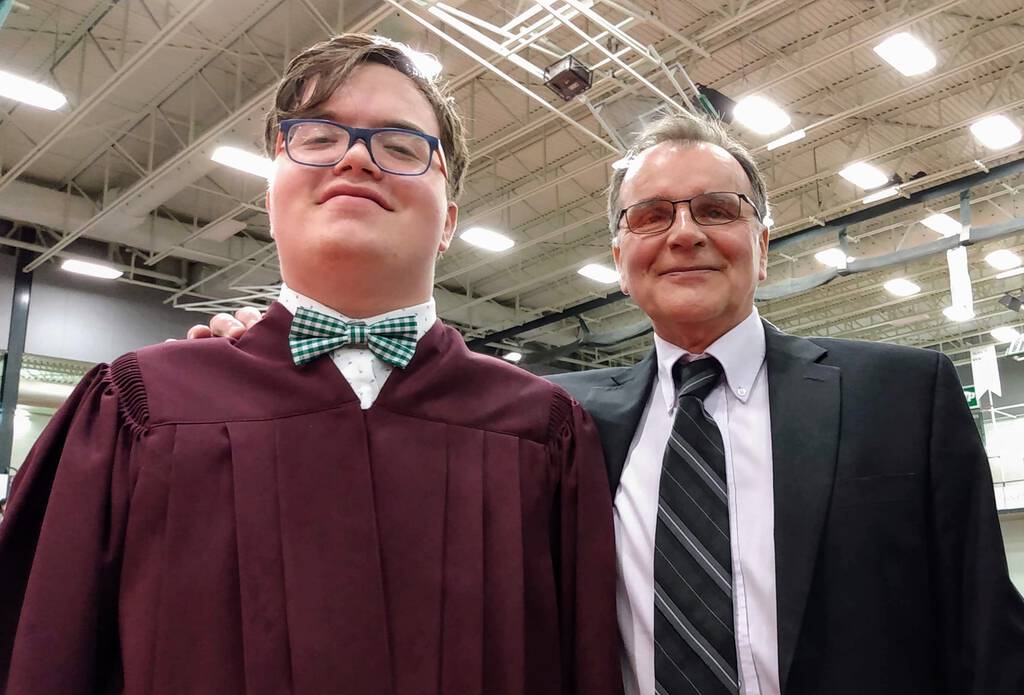 Oliver chose to wear a variation of his prom outfit from earlier in the week: blue-checked shirt and green bow tie, both from Winners (really the only store in Charlottetown to shop at if your son tells you that he needs to dress like it's 1929).
Close to 2:00 p.m. we took our seats, helpfully located in close proximity to the stage: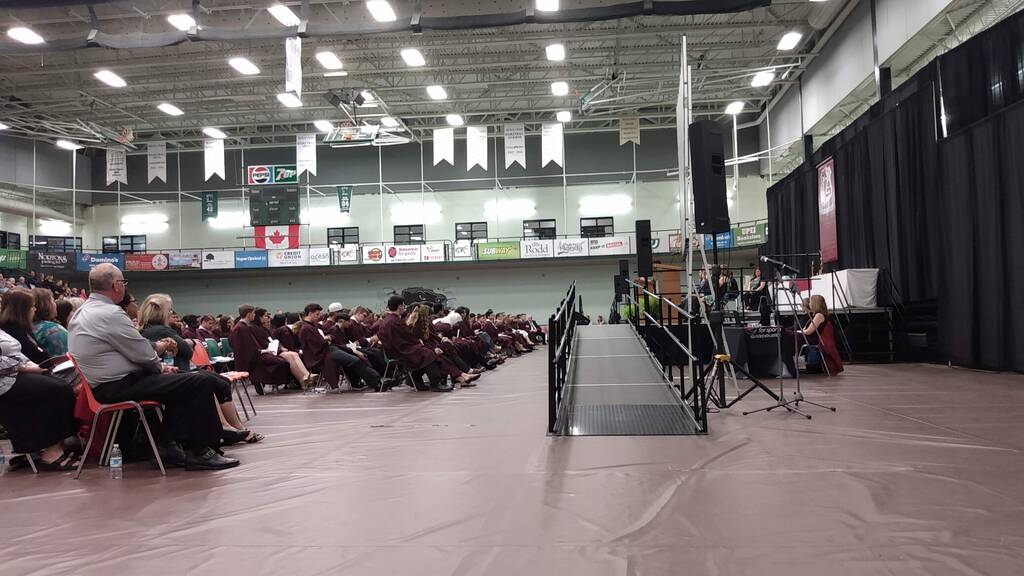 Blah Blah Blah
Oliver and I, the day before, had worked out a play-by-play schedule for the day so that he could know what to anticipate; because we didn't have the exact schedule in-hand, there are a couple of lines in this schedule like:
Oliver returns to seat.  Blah. Blah. Blah.
The graduation ceremony started with a lot of blah blah blah: graduates walk in en masse, O Canada, greetings from Public Schools Branch, greetings from the Government, Principal's address. It then segued into the presentation of "major awards" – scholarships and prizes from universities and colleges. The organizers deserve credit for breezing through this quickly, and ensuring that if one student received multiple awards, they only ascended the stage once.
The blah blah blah finished with a rendition of Stand By Me by a talented group of students.
Presentation of Diplomas (and Catherine Arrives)
The first hill to climb for Oliver was to received his diploma: this was done in alphabetical order, and, as anyone with a later-alphabet name can attest, this meant a lot of waiting.
Because we knew that sitting on hard plastic chairs would wreak havoc on Catherine's back, we'd arranged with our friend BJ to whisk her up to campus as soon as the alphabet started, safe in the knowledge that, with 265 graduates to get through, she'd have enough time to get there and take her seat. This worked like a charm, and by the time she was ready and seated they were still working through the Gs.
Oliver Takes the Stage
Here's how the schedule described what came next:
At Oliver's alphabetical time, Oliver and Dave walk from seats to stage. Ethan and Derrick and Peter and Catherine stay seated.

Oliver walks across stage, gets paperwork, shakes hands, photo taken, etc.

Oliver leaves stage to Shelly and Maritza on the other side, and returns to seat.
And that's exactly what happened. The marshall-of-the-line helpfully opened up a spot for Oliver, pressing "pause" on the rest of the line, so that he didn't have to wait an anxious eternity on the ramp up. Dave led him up to the stage, and he waited there for Julia Monique Robichaud (his alphabetical-predecessor), to receive her diploma: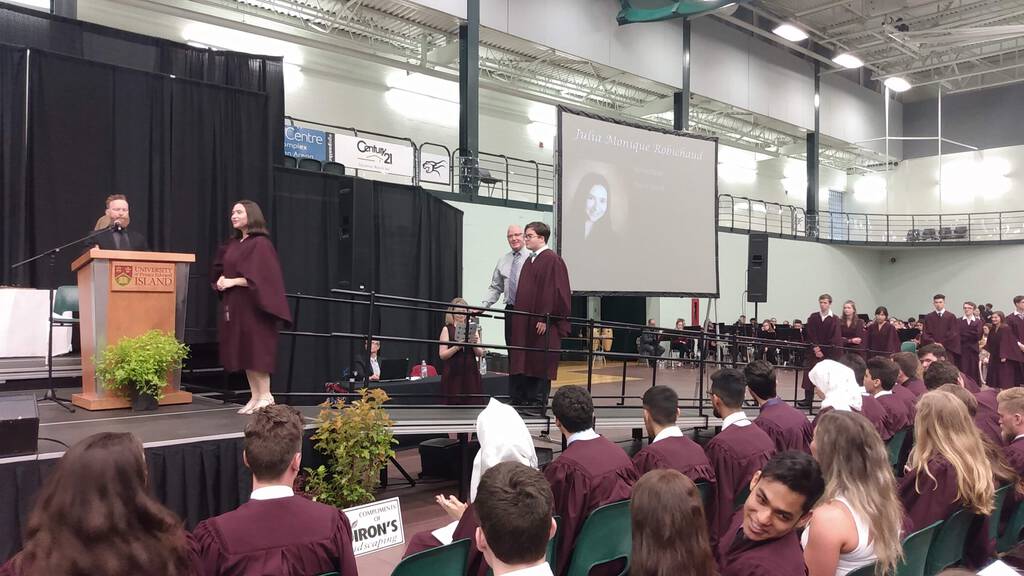 Then his name was called–Oliver Duncan Lowell Rukavina–and he simply aced the moves that came next: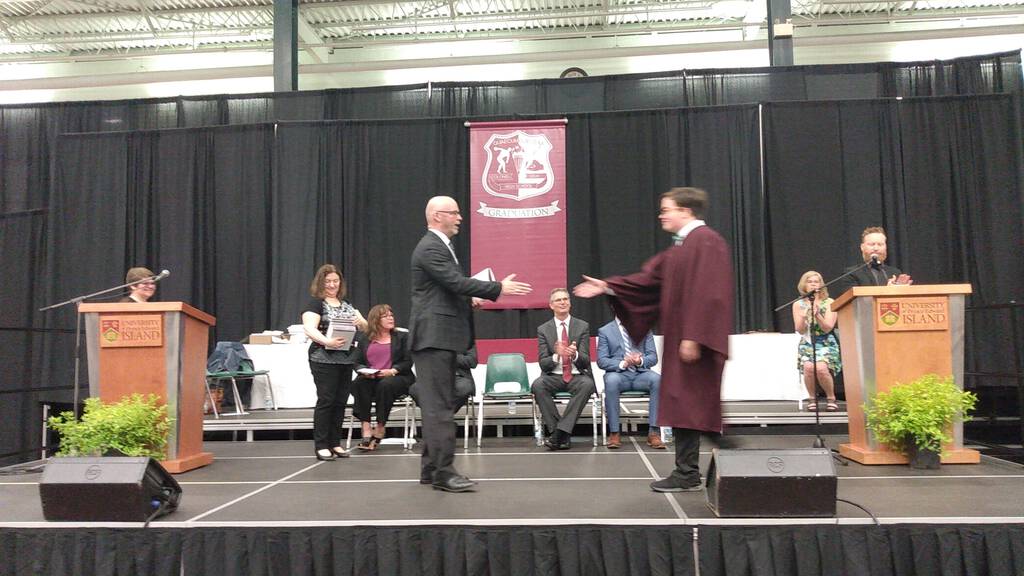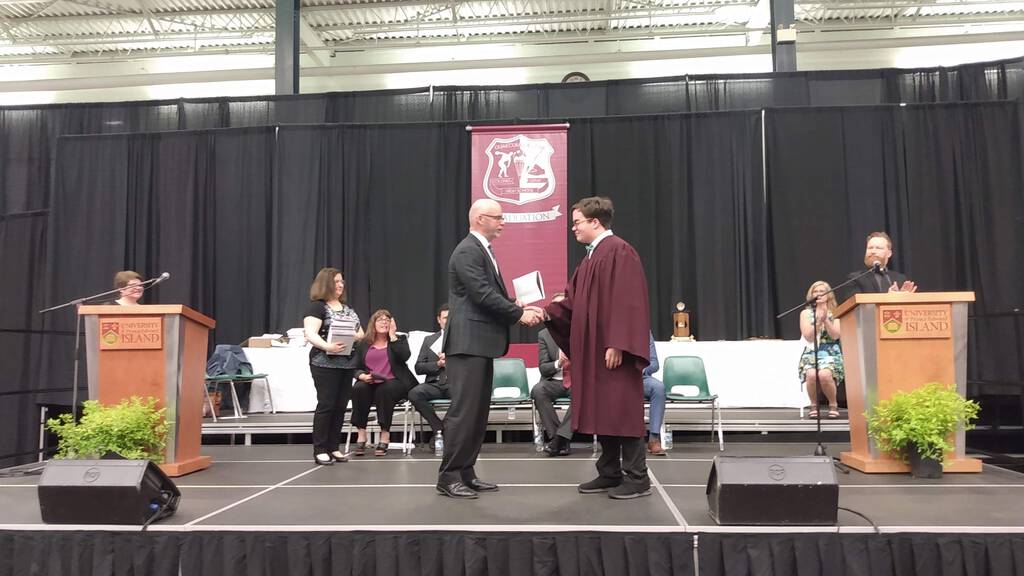 He looked around for me to take his photo: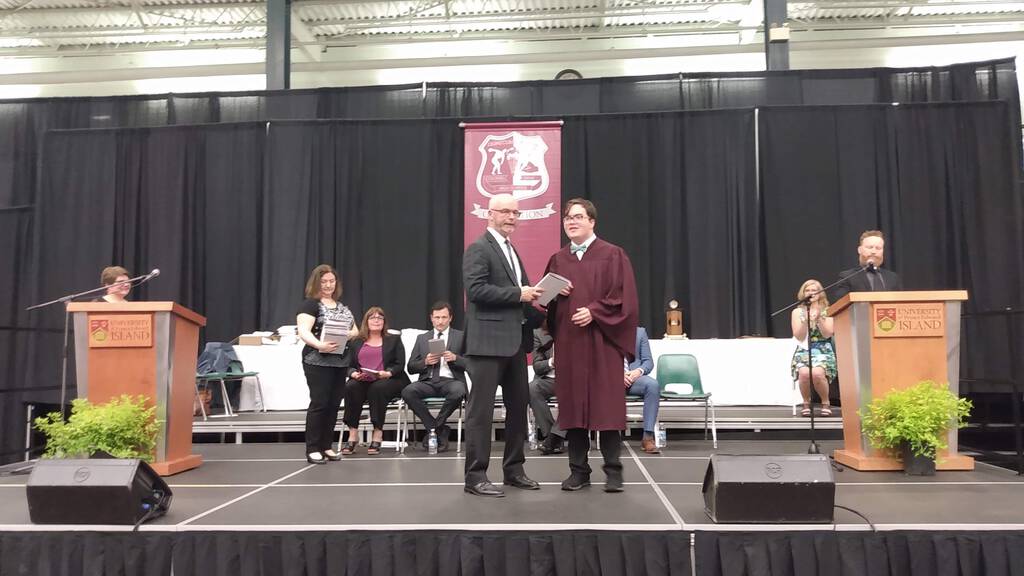 And, finding me, he posed for a photo (beside Dale Cole, the vice-principal):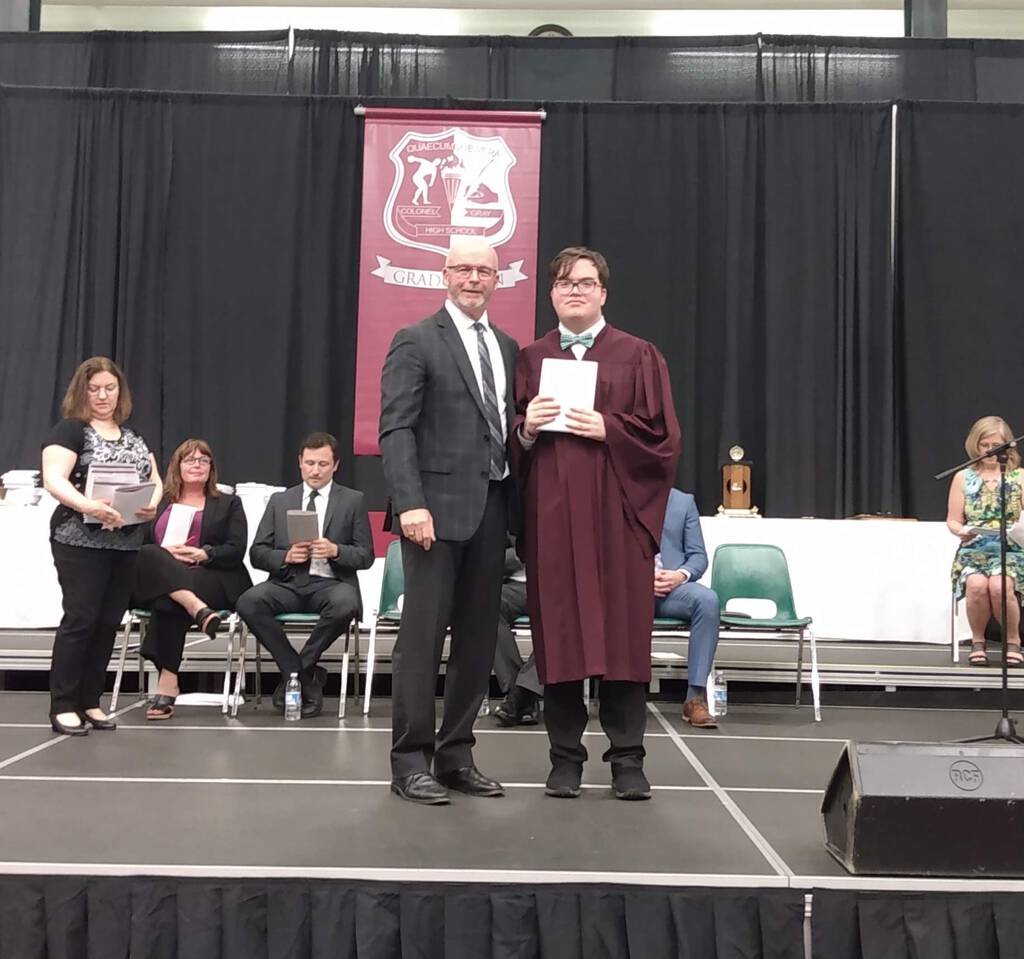 Presentation of Prizes
Although the recipients of various prizes are supposed to be kept secret, things being kept secret is a source of considerable anxiety for Oliver (which has made me extra-sensitive to how many secrets-involving rituals we have in our culture!). As such, forward-thinking Shelly Mann broke the rules and gave us a heads-up that Oliver would be receiving a "Staff Award."
Hence the next section of our schedule:
Blah. Blah. Blah. Awards.

Oliver gets Staff Award announced: same Dave- stage- photo- handshake- Maritza & Shelly system again.

Oliver returns to seat.
The Staff Awards were described in the program as being presented to "graduating students, who in their years at Colonel Gray, have made contributions to student life and/or maintained academic standing and/or applied consistent effort."

After a raft of other prizes and awards, Oliver and the other recipients of the Staff Awards were called to the stage and, per our arrangement, Oliver and Dave got themselves to the end of the stage, and I arranged myself in the official photograph-taking area. Because, well, Murphy's Law, I ended up shooting a lovely video of his walk up to the stage and his receiving the award with my finger over the microphone of my phone, so it's a silent movie. But a lovely life-affirming one:
The Valedictory Address
Once all the awards were awarded, Cole Gallant, the valedictorian, took to the podium to deliver his address. Toward the end the students all stood up for the big finale, and Oliver stood up with them:
The End
Once the valedictory address was done, there were a few moments for photos.
Here's Dave, Oliver, Maritza and Ethan: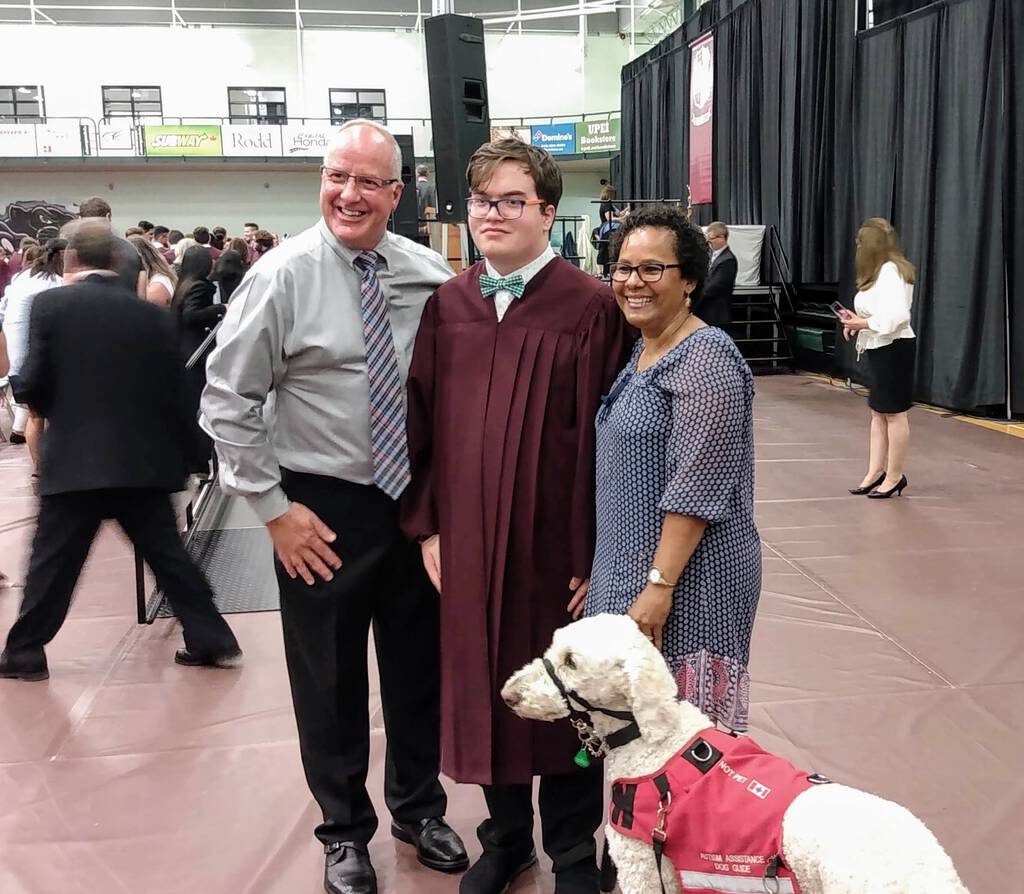 And here's Catherine, me, Oliver and Derrick: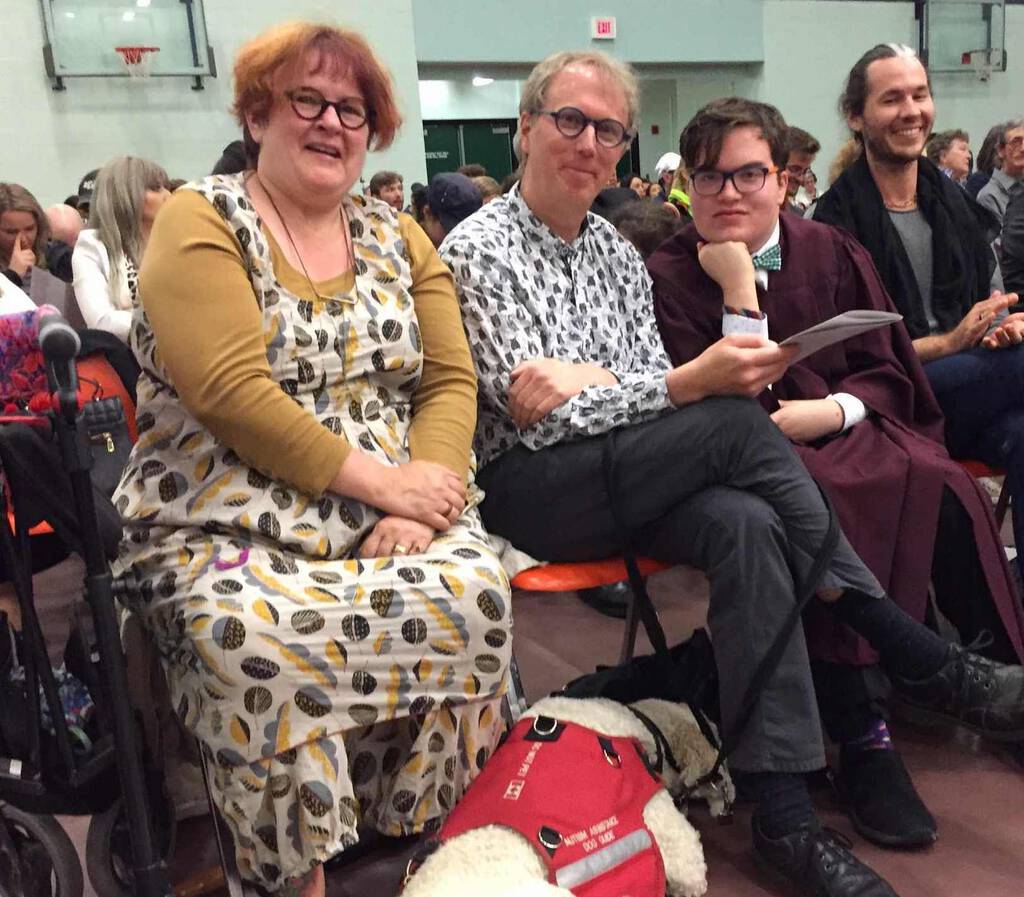 I darted back out into the rain to get Oliver's change of clothes, pulled the car around for Catherine, and Oliver and Derrick headed off to the school for an evening of fun and frolic for the next six hours (did I mention the Derrick is amazing?).
Oliver, we are so, so proud of the young man you have become, and so proud of you for being able to successfully navigate yourself through what we know was a really, really hard day of stresses and triggers. You are amazing.