I've thrown my hat into the ring for a Bodleian Libraries project to memorialize the 400th anniversary of Shakespeare's death by having his 154 sonnets hand-printed by printers the world over.
I've requested Sonnet Nº 55 and I'm awaiting confirmation that it's not otherwise spoken for. Once I get the go-ahead, I'll have until September 30, 2016 to design, set and print the sonnet. There's considerable flexibility offered: postage stage up to poster size, tweeted the organizers.
The process of selecting a sonnet led me to the 2002 album When Love Speaks, where Sonnet Nº 55 was read by the late actor Richard Briers.
I found the album on Spotify, and was excited to see that Sonnet Nº 145 was contributed by Mississippi John Hurt:

When I pressed "play," however, the voice that came out of my headphones sounded suspiciously not like one would expect the Yoda of the Blues to sound like.
A metadata issue, it turns out: further research revealed John Hurt, no-Mississippi, as the reader.
While no-Mississippi John Hurt did an excellent job on Nº 145, I'd give anything to hear a rendition by the with-Mississippi John Hurt​.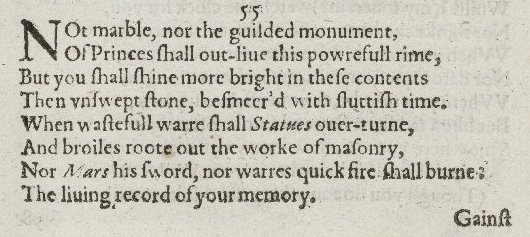 The first two stanzas of Sonnet Nº 55 from here.
Creative Commons Attribution-Share Alike 4.0 International license.