It seems that, Copenhagen-wise, I am spending these two weeks in the neighbourhood known as Nordvest — "Northwest" to you and me. Technically the district is known as Bispebjerg, and to get here from downtown you simply head, well, north-west, through inner-Nørrebro and outer-Nørrebro, right to the edge of the city proper.
You know when you're watching Relocation, Relocation and the young couples looking to move up the property ladder talk about wanting to find a flat in a trendy central area "near all the shops, restaurants and bars." This is not that area.
Which is not a complaint.
Having stayed on the cusp of Frederiksberg my first year here, in the heart of Frederiksberg my second year, and right downtown by Tivoli the third year, I've done the "near all the shops, restaurants and bars" scene and was ready for the "workaday residential neighbourhood."
Which is not to say that I'm living in the country. Walk 20 minutes to the south-east and there's good shawarma, good coffee, and and all the grocery stores, electronics depots and flower shops you might ever want.
My apartment is on Teglbrændervej, in the heart of an area full of 3- or 4-story older apartment blocks. Each block is about 200m long, and between each one is a combination parking area, garden and playground.
The apartment itself is a "0 bedroom" one: it's got a large livingroom/bedroom, a tiny but large-enough kitchen, and the smallest possible bathroom you can imagine (it double as a shower when your unfurl a curtain around its edges). It's the perfect-sized space for one. Which is what I am.
Tonight I headed out the door around 8:00 p.m. and decided to head away from the obvious eating choices. I stopped the first guy I met on the street and asked him to point me in the direction of the area with all the shops, restaurants and bars. He pointed me in the other direction, but did mention a place just around the corner that might suit me. He thought it was called Treblinka, that it looked a little rough on the outside, but that it was very good.
I decided to tour the neighbourhood before going to eat at a restaurant called Treblinka, and walked along to Frederiksborgvej, where I found a couple of pizza shops, an Indian café, and a sushi place that was just closing when I walked in the door.
I decided to throw caution to the wind, and headed back to where I'd started. Which is where I found a restaurant called not Treblinka but rather Tribeca NV.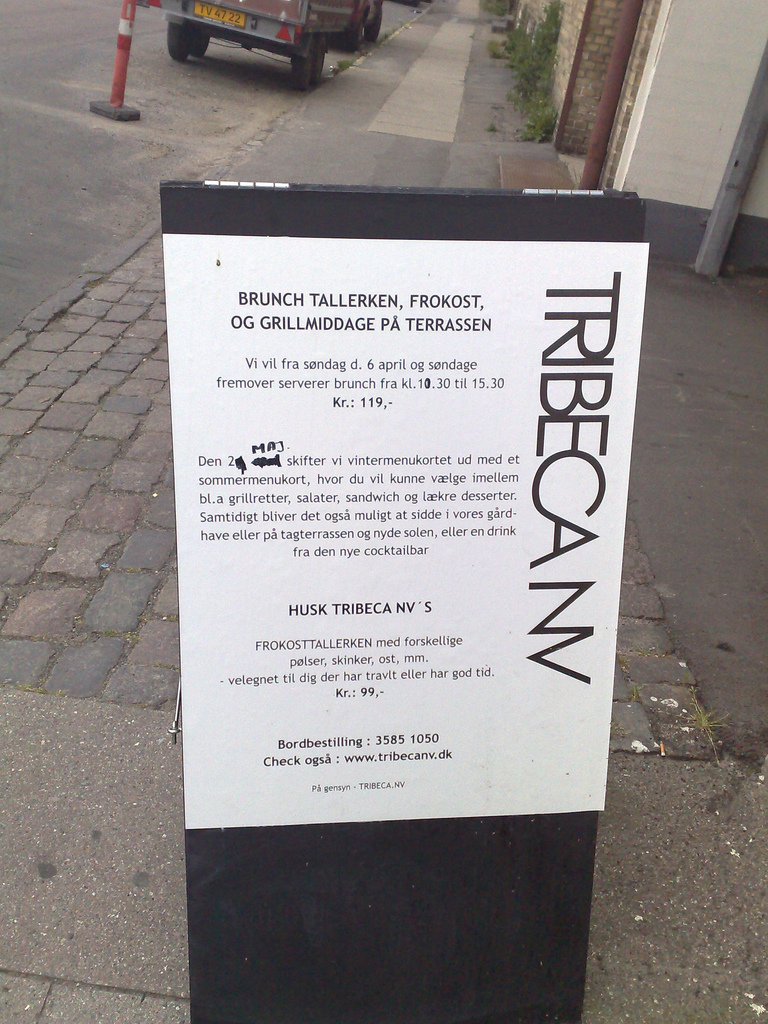 This turned out to be a place otherwise almost exactly as described: a little rough on the outside, but excellent food on the inside. The restaurant described itself (machine translated) as one that:
…combines the mood of the pleasant Roman-Italian trattoria with the raw and fashionable atmosphere that is first and foremost know from the streets of New York
Which is a pretty good description. Their kitchen doesn't close until 10:00 p.m.; I showed up at 9:00 p.m. just as most guests were on their desserts. I choose a table outside in the courtyard — a little chilly, but I'd been walking around, overdressed, in the heat all day.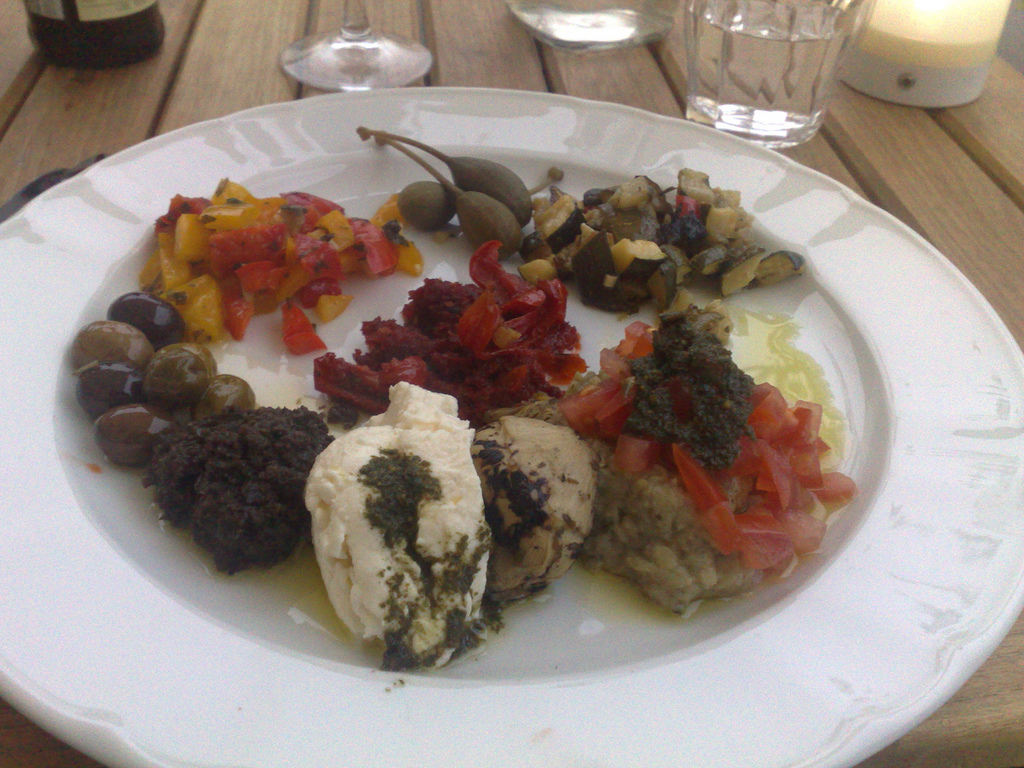 I lucked into a very helpful waiter who insisted on translating and describing every item on the menu for me. I settled on a vegetarian paté plate (olives, fresh cheese, peppers, zucchini, giant capers) to start and the "Grilled salmon marinated in mint, chili with risotto" as a main course. I was not disappointed: each was very tasty, and the salmon was melt-in-your-mouth flaky and piping hot.
My server seemed somewhat perplexed that I'd wandered in off the street — apparently this isn't something that English-speaking tourists do every day.
Which is one of the reasons, of course, that I've headed to the Nordvest.