Tomorrow, March 15, 2009, marks the 16th anniversary of the day I started my first job here on Prince Edward Island. I'd arrived from Ontario the week before in my 1978 Ford F-100 pickup with a U-Hail trailer behind and my old friend Simon bringing along the rest of our possessions in his mother's Chevette.
My first task was to find an apartment for us (Catherine was coming along a month later), and so I turned to classified section of The Guardian. The dominant memory of that apartment search was that there was an usual number of references to apartments being "near Kmart," to the point where I wondered whether it was actually important to be near Kmart to have a happy and successful life in Charlottetown.
Oliver and I dropped by the Robertson Library at the University of PEI this morning to allow me to check the accuracy of this memory and, sure enough, looking through the classifieds of that week it's still the "near Kmart" that jumps out: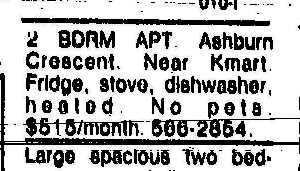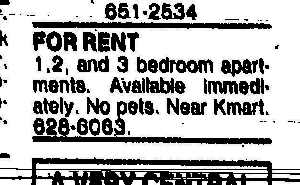 The Kmart is gone now, along with the K-Foods beside it (operated by Sobeys, but borrowing the 'K' brand), replaced by the Atlantic Superstore. I wonder what's replaced "near Kmart" as being the big apartment selling feature in Charlottetown.