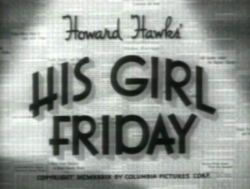 I borrowed a DVD of the 1940 Howard Hawks film His Girl Friday from the Confederation Centre Public Library earlier in the week.
I was curious to find that the library's version came from a company called "Digiview Productions," and I was prompted to wonder where this company got the rights to the film (if indeed it did), and what the copyright status of the film is.
Looking Amazon.com reveals 12 versions of a DVD of the movie, from companies like:
All of these companies, from the look of their websites, appear to deal exclusively in old movies. It looks like there's also an "official" version on DVD from Sony Pictures, the corporate ancestor of Columbia Pictures, which produced the film originally (the Sony version of the DVD has a lot of material that the Digiview version doesn't have, including commentary, trailers, and subtitles; the Digiview version just contains the film itself and promotions for other Digiview products).
A search of the U.S. Copyright Office doesn't show a copyright registration for the film. The Duration of Copyright page from the Copyright Office appears to say that copyright for works created before 1978 for which copyright hasn't been renewed lasts for 28 years, which would mean that His Girl Friday had a copyright that expired in 1968.
All of which leads me to think that His Girl Friday is "in the public domain," something that is also suggested here and here. Which, of course, prompts me to some additional questions:
Where do the DVD distributors (like the ones above) get the print they use to make the DVD? (it says here that "virtually all DVD editions simply are sourced from previous videotapes" — is that true?)
If this film, and apparently many others, are in the public domain, is there a public library initiative to make them available on DVD? It would seem to make sense for libraries to do this cooperatively rather than buying DVDs from companies like Digiview; with enough volume if would be both cheaper and afford the possibility of higher quality and enhanced features.
If the film is in the public domain, can I rip it off the DVD and make it available for download on my website?
I'm also wondering about this notice at the beginning of the DVD: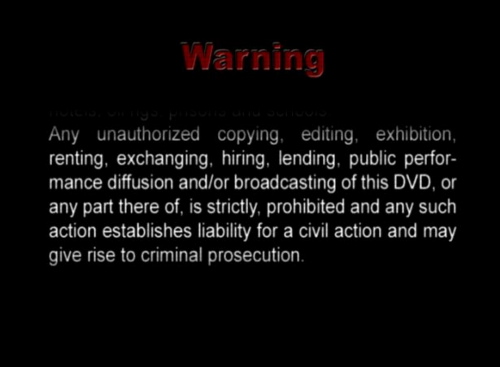 How can the distributor claim copyright on something they don't own?