I had a chance to do some urban exploring a few weeks ago, inside the old Myron's location on Kent Street, which has been closed for some time. It was a fascinating ramble in a building that's held together remarkably well.
One of the more interesting artifacts of the past I came I across was the remnants of an incredibly complex digital liquor control system from Azbar (this video, which looks like it was shot in 1979, is a great overview of this technology).
I took a photo of the control panel of the Azbar system, which had all of Myron's drinks programmed into it: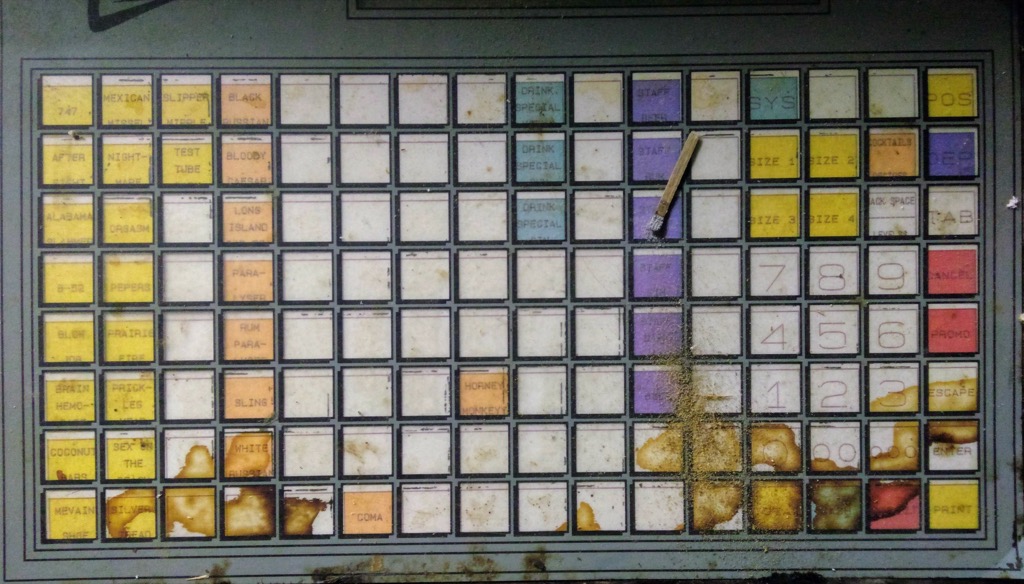 Here are the drinks that are listed on the buttons; it's a veritable liquor time machine, and also a useful reminder that the history of nightclub alcohol and sexism was, at least back in the day, alive and well.
Yellow Buttons

747
After Eight
Alabama Slammer
B-52
Blow Job
Brain Hemorage
Coconut Babs (maybe this is wrong?)
Mevain Shoe (maybe this is wrong?)
Mexican Missel
Nightmare
Orgasm
Pepers
Prairie Fire
Prick-leg
Sex on the Beach
Silver Tread
Slipped Nipple
Test Tube

Orange Buttons

Black Russian
Bloody Caesar
Long Island Ice Tea
Paralyser
Rum Paralyser
Sling!
White Russian
Coma
Horney Monkeyy

Blue Buttons
Purple Buttons

Staff Rum
Staff Gin
Unreadable (x3)
If I've transcribed any of these inaccurately (here's a larger version of the image, if you want to zoom right in), please let me know (as far as I can recall, outside of a mistaken Long Island Ice Tea ordered at a restaurant in Espanola, Ontario in 1990, I've never ordered a mixed drink, so I'm not an expert; I also never went to Myron's, other than to see Annekenstein).