I was up at UPEI this morning waiting for the bus when someone beside me asked for the time. I told him, and then watched as he pulled out a bus schedule that he's printed for himself on thebus.ca — it was cool to see the product in the field.
In celebration, I've extended the concept further: at Print a Charlottetown Transit Stop Schedule you can select any stop along the main University Avenue line and print an 8½ x 11 inch poster with all the scheduled times for that stop, suitable for pasting up at the stop itself: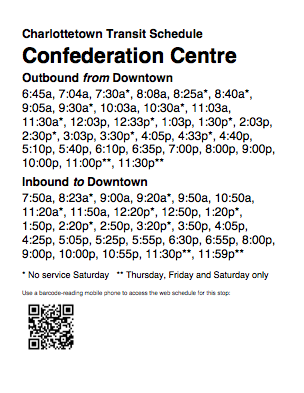 You'll notice that the poster includes a QR Code: with a suitably-equipped mobile phone you can point your camera at the code and have your mobile web browser load up the mobile schedule for the stop.
If you've got access to a laminator and some way of affixing things to poles or bus shelters, I'd encourage you to stick posters up at each of the stops along the line.
Speaking of the bus, apparently the telephone number (902-367-3694) for the Bus Schedule by Telephone service that I hacked together back in November has now been printed in some of the transit literature, which means its graduated from hack to infrastructure in less than 60 days. You can see a log of the last 20 calls to this number on the new Charlottetown Transit Telephone Schedule Call Log page.