As these things happen, musing about Trooper got me thinking "what was I doing in 1979," which got me thinking "how long have I lived on PEI," which got me thinking "when did I start school." All of which ended up on a time-consuming procrastination event culminating in a new Timeline page in the Rukapedia.
It was an eye-opening exercise to go through: I was surprised just how much I've forgotten about the macro-events of my almost-41 years of life. My mother helped out with some of the early details, and I stacked things on top of each other and looked at the relative positions of home, work and school to figure out later things.
I always thought that my first two relationships of note — coded on the timeline as "TH" and "MCP" — went on for 3 or 4 years each. Turns out that they both lasted about a year. Catherine and I have been dating (very, very serious dating) for 16 years. Which turns out to be the longest thing I've ever done.
When I got confused about the order of things around 1990 when I was flitting around from Ontario to Texas to Quebec I received invaluable documentary assistance from my first credit card statement — I just knew there was going to be some value in keeping all that stuff: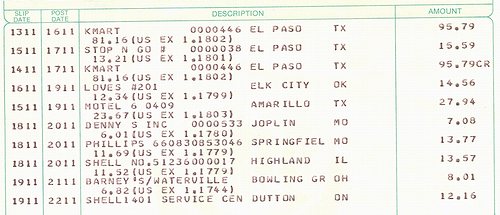 I was living in El Paso, Texas when I applied for my first credit card, a MasterCard. I needed it, in part, so I could afford to get back to Canada. When it arrived the first thing I did was to go to K-Mart and buy a small black and white television so I could watch this episode of thirtysomething (another surprise; I always thought it was the season finale I watched). I returned the TV the next day (see the third transaction).
Two days later I was on the road — first to Amarillo, over to Oklahoma (where I stopped to visit Bill Coleman in Bartlesville), then up through Missouri, Illinois and Ohio. I crossed over into Ontario at Detroit and I was home by the 19th. I did the trip in my trusty 1980 Toyota Tercel (which I later sold to my neighbour).
The EasyTimeline extension for MediaWiki made creating the timeline itself super-easy; I recommend it if you want to launch a similar effort.