I've had a rare weekend by myself at 100 Prince Street: Oliver's been at the Cloggeroo Folk Festival in Georgetown since Friday, and Catherine's been in hospital, trying to get her back pain under control.
I used the opportunity to leave the car in the driveway for the entire weekend and cycle everywhere. Here's a trace of my cycling (recorded by the Bike Citizens app on my phone):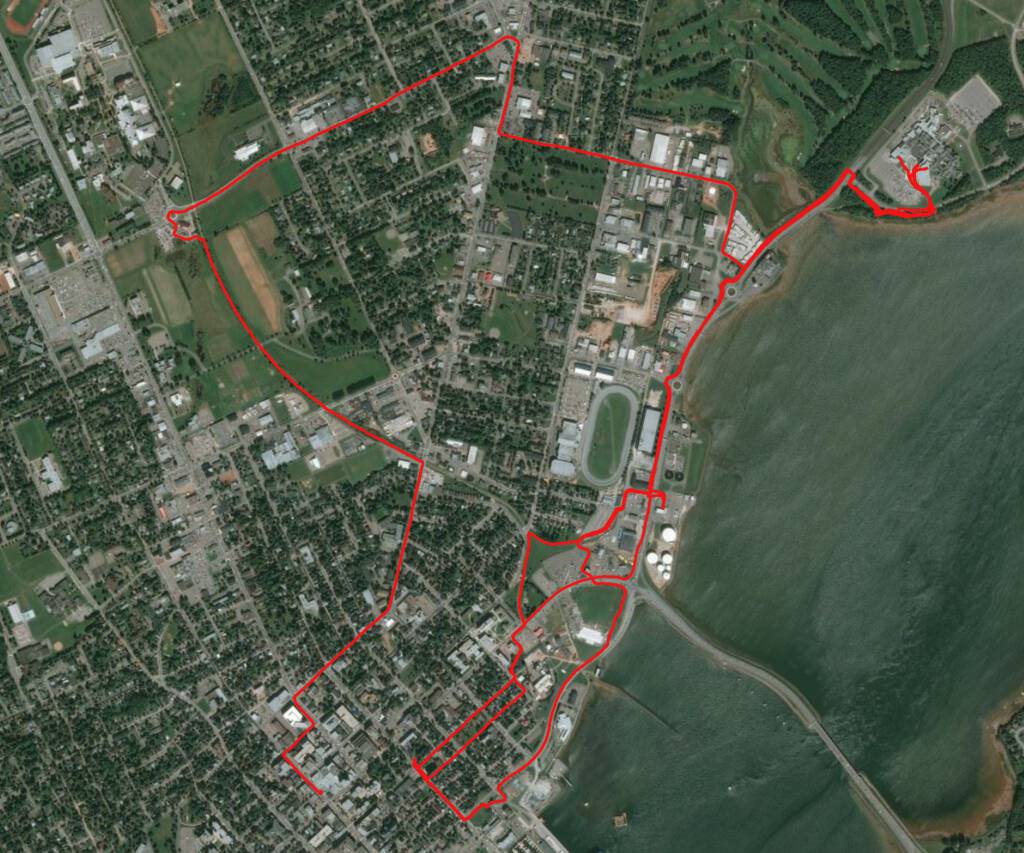 I cycled 30 km yesterday, which included two trips to the Queen Elizabeth Hospital and a trip to the Charlottetown Farmers' Market from the hospital.
I learned a couple of things along the way:
It takes 15 minutes to cycle from our house to the hospital. That's really only a few minutes longer than it takes to drive, and most of the way is along the scenic multi-use trail along Riverside Drive that's separated from vehicle traffic. The hospital should take advantage of this to encourage visitors to cycle. And if you're going to visit someone yourself, consider taking your bicycle.
There appeared to be no provision whatsoever made to the multi-use trail during sewer construction in front of Riverview Country Market on Friday: the trail was blocked, but with no cycle detour, forcing cyclists to cut through the parking lot and navigate uncontrolled construction vehicle traffic. If active transportation is going to become a first class option in Charlottetown, we need to make equal provisions for routing cyclists around construction as we do cars and trucks.
Taking a water bottle along on cycle trips is a really, really good idea. I've never gotten into the habit of doing this, but I will now.
The cycle lane along Belvedere Avenue from Ellis Brothers to Mount Edward Road is in horrible shape, the result of several construction projects that degraded it. This is a shame because otherwise it's a great cycle route: lots of room on a broad shoulder, and a great east-west connector across the city.
It would be nice if we could connect the path that goes around the Charlottetown Event Grounds with the Riverside Drive multi-use trail; as it stands cycling from one to the other requires a detour through the back of the Wendy's parking lot.
The Irving Gas Station on Riverside Drive charges $1 for using its air pump. Huh?
The bicycle parking lot at the Charlottetown Farmers' Market is very well used. Indeed, there's a need for more bicycle parking there, as it was full when I arrived.
I'll bring forward many of these issues to the Mayor's Task Force on Active Transportation; if experience so far is any guide, the city will take quick action to address them.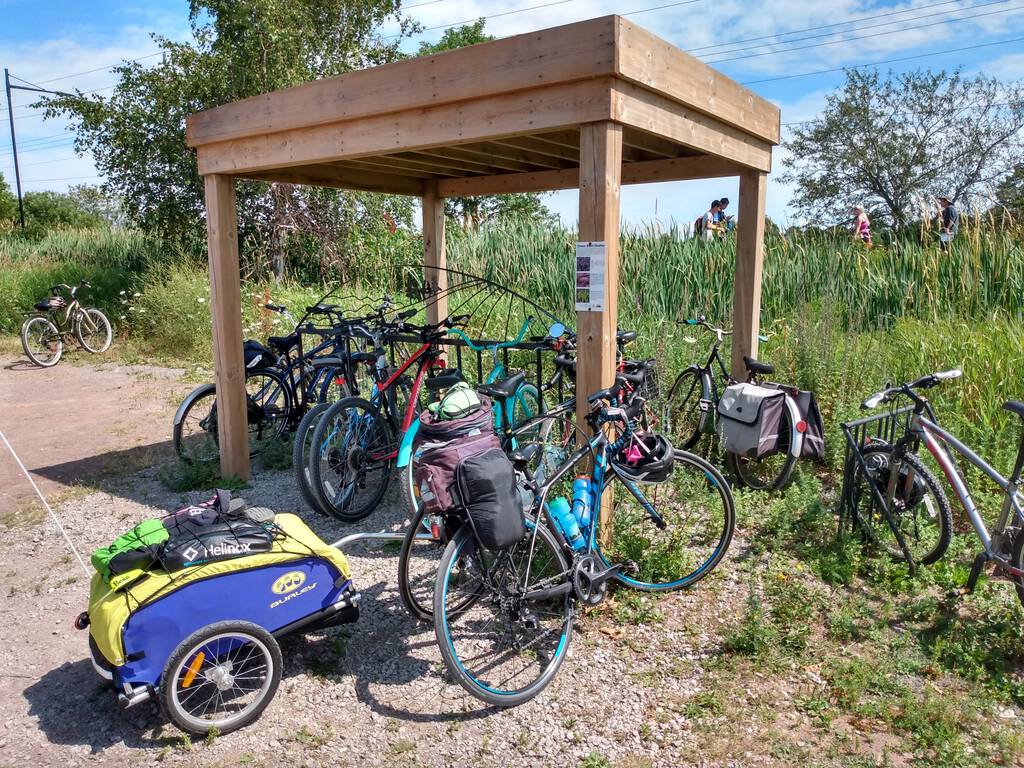 The (full) Bicycle Parking Lot at Charlottetown Farmer's Market