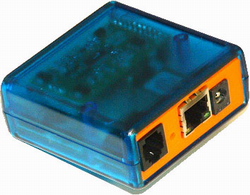 My IAXy arrived today. This is a little blue and orange box, about the size of a deck of cards, that lets me connect a regular old telephone set to my Asterisk phone system.
The IAXy has an RJ-45 Ethernet jack and a RJ-11 phone jack: I plug the Ethernet into the network (which gets it to the Asterisk server) and the phone into the phone jack, and I've done all my hardware setup.
Software setup is a little more cumbersome than with the Sipura SPA-2000 that we use here for the same purpose (albeit using the SIP rather than the IAX2 protocol): while the Sipura unit has a friendly web-based configuration tool, the IAXy requires compiling a small Unix utility which is then used to provision the IAXy, which has already obtained an IP address via DHCP. This went quickly and easily, though, and wasn't really a problem. Otherwise, all that was required was some small additions to the Asterisk iax.conf file. The installation guide covers this in just enough detail.
On the networking side, all I needed to do was open up UDP port 4659 in the firewall to allow access via IAX2 to the Asterisk server (I forgot to do this originally, and nothing was working at all).
Twenty minutes after I started, I was in business: picked up the phone and got a dial tone and phoned home and Catherine sounded like she was in the next room.
Next step is to take little IAXy home, where, if all goes according to plan, he will become the gateway to the Asterisk system from there.