The image below, from the Cochrane Times-Post (formerly the Northland Post) shows hockey and donut great Tim Horton at Central Public School in Cochrane, Ontario in the late 1930s. He's the kid in the second row from the right in the hockey sweater. Photo courtesy of my mother, who went to the same school.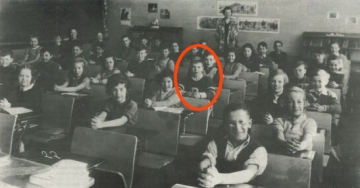 My family's association with hockey isn't limited to that admitedly indirect connection. We count both Gus Bodnar and Ken Dryden as our cousins.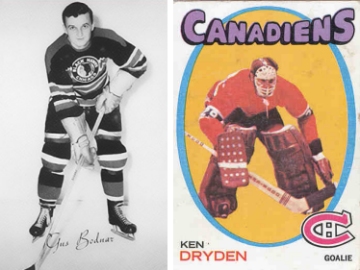 Gus Bodnar, related through my father's mother, holds the record for fastest goal by a rookie in his first NHL game, and won the Calder Memorial Trophy in 1944. He played in the NHL for Toronto from 1943 to 1946, then Chicago from 1947 to 1953 and Boston for a single season in 1954.
Ken Dryden, related through my mother's mother, also won the Calder Memorial Trophy, in his case in 1972. He played for the Montreal Canadiens from 1970 to 1979.
And it doesn't even stop there: another northern Ontario boy, dubbed Rocky Rukavina as a player, 'though not related directly to us, also had his time in the spotlight. You can hear more about him (and the connections above) in this CBC feature [RealAudio] that aired last year.
And finally there's the Frank Rukavina Arena in Silver Bay, Minnesota (an area near and dear to Buzz Bruggeman's heart).
Irony of ironies, I find myself unable to watch, play, or express any interest in the game (beyond these family interests). This is more than I can say for my brother Johnny.