I got a call this morning from Terry Allen at FutureLearning. I've known Terry for a while — I first met him when he was one of Don Glendenning's disciples, and our paths cross every one in a while. He's a good guy.

Terry was calling because he's involved in the launch of something called E-Town this week, and he wanted to know if he could show this weblog as an example of "blogging in business." I told him that was fine, as long as it was made clear that there was no relationship between Reinvented and E-Town or Virtual Charlottetown. He promised to do that, so I told him I was happy to have him go ahead.

Then I went to look at E-Town.

It's not immediately clear to me what E-Town actually is. The site itself says it's "A one-stop destination for e-business information" but it doesn't appear to actually be that. Right now, at least, it's a "clickable map of a pretend town with links (sort of) to e-business information elsewhere."

Now I'm not smart enough to say whether or not we the people actually need a "one-stop destination for e-business information" created for us. But I can certainly offer some suggestions for improving E-Town as a web project.

When you "enter" E-Town, you are presented with a map that looks like this: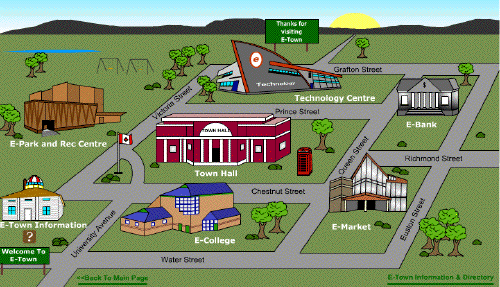 The "image" is not, in fact, an "image," but rather an interactive Flash presentation.

Strike one, thus, is that all of the content in E-Town is effectively hidden from the web in a closed, proprietary world. Google won't index it. I can't link to it. And I won't even start into the accessibility problems that this approach brings with it (hint: try closing your eyes and navigating the site with a screen reader).

Strike two, also Flash-related, is that E-Town doesn't work like a normal web page: there are no hyperlinks (at least not in the normal sense), and when you hold your house over one of the "e-buildings," a pop-up menu pops up, but you can't click on anything in that menu (you have to click on the building itself). And then when you figure out what to click on, more pop-up windows pop up, but you can't move them around. And then other pop-up windows pop up underneath these pop-up windows. To live in E-Town requires that you learn a new navigational metaphor, and that can't be a Good Thing when you're trying to teach people.

Strike three, again Flash-related, is that not everyone has the Flash player on their computer. We did some testing on www.gov.pe.ca and found as much as 15% of all web traffic coming to the site was not Flash-enabled. That's almost 2 people in 10 who get automatically exiled from E-Town before they're through the town gate.

The most noticeable organizational problem (can you have a strike four?) with E-Town is that the streets are in the wrong place. Look at the map above: in the virtual bizarro e-world, Prince St. and Grafton St. are parallel and Euston runs into Water, and Water into University. Now I'm not saying that E-Town should be a geographically perfect reflection of "R-Town," but if you're trying to make people comfortable with new concepts, why introduce this new layer of confusion? (And you just know, Islanders being Islanders, that this is something that everyone is going to notice).

In developing a Flash-based, non-accessible, confusingly presented site to deliver the e-business gospel, I fear that E-Town will create more confusion than clarity. The project is not unique in this regard: as I've mentioned here before, the CBC likes to create similar sites. And the problems with them are the same: in the name of "sizzle over steak," these sites are not particpating in the web, but rather overlaying themselves on top of it. This isn't an ecological approach, and that's too bad.