Back in the spring I took my first plunge into Extreme Packing for my trip to San Francisco with the silverorange boys. With this trip to the DNC, I'm cranking things up a notch: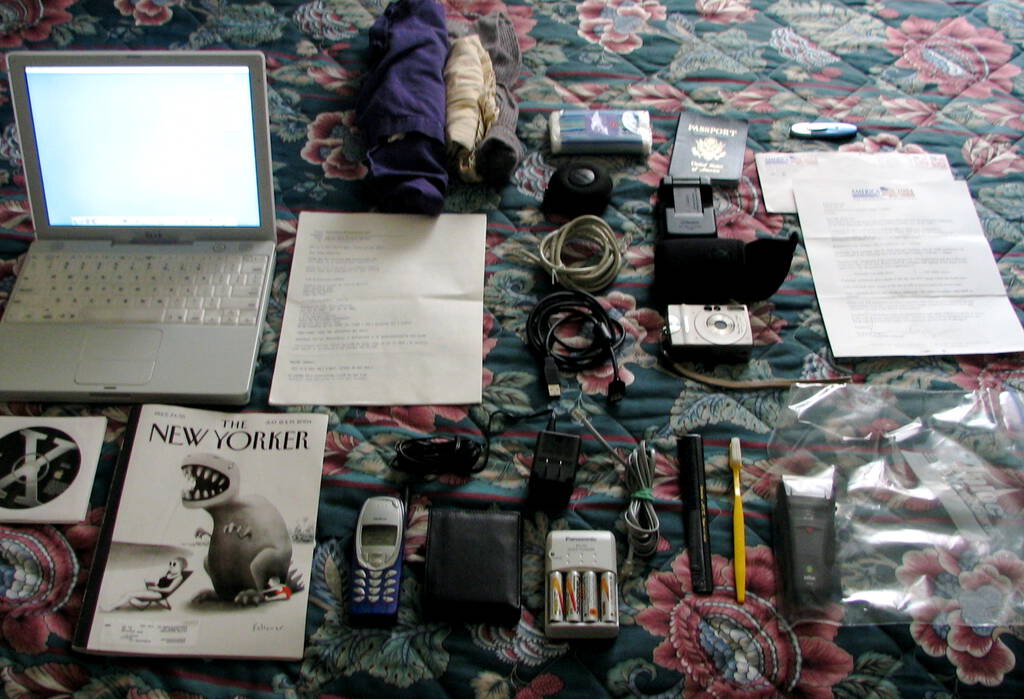 Here's what you see in the picture, roughly running clockwise from the top-left:
Apple iBook laptop: I'll use this for blogging, photo processing, email, IM and what have you. It's got a brand new battery (after the second battery failed: here's the whole sordid tale)
Print out of various hotel and airline reservations.
One shirt (in fact it's this shirt!), one pair of socks, one pair of Gap-brand boxers.
One package of Shoppers Drug Mart-brand tissues (I can never find a tissue in Boston when I need one).
Pair of Shure e2c earphones.
A four-foot Ethernet cable.
USB cable to connect my Canon PowerShot S100 to the iBook.
My U.S. Passport.
Battery charger for the Canon S100.
The Canon S100 itself, with neoprene case.
A cheap $19 USB key drive with copies of various stuff backed up in case my laptop implodes.
My "You've Got Credentials" letter from the DNC — required to pick up my credentials tomorrow morning.
Braun shaver, in a Ziploc bag.
Toothbrush and comb (hair brush takes up too much room).
A six-foot run of telephone cord with RJ-11s at each end, in case I need to use the modem or send a fax from somewhere.
Battery charger for the new Canon S1 IS camera (I took the picture with it, which is why it's not in the picture).
Nokia 3285 cell phone, with charger.
My wallet.
The July 12 and 19 double issue of The New Yorker magazine.
My OS X Panther CDs, in case I need to give my laptop digital CPR at some point.
Not in the picture are the new camera, a trial-size tube of Toms of Maine toothepaste, a small tin of Altoids, and the charger for the iBook.
All of this fits nicely inside my Targus laptop bag. It's not feather-light, but it's manageable, which is important because I won't actually be checking in to my hotel until late tomorrow night, so all of the above is on my back while I'm blogging around the Fleet Center tomorrow.