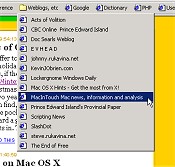 On last report, there were several gazillion websites out there in the world. And, so goes conventional wisdom, most of us only look at less than a dozen of them on a daily basis.

I can confirm this from my own browsing habits. Pictured here is my Internet Explorer drop-down menu showing the websites I drop in on several times a day. If you kick in CNN and Canoe, and leave out sites I actually create, you've got 95% of my browsing life right there.

My television watching follows a similar pattern: about 40% NBC, 20% on ABC, 20% on TLC, 10% on CBC and the balance sprinkled over the dial.

I read the New Yorker every week, Yankee and Toronto Life every month and occasionally read WIRED and Mother Jones.

I pick up the Guardian once or twice a week (I read it online every day), the National Post about twice a month, and the Globe and Mail about once every two months.

I split my radio listening in the car between CBC and Magic 93, the later only because there's nothing else I can pick up clearly. At home I never listen to "real" radio — it's Grassy Hill 90% of the time, KPIG on Sunday afternoons, and various others the rest of the time.

In other words, in this crazy world of seemingly infinite choice, I have my tiny little unchanging sliver. And, I assume most people do too. What's yours?