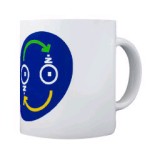 CafePress.com has an interesting idea: let anyone, anywhere, sell mugs, T-shirts and other brandable items with no up front investment, no inventory and no risk.

You select which images appears where on which products using a simple, well laid out web-based application. They handle both the on-demand manufacturing and the e-commerce part of things — billing, customer service, shipping, etc. — and host your online store for you.

When customers buy products, they ship and you get a cheque every month. While you can set your own margins, to be within a reasonable range it's not exactly a way to make a killing. But then again there's no risk and next to no effort required.

I found CafePress.com by clicking on a link at the bottom of the Blogger store and was intrigued enough by their setup that I took 10 minutes this afternoon to set up a Reinvented Online Store. It's an interesting experiment.