Early in the pandemic times, I noticed a small growth on my temple that, given the general sense of entropy in the air, was cause for concern. I made an appointment at my family doctor last week, and while he was pretty sure it was nothing to worry about, he offered to refer me to a dermatologist, cautioning that it might take some time to get an appointment, as we have only one dermatologist serving the entire Island. As it turned out, it took less than a week: my appointment was for this morning.
In the meantime, I went yesterday to donate plasma at Canadian Blood Services, and learned that waiting to see a specialist about a possible cancer is reason enough to be temporarily disqualified from donating. This was my first ejection from the plasma suite, and I was appropriately chastened, but did emerge with a smart red face mask as a lovely consolation gift.
Wanting to imbue my dermatologist visit with as much positive karma as possible, I opted to ride my bicycle out to Parkdale, and once I'd made that decision, I opted to make a morning of it, and gang together all of my midtown tasks together in a grand loop. A muggy loop, as it turned out, with 85% humidity.
Here's a map showing where my bicycle took me (geolocations sent to PhoneTrack, in my Nextcloud, via Overland; map tiles by Stamen Design):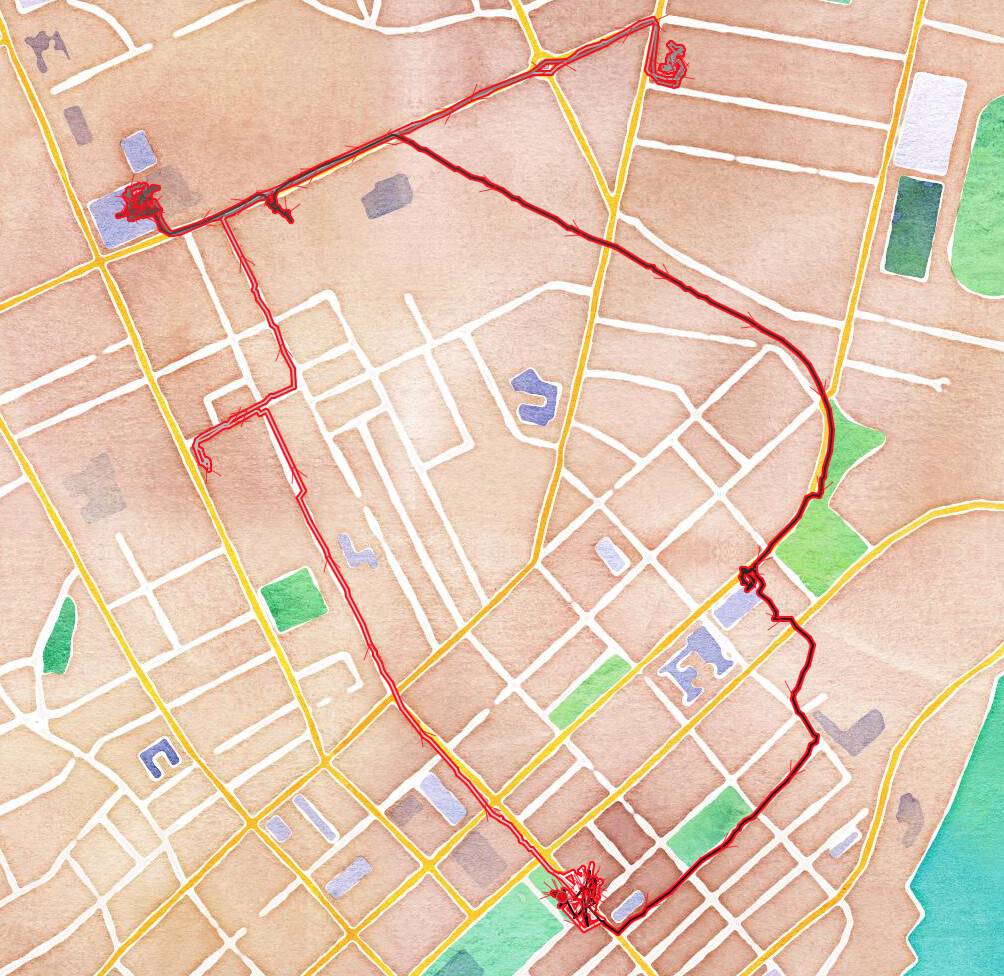 From home I rode north on Prince and Upper Prince to Gerald, making a brief stop at Outer Limit Sports to pick up some replacement handlebar grips for my bicycle, the old ones having turned into a sticky gelatinous mess in the summer heat. 
From there I cycled up to Allen Street, and east along Allen Street to Parkdale Pharmacy for my appointment.
My appointment, with Dr. Rodriguez, the aforementioned Island's-only-dermatologist, took approximately 35 seconds. She looked at my temple with her microscope and declared me simply a victim of age, rather than cancer. That was a relief.
Back on the bike, I headed west on Allen Street to Sobeys for groceries. Mindful of Allan Rankin's sage counsel, I opted to wear the aforementioned smart red face mask I'd picked up at Canadian Blood Services, something that made me particularly conscious that there was, in a sea of shoppers, only one other person wearing a mask (along with a complete abandonment of even lip service being paid to the one-way aisles and social distancing).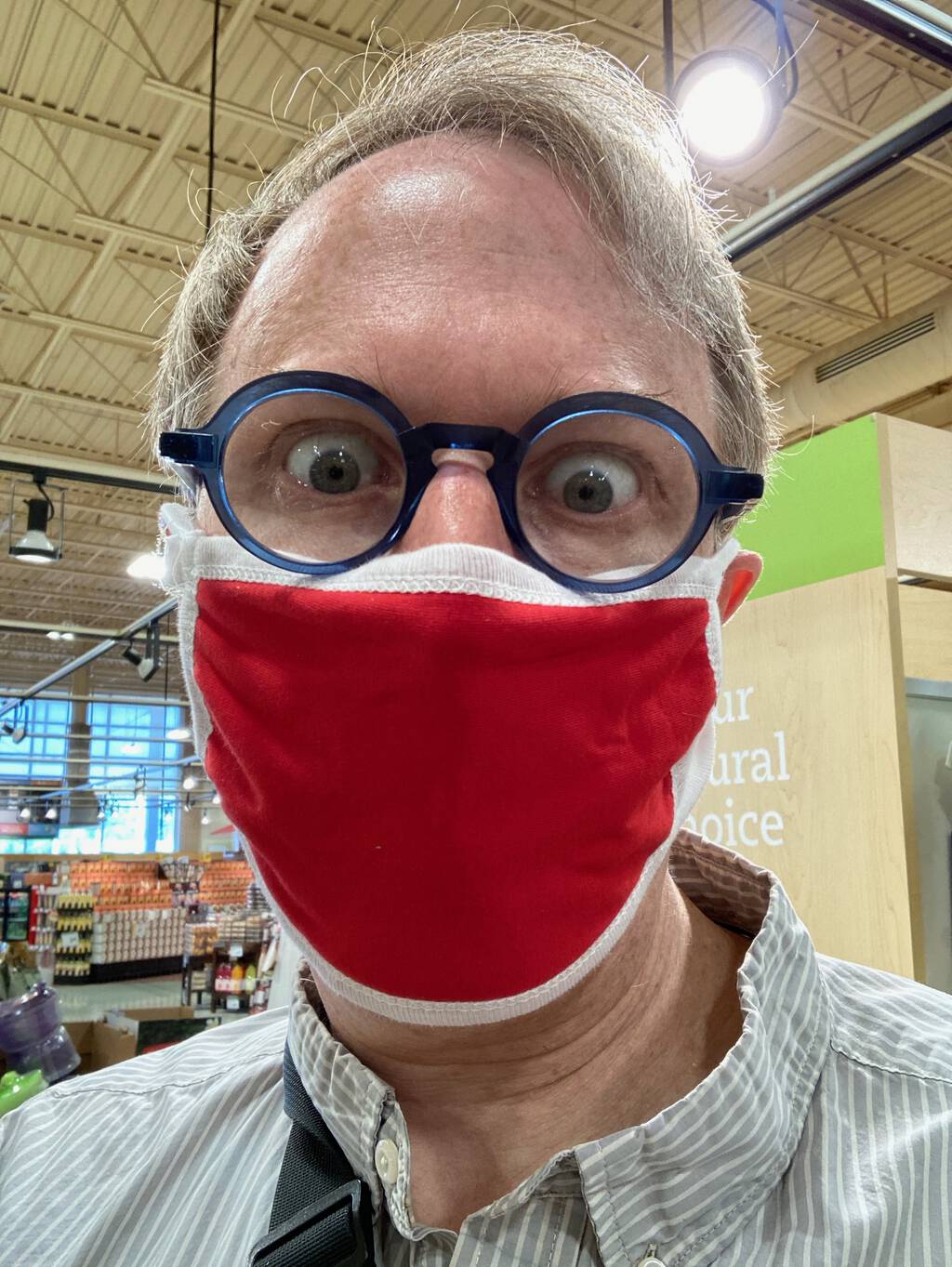 I filled up the bicycle trailer with groceries and headed home, stopping at VanKampen's for fresh tomatoes, and then cycling down the Confederation Trail to Kent Street to pick up milk and yogurt at Purity Dairy.
By the time I got home the bicycle trailer was filled to the gills: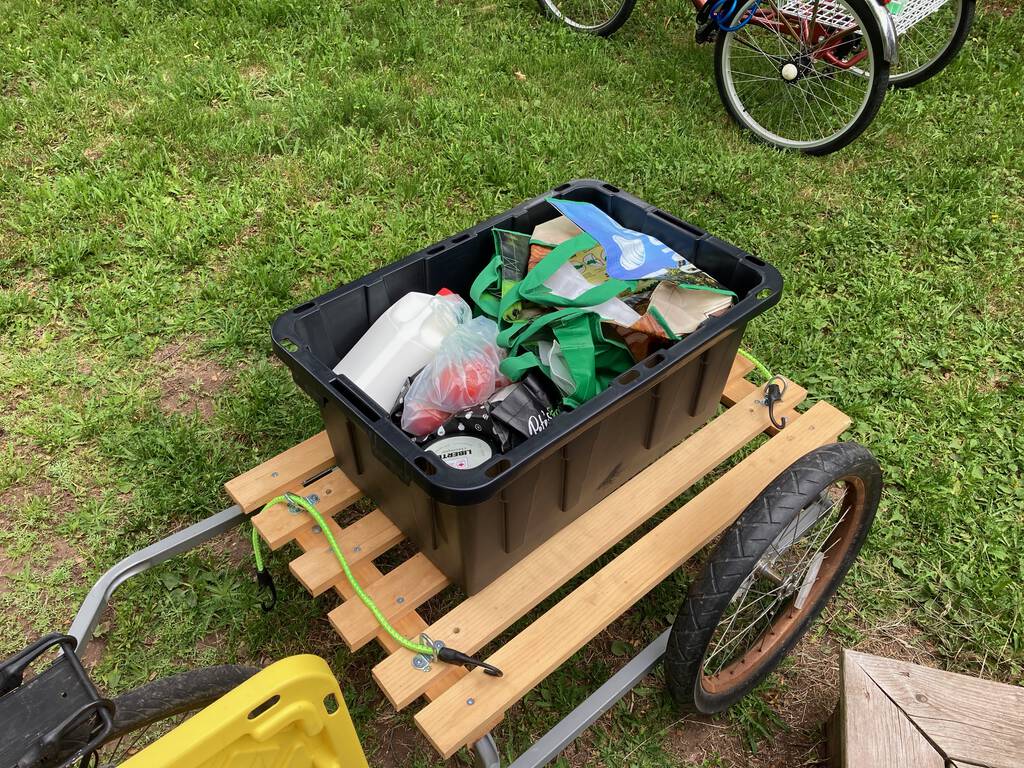 Spending the morning on my bicycle reminded me, yet again, how much I love getting around that way, and despite the mugginess, it was a thoroughly enjoyable morning, made all the better by, you know, not having skin cancer.
Bonus pro tip: if you need to get bicycle handlebar grips on easily, spritz some hand sanitizer inside them first. Worked like a charm.