Architecture Week is coming up here on Prince Edward Island again in October — you may recall coverage here and blow-by-blow from last year — and I've been thinking about ways in which architects could better open their tent to we civilians (having office open houses and awards ceremonies is nice and all, but there's only so much fun you can have in an architect's office, no matter how nice the wine and cheese is).
Last year my friend Morgan turned me on to Minecraft, the digital world-building out of Sweden that's sweeping the world. It took a year for me to get around to it, but after this year's trip to Sweden I came home and installed it, and I've been playing it, off and on, on both my Mac and on the iPad.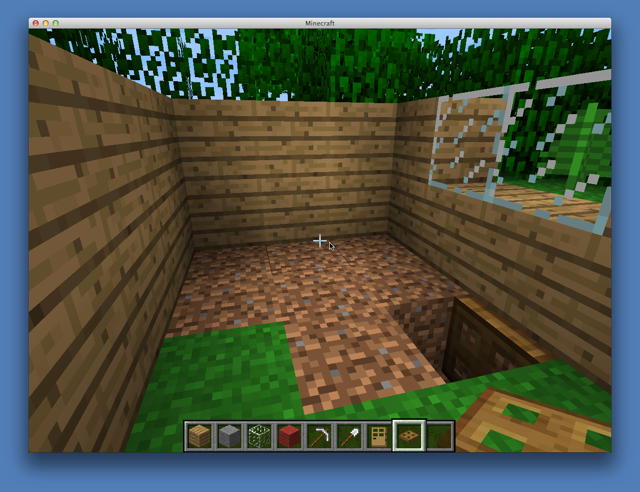 Minecraft is a hard game to characterize, especially if, like me, you're not a regular gamer, without the generally-accepted vocabulary ("a 4x vertical action scroller with HUD and MOOG capabilities," or whatever). I'd describe it as a "limitless world where you can build cool stuff out of blocks." There's much more to it than that — zombies and such — but at its heart Minecraft strikes me as being essentially a game about architecture.
Which got me thinking: wouldn't it be cool to turn more people on to Minecraft, in the company of architects. Architects, after all, spend all day, every day, thinking about nothing but architecture.
I like the idea of creating opportunties for architects to talk to real people, and for gamers — serious and casual — to learn more about architecture, and the idea of taking real-world architectural methodolgies inside a virtual world.
So I've proposed to the Architects Association of PEI that a "Minecraft for Architects" workshop be organized for this year's Architecture Week: an event to bring civilians, architects, and gamers together in the same physical space for an evening of virtual space making together. And I've proposed to help facilitate this if asked.
If participating in, organizing or otherwise engaging in such an activity would interest you, please leave a note in the comments; ideas for format and structure are welcome too.