One of the things that has given me the most pleasure in the two months since Catherine died has been finding new homes for the tools and supplies that were the stuff of her trade.
Our friend Carol came by to help organize things, before leaving town three weeks ago, and was able to take some fabric, and some thread, and some of the almost-finished projects that Catherine left behind; she will finish them. That makes me happy.
I sent a box of treasures to Luisa in Sweden; Catherine and Luisa shared a special bond, despite living on opposite sides of the Atlantic and seeing each other seldom. I didn't know what to include in the box, so I was wide-ranging in my curation. Luisa emailed, upon receiving it, to tell me that I chose well; that makes me so happy. Luisa will use the tools, and turn the materials into new things; that too makes me happy.
Catherine's sewing machine and serger went to our friend Ila, who she taught to sew, every Thursday morning she was able, almost until her very end. Catherine loved Ila dearly, and saw a special spark in her, and nothing would make her happier to know that Ila will continue to put those machines to good use, and that she's predisposed to teaching others the things that Catherine taught her.
Her Schacht spinning wheel found a new home with our friend Evelyn, someone I've known since my early days working with the PEI Crafts Council 25 years ago, a talented weaver who has decided to take up spinning. Evelyn picked up the spinning wheel a few weeks ago, but found there were parts missing and emailed me to ask about them; I rambled around Catherine's studio until I found them, and sent Evelyn this photo to confirm that's what was missing (it was):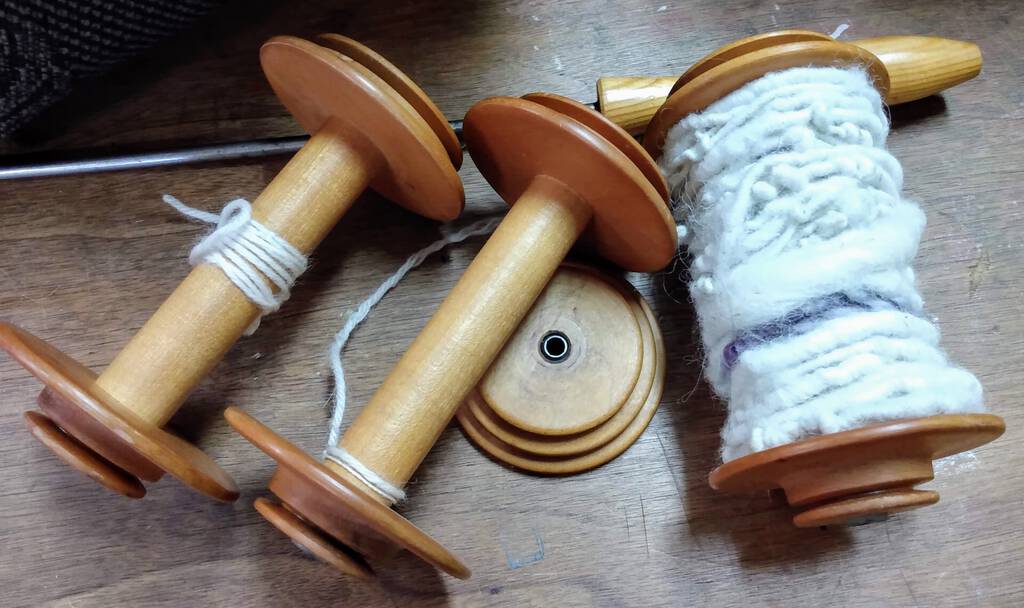 It wasn't until I looked at the photo, taken in a hurry just before I was headed home for the night, that I realized how evocative of Catherine it is: there is not a time in living memory that I cannot recall bits and bobs of things like this filling every nook and cranny of our house. Serious analog.
I must admit to having lurked, as Catherine, on her extant Instagram account, from time to time since she died; in there I find a steady stream of knitting and weaving and woodworking and quilting–all the things that she was interested in. Instagram was really the only part of the Internet that successfully attracted Catherine's attention: it is all about images, as she was, so it was written in her native language. Her last post was just a month before she died, a collection of photos and a video of her beloved Christmas village.
I'm mindful that Catherine's stream in Instagram ended; it makes me happy to know that the people out there that she was connected to will keep creating.