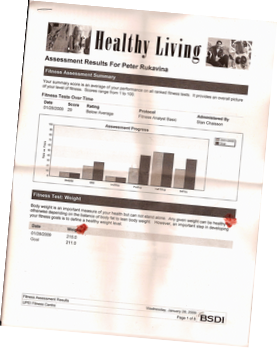 What with the mental workout I'm getting this winter, it seemed only appropriate to turn to the issue of the body and given that I'm on the UPEI campus three mornings a week, mere steps from the Sports Centre, it was hard to claim inconvenience as a way out.
So last night after supper I made my way up to the Fitness Centre for a rendezvous with Stan Chaisson the fitness man and an assessment of my current state of fitness (or lack thereof).
To start I had to fill out a form listing my fitness goals (the best I could come up with was "to decrease possibility of death") and my fitness preferences (I have none, being completely ignorant of the items on the fitness menu).
Stan then took some basic baseline measurements — height, weight, BMI, bodyfat percentage. And then the gruelling tests began: a 12-minute stint on the treadmill for the Cooper Test, a push-up test (how many), a half-situp test (how many in a minute) and a flexibility test.
The result was a score out of 100: I scored 29, "below average." The good news is, I have lots of room for improvement.
To my surprise and delight, running for 12 minutes (okay, it was more like "speed-tinged walking") didn't kill me, and I woke up this morning feeling just fine. This bodes well.
I meet with Stan in a week to go over my personalized training program; last night we set some modest goals for the next five weeks: getting my weight down 4 pounds (which will improve my BMI), increasing my minutes-per-kilometre on the treadmill from 17.5 to 18.4, increasing my push-ups ability from 10 to 15 and so on.
The plan is that I'll visit the fitness centre every Monday, Wednesday and Friday morning before my philosophy class, and Stan will take some new measurements in a month or so to see how I've gotten along.
As a point of privilege I will note that, as with UPEI's general challenges welcoming the community, the Sports Centre could work to create a gentler landing strip for new recruits: it's a daunting thing for an middle aged unfit guy to plunge into the midst of the land of spandex and free weights, and other than "the locker room's down and to the right" when I first signed up, I was on my own. I still haven't been able to find the locker room. Fortunately this will be mitigated somewhat by an "introduction to the fitness centre" session that I've signed up for tomorrow night; but including an basic overview and tour of the facility for all new members would go a long way to making people like me feel more welcome (and likely to come back).
If you're interested in getting assessed yourself, grab yourself the 2009 brochure (cleverly concealed as "Personal Trainor Information" on the Fitness Centre's website) — what's you're looking for is the "Basic Fitness Assessment" and it costs $30 for members and $40 for non-members. And, at least from my experience, Stan will not make you feel like an idiot or a layabout (even if you are one).