At the New Years Levee held by Premier Pat Binns, Brian Simpson, the excellent Provincial Photographer, was taking pictures of every attendee. This was a huge challenge, as I'm sure there were at least 500 citizens paying their respects.

About a month after the levee, using some highly sophisticated identity matching system, every person who had their photograph taken received a personal note, signed by the Premier, with a copy of the photo, in the mail.

Here is mine: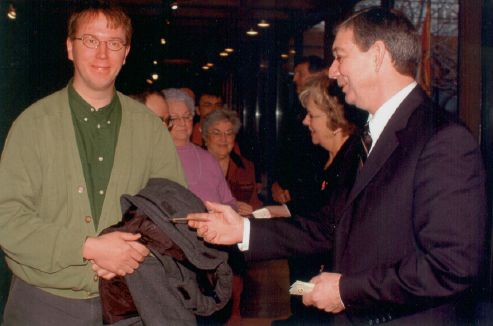 Notice several interesting aspects of the photo:

I am paying attention to the photographer, the Premier is not; as a result, it looks like I'm not paying attention to the Premier.
I am wearing my famous green cardigan (the one that Ian and the Bishop have complimented me on, and that Daniel seems to think disqualifies me from being able to start a rock band if this web thing doesn't work out).
I have a weird grin on my face. This might be partially explained by my partial drunkenness.
For some reason, I appear to look a lot more like Father Mulcahy than I'm comfortable with.
The Premier appears to be slipping me a $100 bill. In fact he slipped me a limited edition Prince Edward Island pin.
My natty green shirt is by Simons Montreal.
If you come a-leveeing next year, you'll be able to get your very own picture!