Several weeks ago I fell prey to an urge to look up my credit profile — I think it was one banner ad too many noodling into my subconscious, with a dash of fear of imminent worldwide economic collapse. So I went to the TransUnion website and ordered their "TransUnion Credit Profile" product for $14.95.
After going through a series of identity-verifying questions (current address, former address, etc.) I was told that my identity couldn't be verified, and that I'd be receiving a "Tracking Code" by postal mail that I could use to unlock my profile.
While I'm all for making absolutely certain that I am who I say I am, this whole process was handled clumsily, and there was no indication at any stage but the last that there might be a delay to wait for the post to arrive.
Today, seven days later, the letter arrived, and I followed the instructions to login to the account I'd created and "when prompted, enter the following tracking code."
But I was never prompted: the website simply told me that I was going to receive a tracking code in the mail, but didn't provide me with a place to enter it.
Fortunately their toll-free customer service line was still open so I gave them a call, and the agent had no information at all about why I couldn't enter my tracking code and, indeed, seemed to dismiss the whole idea of a tracking code as unnecessary, but told me that if I answered some more questions over the phone he could unlock my profile.
So I answered a series of questions — credit card number, current address, former address, etc. Then, one question before payday, he asked me what the postal code was at the house where I lived in 1993. I told him I didn't remember. He said "if you can answer this one question" then we could proceed. He asked me if I could look it up. I said that I could. So I went to Canada Post's website and looked it up and, presto, I was me again in their eyes.
I was told to logout of the website, then wait a while, then log back in. A few minutes later I received an email with subject line "Your Identity has been confirmed":

Wow, that was fast (I thought), and I clicked. Only to be told that my identity couldn't be confirmed and that I had to call customer service: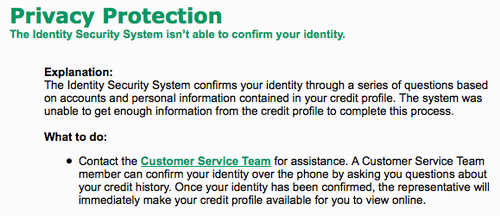 But they closed 15 minute ago, and so I'm out of luck for another day.
Not only is this inept service, but it gives me pause when I consider that these are the folks responsible for maintaining the Big Credit Worthiness Database: if they can't manage a simple web transaction, what else are they screwing up?
Update: Turns out customer service wasn't closed — the letter said it was closing at 8:00 p.m. but the website said it was open until midnight. So I called back again, answered some more questions (name, date of birth), and then was told to, in series, (a) logout, (b) empty my cookies, (c) log back in, all of which produced the same result and then (d) try another browser (I had been using Firefox, I switched to Safari). And this final step did it. I have no idea why. You'll be happy to know that TransUnion thinks my job is "S/E COMPUTOR CONSUTING" for Reinvented Inc.