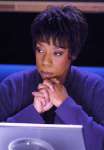 Actress Lynne Thigpen died Wednesday night.

Among many, many other roles, Thigpen played Grace Keefer on All My Children from 1993 to 2000. The start of her role on that show was the heart of the time I was a rabid fan of that soap opera (i.e. taping show when away from home so as to not miss an episode, etc.)

More recently, she was the reason (the only reason) to watch the television drama The District. She also played The President in Bicentennial Man, and had roles in Novocaine, Shaft and The Insider.

She will be missed.