Longtime readers will recall that 4 years ago I related the story of how L.L. Bean exchanged my 5 year old winter jacket with a broken zipper for a brand new winter jacket (and an $86 windfall).
That replacement jacket served me well: it had an almost-idea combination of multiple pockets, warmth and longevity that I hoped it would be my winter jacket forever.
That was until it started to experience zipper problems of its own last month: gradually worsening over time, the zipper stopped zipping up effectively, so that I'd find myself walking in -30ºC weather and my zipper would suddenly zip open. By last week I was batting 25% on a successful zip-up, spending 3 or 4 minutes every time I wanted to go outside trying to find the magic trick that would make the zipper stick.
As it happened, I was in New England last week again, driving right by the selfsame L.L. Bean Wayside Commons. In anticipation I returned again to the 100% Guarantee page on the L.L. Bean website and found the committment stands:
Our products are guaranteed to give 100% satisfaction in every way. Return anything purchased from us at any time if it proves otherwise. We do not want you to have anything from L.L.Bean that is not completely satisfactory.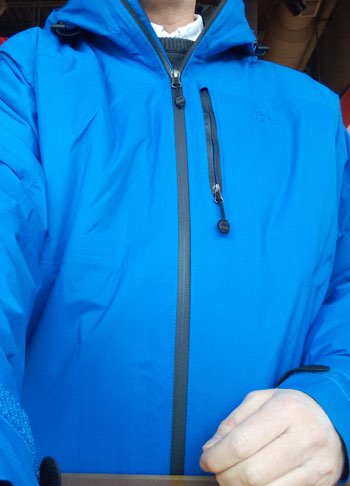 So on Friday afternoon, en route from Yankee Publishing to Boston Logan Airport, I took exit 33A from Rte. 128 north and found myself, 4 years later, again looking to exchange my L.L. Bean winter jacket.
Much has changed, it seems, in the world of winter jackets since 2011: puffy down-filled jackets are in, and ones like my trusty Bigelow are not. So it took a lot of sorting through the jacket stock to find something that would suit.
Ironically, I ended up with the same coat, the Weather Challenger, that I started with almost a decade ago. It retails for $199 these days, and my Bigelow originally retailed for $149, so I ended up with a new jacket for $50.
At no point in the exchange process was I made to feel as if I was doing anything unusual, leading me to be believe that not only does L.L. Bean stand behind its products, but that they communicate this to their employees to the extent that everyone internalizes it.
So a tip of the hat to L.L. Bean and the friendly staff at Wayside Commons: I'm warm and well-zippered yet again.