I'm sitting in the back room of the LimoLiner, the "luxury" bus from New York to Boston. Here's a shot of me talking to Steven via AIM: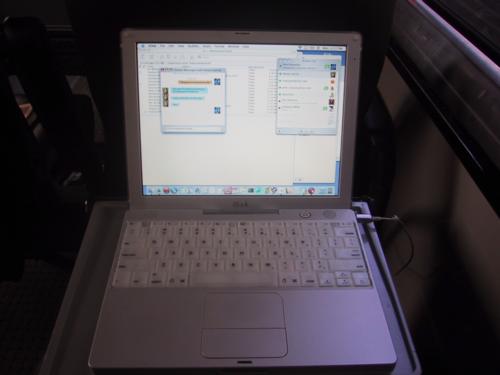 And here's me, my iBook, and the Bronx: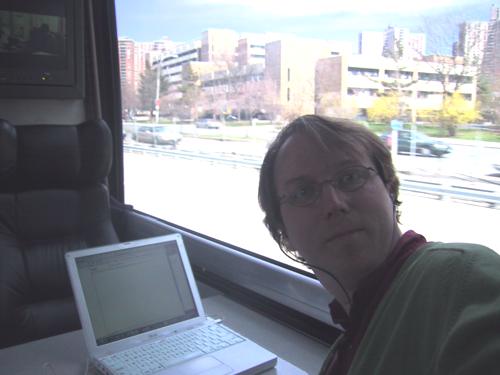 The "luxury" on the bus is mitigated somewhat by the inevitable bump, bump, bump of the bus. This makes typing on the iBook something of an extreme sport.

The WiFi connection, which uses some sort of voodoo to get to the Internet, isn't exactly broadband. It claims to range from double the speed of dial-up to DSL, depending on location, but I'm getting something near dial-up speeds, and it does fade in and out, although now that we're out on the highway it's pretty solid.

The bus itself is a little rough around the edges: there was no water in the washroom sink (apparently you have to wait awhile after the toilet flushes); there a lot of crosstalk on the onboard sound system (I can hear engine noise, and, from time to time, AM radio, through my headphones); and the snack offered was more like Air Canada circa-1990 than "executive class."

But the seats are comfortable, we seem to be making good time, and the downtown to downtown (rather than downtown to airport, through security, to airplane, to airport, to downtown that the flight would take) is nice. Boarding took all of 2 minutes, which was nice.

I'll write more when the trip is over.