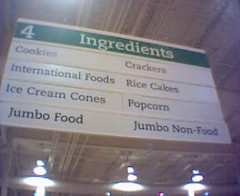 In a radical departure from the everyday, Oliver and I went shopping at Sobeys instead of the Atlantic Superstore this afternoon. After several years of vacillating back and forth between the two, our family became regular Superstore customers around the time Oliver was born; I hadn't been inside a Sobeys for a weekly shop for almost 5 years.
What a pleasant surprise.
The Superstore is almost always crowded and chaotic. And there's about 3 acres worth of non-grocery items in the middle of the store — everything from deck chairs to DVD players — that makes the trip from bread to dishwashing liquid a 5 minute slog. Combine this with the "never enough cash registers" problem, and shopping at the Superstore is like an hour long prison sentence.
Of course what the Superstore has a lot going for it, or at least the appearance of a lot going for it: a very broad selection of foods. Before the Superstore you couldn't buy a baguette on Prince Edward Island; the Superstore has several varieties, including ones purportedly made from French flour. They've got oodles of olives, and salmon on cedar planks, organic soy milk and a flower section bigger than most florists. For Islanders itching for a simulation of big city living, the Superstore provides a decent facsimile.
For a while it looked like Sobeys was trying to meet them head on. Sobeys installed a sushi chef. And an olive kiosk. And a "health food" section. They gave out exotic recipes that used exotic sauces. They installed wood-fired pizza ovens. And they even imported the deck chairs and the DVD players into a newly expanded middle section of non-grocery fluff.
I'm happy to say that those days are now over. Sobeys sells groceries now. The DVD player section has been replaced with a mini marshmallow island. The health food section, while still present, has lost its on-site nutritionist and scaled back to just the healthy basics. No more sushi. No more TD Bank branch. No more video rentals or shoe repair. Just a regular grocery store.
Oliver and I were shopping at the height of the grocery buying week, Saturday afternoon, yet we made quick work of Catherine's complex shopping list. The only thing we couldn't find: fresh pizza dough. There was no wait at the checkout: we just breezed right through. What would have taken us 90 minutes at the Superstore was done in 45 at Sobeys.
Of course the paucity of Saturday afternoon customers probably isn't such a Good Thing for Sobeys. But I'm certain that once the word gets out that at Sobeys you don't have to wade through live eel tanks and exotic star-fruit carving displays, that you can just, well, go in and buy groceries, the aisles will start to fill up. You heard it here first.