When Catherine died in January of 2020, she left her studio–a room in the basement of St. Paul's Parish Hall, right across the hallway from my office–much intact, thus leaving me to confront a lifetime of her tools, materials, supplies, finished and half-finished art and craftwork. It took me more than a year to whittle this down, to sort and box and bin, to find new homes for things, to empty the room for them who would come along next. I did it.
But what remained was a cache of the unsortable, tucked away in the back corner of my office: artwork, tools I thought I might use, things I couldn't bear to throw away that I found no takers for. Over the last 18 months this cache started to feel unwieldy: it was both a psychological avatar for the unresolved, and a physical mountain that was preventing me from opening the back door to my office and letting the air circulate.
On Monday night at improv class one of our exercises was a "rant," a prompted opportunity to let out a helping of latent rage. The timing was right for me: I found I had a lot to unleash, and the effect was healing, purgative. I greeted Tuesday morning with a fresh spring in my step, and decided, on arriving in the office, that I would, at long last, tackle the mountain.
Doing so required a leap, letting go reverence for Catherine's things and, in the process, letting go of the resentment I'd long held for her leaving me as custodian of her lifetime accumulation of stuff.
Over the course of 4 hours I sorted and boxed and rolled and triaged. I broke a glass jar (by accident, although it felt good). I ripped to shreds a painting that I'd never ever liked. I committed small acts of artistic sacrilege, and in doing so I took agency, and stopped feeling weighted down by stuff mountain.
I dropped a big collection of things off at the thrift shop, a dozen pairs of Catherine's eyeglasses frames off at my optician for donation to the Lions Club. I left some zinc and copper at the metal recycler for pricing, and a bunch of old digital cameras and cell phones of Catherine's at the electronics recycler. A few bags of garbage in the black bin.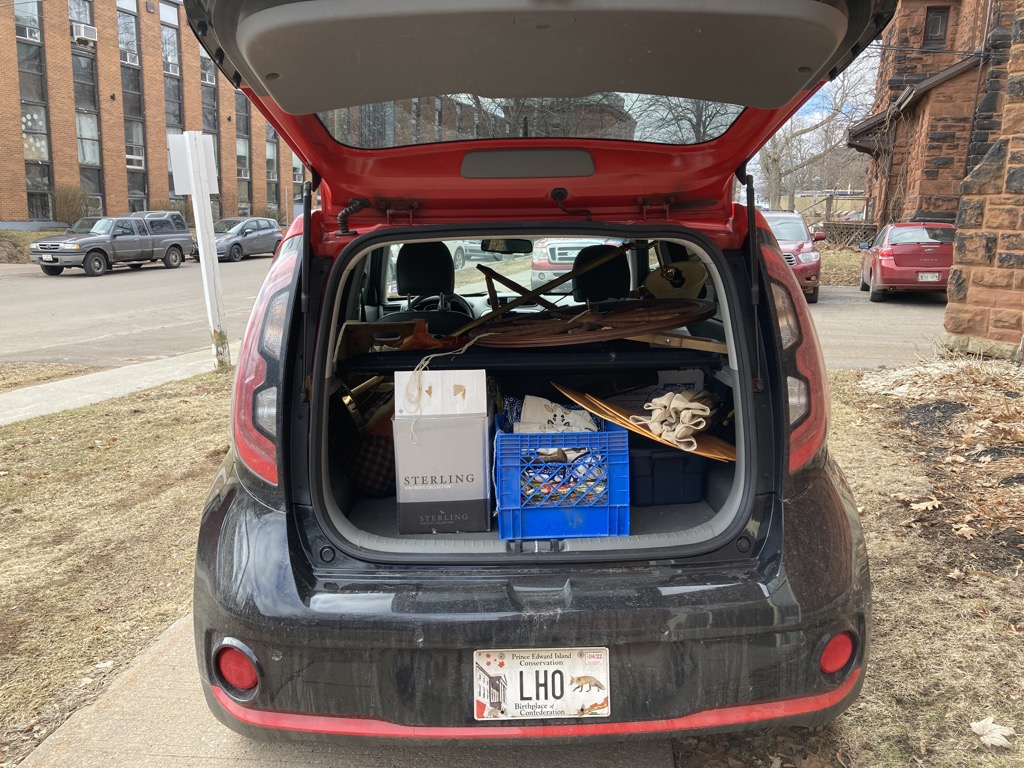 If you look carefully at the photo of my loaded car you will see one of Catherine's spinning wheels there, a treasured object of hers and one that, despite two years of trying, I'd been unable to find a new home for.
I decided I'd done my part, that I was no longer responsible for treating it as a sacred object, and it too went to the thrift shop, where I hope it will find a new home.
The effect of all of this was important: I feel unburdened by my custodial obligations, by the need to revere Catherine's things, even in the absence of true reverence. None of this means that I seek to cast out memories of Catherine, that I don't have an permanent and important place for her in my heart. But being able to admit that, co-resident inside me, was an unhealthy knot of complicated feelings, feelings that found physical manifestation in an immovable pile of objects, that's been very helpful.
And it's left me with a cleaner office, and an open door.