Sometime in the past twenty years I turned on Toronto. After growing up in its shadow and thinking that it was possibly the greatest place on earth, something snapped and I ended up with no desire to visit and a bad taste in my head every time I thought about the city.
Mind you it's not that I've ever really had a bad experience of Toronto. I did live a rather antiseptic existence during the 6 months I spent as a resident in the mid-1980s, living out much of my time inside a thin corridor that ran from my home at Mount Pleasant and Eglinton to my school at Don Mills and Eglinton. This is, if you know Toronto at all, not exactly the most lively part of town, but I have fond memories regardless.
But I also followed this with a summer working at the ROM right downtown at Avenue Road and Bloor. Not exactly hip either, but certainly central. I ate a lot of ice cream at Greg's and enjoyed summer in the city.
But somehow my malaise about Toronto sprung up and has continued, and during the regular "I wonder which cool urban location we should move to" conversations I have with myself Toronto never came close to making the shortlist.
Today, however, we had a great time in Toronto and I saw sides of it that I'd never seen before. I'm not quite ready to move, but the malaise is gone, and I'm eager to return soon.
Dad, Mom, Catherine, Oliver and I started the day with a race down the escarpment to catch the 10:14 a.m. GO Train into Union Station. We made it with 10 minutes to spare, and by 11:20 a.m. we were on the subway going north to the ROM.
We decided to overlook the fact that the dinosaurs are in storage and let ourselves be drawn into all the hype about the Crystal that now envelopes and re-centres the museum.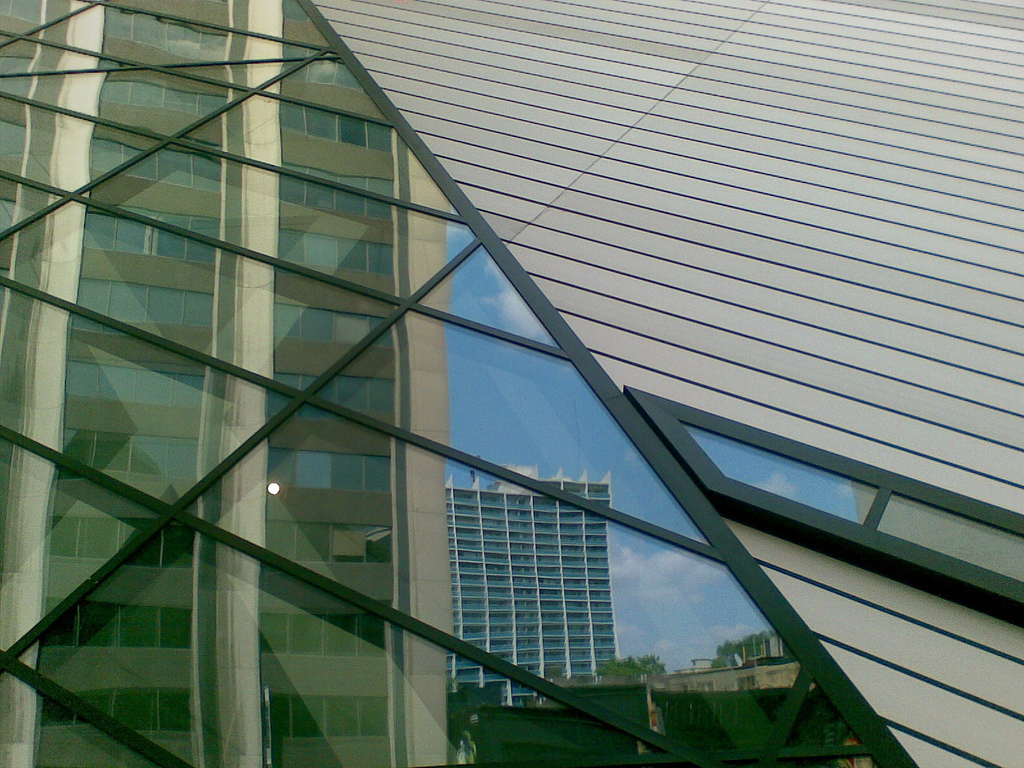 While I'm as much of an architecture tourist as the next guy, I can't say that I was blown away, at least not Bilbao-style blown away, by my first view of the structure. You hear "crystal" and you think it's going to shimmer or something. But it's primary characteristic seems to be jutting.
But as we experienced the interiors of the crystal, it turned out to be a far more interesting structure on the inside than on the outside. All that juttiness creates some intriguing indoor spaces, especially where the old ROM meets the new ROM. It turns out that perhaps the crystal's most useful role is as a exhibition container, and as a grand entrance hall. An expensive role. But it plays it well.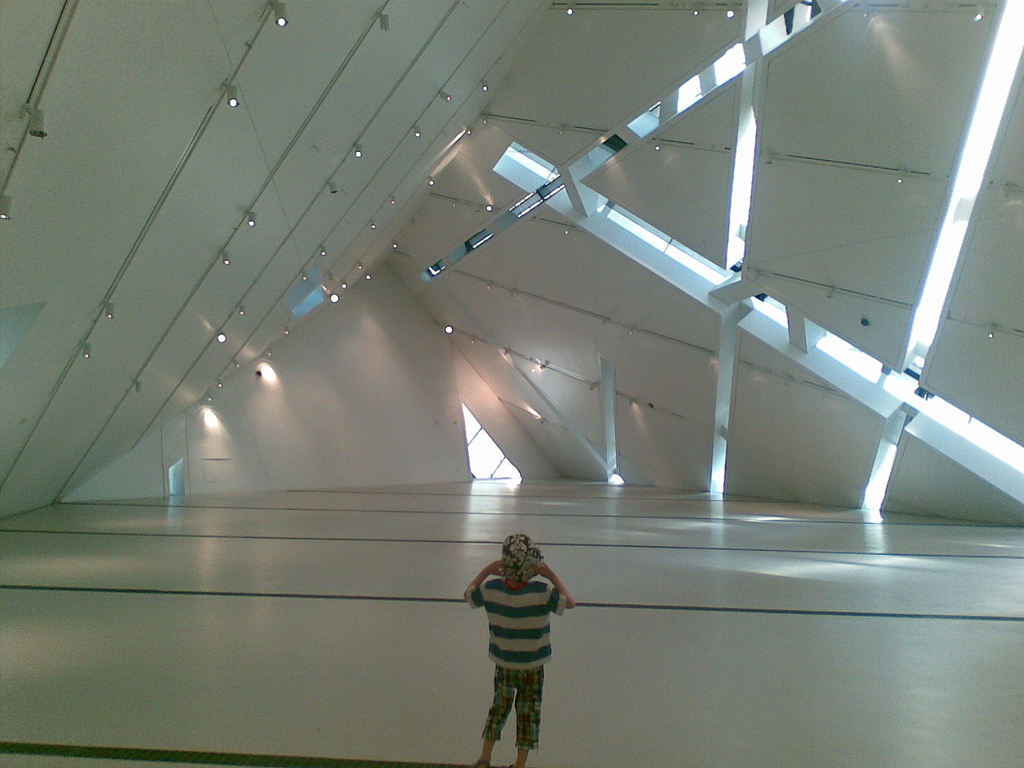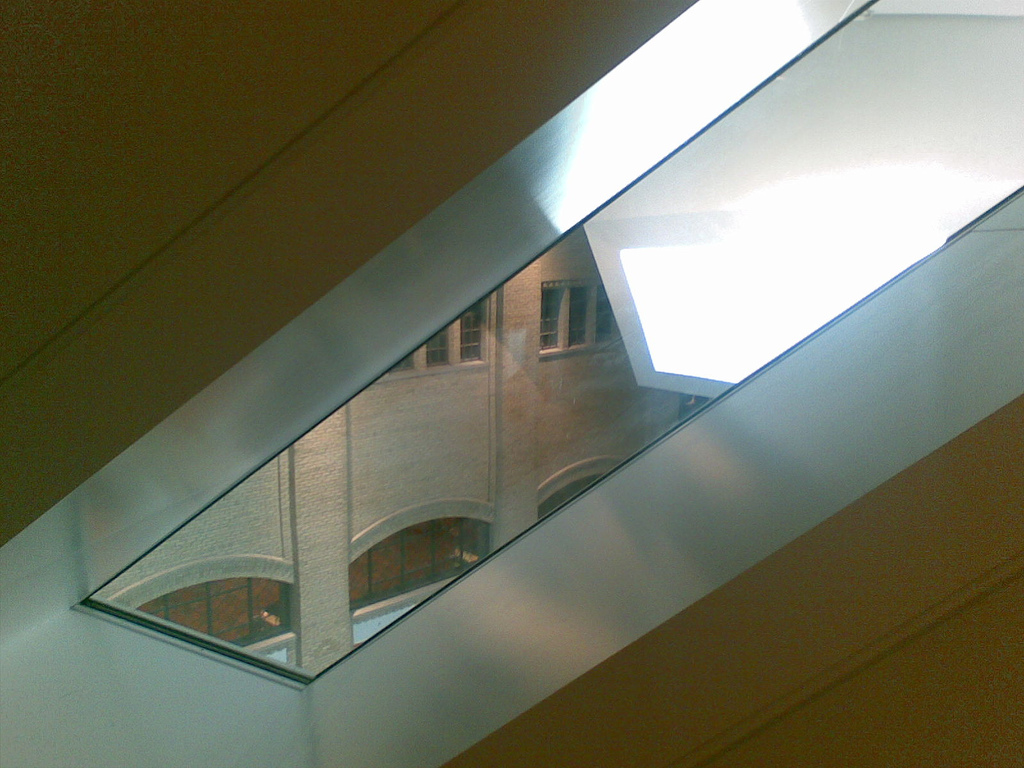 Inside, crystal aside, this ain't your father's ROM. There's a new brightness to the place. The exhibits are more lively, more focused, and ultimately much more interesting. Even a docent-guided tour of the Peru temporary exhibition didn't put me to sleep (and I can't stand docents in the normal course of affairs). Even the cafeteria has a new life: what used to be chaotic and run, if memory serves, by Druxy's Deli, is now Danish-inspired minimal with wood-fired pizza and organic juices.
By far and away my favourite of the exhibitions currently on display was The Evolution of Style, a quick survey from the Renaissance through Baroque, Rococo, Neo-Classical, and Victorian ending up at Art Deco. It was compact, well-illustrated, and I left knowing more than when I started.
After a few hours at the ROM, we went across the street to the Roof Lounge at the Park Hyatt (nee Park Plaza) for a drink. They make a mean cappuccino up there, and put on a nice olive plate. They also have world-class washrooms and a great view over the new ROM.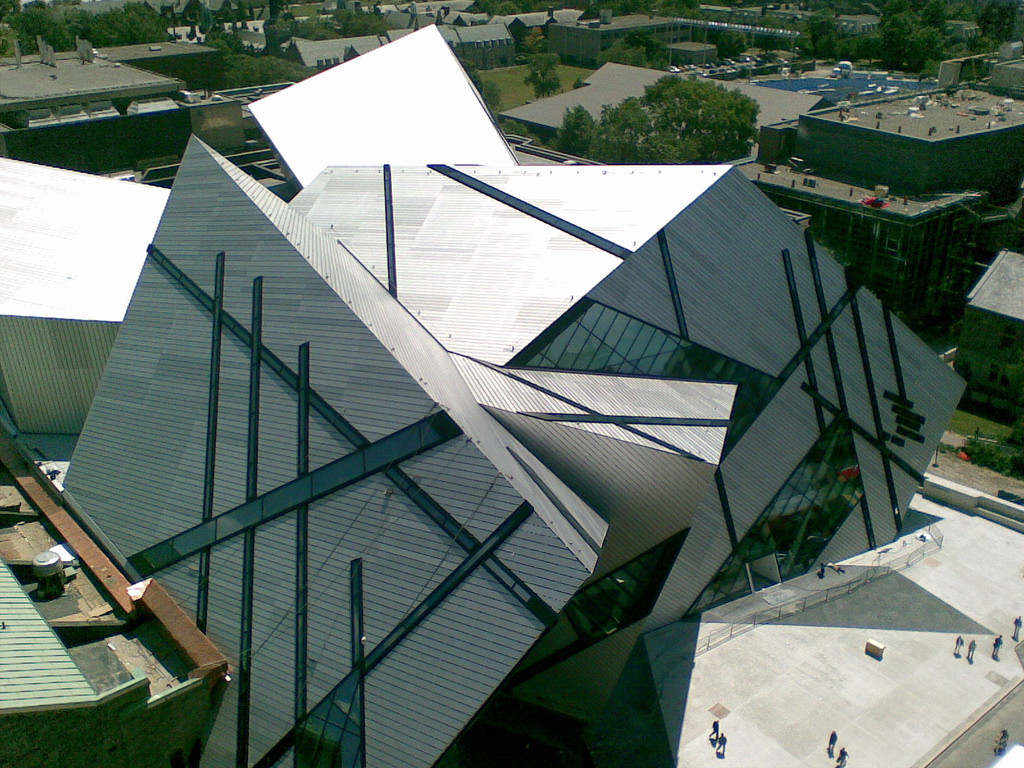 Sated, we headed down for a brief detour through Dad's old residence at Victoria College, and then walked south on University Ave. to College where we took the streetcar over to Bathurst to spend some time in Kensington Market.
It's odd, but I'd gone through 41 years without setting foot in Kensington Market. I had no real idea what it was — I suppose I assumed it was something along the lines of the St. Lawrence Market to the south (i.e. a souped up farmer's market). It turns out that it's actually a rather interesting neighbourhood and, by all appearances, the capital of a certain kind of Bohemia in Toronto.
We had a really good time wandering around for 2 or 3 hours. Mom bought an apron for 99 cents. I had an excellent espresso at Luis Coffee Stop (and I do mean excellent).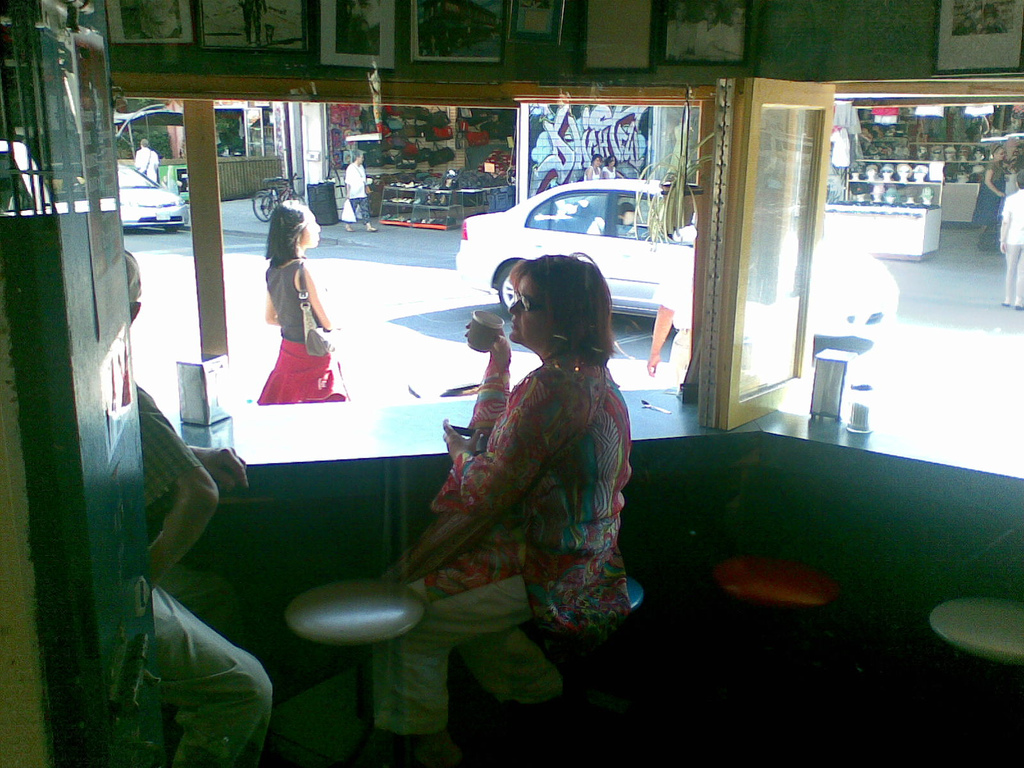 Dad bought some ginger tea, and then had a demonstration of a folding bicycle from a guy riding by. We had dinner at Freshwood Grill (they make a mean iced tea there) and then walked over to Spadina, across Dundas past the new AGO (likely the subject of a future architecture-whore visit) and down past the crazy new Sharp Centre for Design, a building that strikes me as among the most interesting buildings I've ever seen (I love it, I think).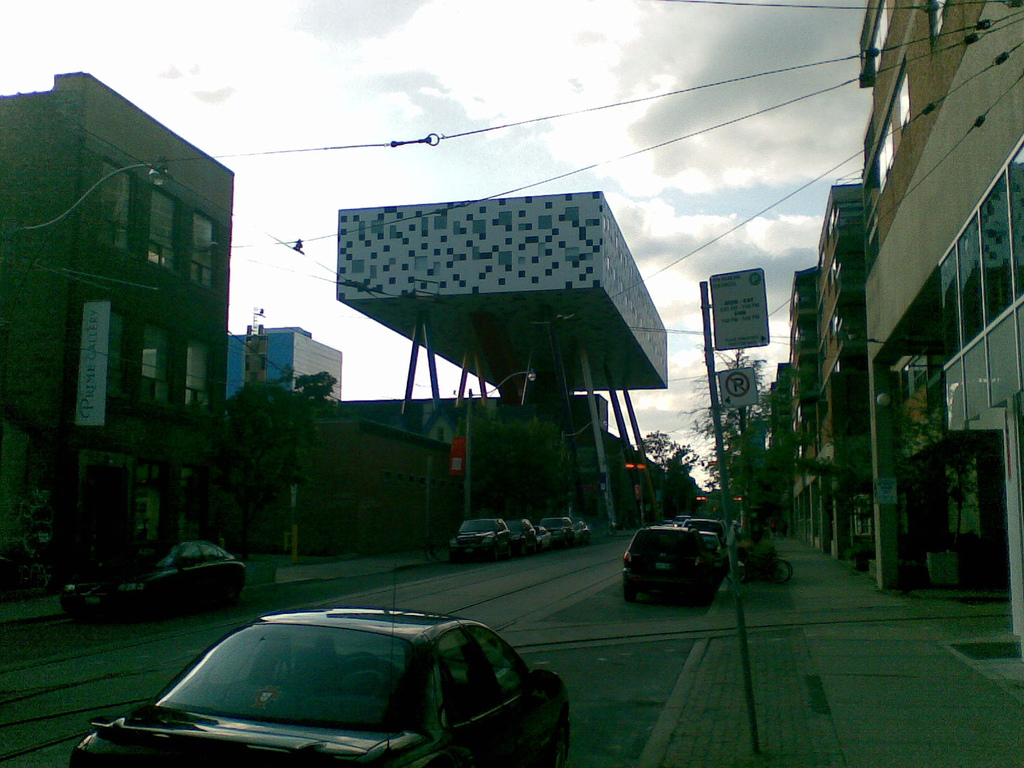 By 7:43 p.m. we were back at Union Station and on the GO Train home.
So really just a brief slice of Toronto. Or really two slices of two very different approaches to Torontoness, both of them compelling.
I might not exactly love Toronto yet, but I may be developing a crush.
There are more photos in the Flickr archive if you're keen.