In this CBC report about downtown Charlottetown parking there was mention that the developer of the proposed new downtown hotel, Homburg (emphasis mine):
…wants a new parking garage, built either next to the Charlottetown Hotel or on land behind the Queen Street Parkade. City council rejected that idea this week.
Here's the area in question: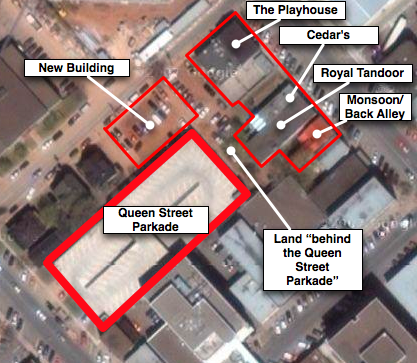 Without tearing down at least three buildings, those housing Cedar's, Royal Tandoor, Monsoon and Back Alley Records, as far as I can see there is no "land behind the Queen Street Parkade" on which a new parking garage could be built, other than the thin strip that's currently used to dump the existing garage's snow.
Am I missing something here?