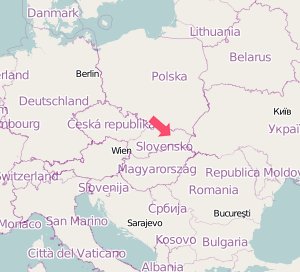 Oliver and I are off to Europe for the March school break (we're leaving Catherine at home to let her have 2 solid weeks of studio time to herself). While we booked tickets to London a few weeks ago, that was never our final destination; after flirting with various grand plans, including taking the train to Istanbul (which is now on the list for a future trip), we've settled on Kosice.
Until two hours ago I'd never heard of Kosice, which makes it all the more exciting a destination.
We're flying there from London Luton on SkyEurope Airlines, an airline I'd never heard of until two hours ago. They're running a buy-one-get-one-free promotion that ends today, so the total airfare for both of us came to 129 EUR (about CDN $200), taxes in. More excitement.
We'll spend two or three days in Kosice, then make our way by train to Vienna to visit a friend for a night, then onward by train to Nuremberg where we'll make a brief stop at the Playmobil FunPark, and then train it back to London for the flight home, possibly stopping in Paris for a night depending on the timing.