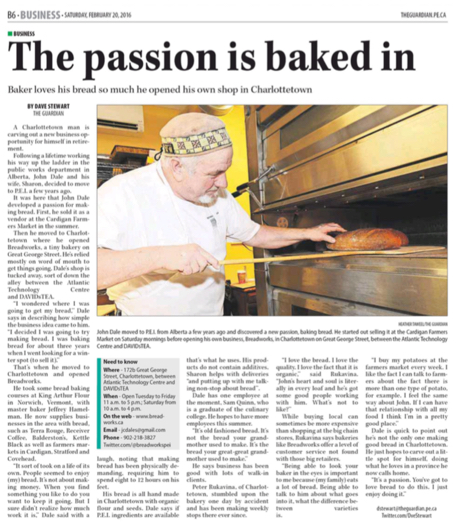 I got a call on Thursday afternoon from Dave Stewart, a reporter at The Guardian. He was writing a story for the business section about John Dale's Breadworks and, knowing I was a satisfied customer, wanted a customer's-eye view of the business. I happily complied.
The story ran in yesterday's paper, and when Oliver and I stopped by Taylor's Taters at the Charlottetown Farmer's Market to pick up potatoes, carrots and cabbage, Garth and Peggy pointed it out to us. I asked them if I could borrow their paper, and I got my first chance to read the final story.
Toward the end of the story I'm quoted talking about why I like buying my bread from John:
I buy my potatoes at the farmers market every week. I like the fact that I can talk to farmers about the fact there is more than one type of potato, for example. I feel the same way about John. If I can have that relationship with all my food I think I'm in a pretty good place.
Ironically, it was Garth himself I was referring to there as the farmer from whom I buy my potatoes; he didn't realize that when he read the story.
It is a small Island.