A commercial under the tagline "It's not what you think, it's what you know" has been running on the local CBC station here for the last while; the commercials drive traffic to a website with the same messages.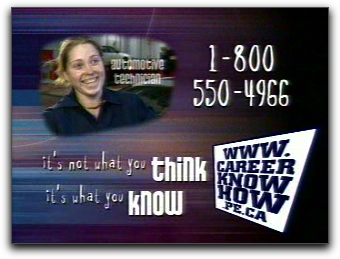 The campaign is funded by the Canada/Prince Edward Island Labour Market Development Agreement which is "co-managed by Human Resources Development Canada and the Provincial Department of Development and Technology." (Disclaimer: Reinvented was under contract to the Department of Development and Technology until earlier this year).

While the tagline — "It's not what you think, it's what you know" — is presumably intended to be some sort of tricky double reverse entendre, I can't help but feeling that it's a deeply wrongheaded message about career planning. Indeed, if I was running my own campaign, I might use the tagline "It's not what you know, it's what you think."

The message appears to be "don't treat yourself as an intelligent, thinking human being, treat yourself as a vessel waiting to be filled up with career skills so you can be an effective automaton for the trade economy."

The irony is that to excel in the trades — and I consider my work to be a trade as much as any other — requires the ability to think — to imagine, innovate, solve problems, improvise, ponder and solve — much more than the ability to execute a robotic series of tasks. As a prospective employer, I ultimately don't care at all what skills you have going in ("what you know"), I care about what kind of person you are, whether you have learned how to learn, whether you care about your work, whether you can work as a member of a team, and help to solve new and unique problems ("what you think"). Compared to those qualities, whether you can write elegant PHP code or not is, relatively speaking, irrelevant.

This is not to say that training, with the specific technical skills it allows one to develop ("what you know"), isn't important. But to suggest that those technical skills are more important than, indeed more important enough to supersede, "thinking" skills seems irresponsible. I've been through an apprenticeship, and learned a trade: I learned a lot of very specific (and now, alas, woefully out of date) technical skills. But my ability to thrive in that workplace, and my ultimate value to my employer, had much more to do with my ability to think than with my ability to know.

Perhaps I'm living in some idealized little bubble world where thinking is important. Perhaps I misunderstand the message of the campaign. Or perhaps I misunderstand the way the world of employment actually works. But on the surface, the message I'm getting from this campaign is "stop thinking and start working." Is that the kind of world we really want to build?