Yes, I know, I go on about this (For Public Public Spaces, Public Space should be Public, The Chieftains in Charlottetown: Is Borrowing Public Spaces Okay?).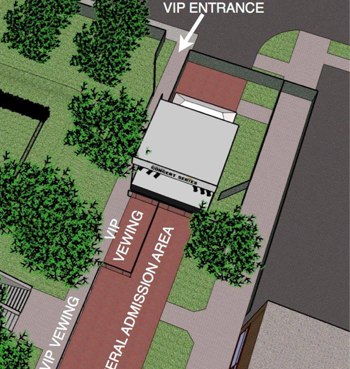 But it's something I believe strongly in, and I think it bears repeating: public spaces should be for the public.
With the Joel Plasket concert set to close off Victoria Row to all but paying customers this weekend, it again means that a public space that Islanders deserve free and unfettered access to will get walled off to those willing and able to afford a $25 ticket.
Whether it's streets or parks or squares, and whether it's rock shows or jazz shows or theatre shows, public spaces should be public.
Ironically, there was another model for holding an event on Victoria Row that played out this week: the Open Repositories conference held a Wednesday night event on the street, booking out all of the restaurants and bringing in entertainment (Colour Code, Ten Strings and a Goatskin, among others). And yet the street itself remained open, so we residents of the neighbourhood could enjoy the music – and access to the street – as we have a right to. Private space in support of public space: that's a good model (disclaimer: Mark Leggott, who chaired the conference, oversees Robertson Library where I am Hacker in Residence).
And last year's Island Fringe Festival used public squares effectively, sold tickets, and yet saw no need to wall off the squares for paying customers only.
All appearances to the contrary, I've no problems with music filling up my neighbourhood: Wednesday's event, and last year revivified PEI Jazz and Blues Festival were both credits to the area, and used the street effectively as a venue in a way that was open to all.
I just think it's wrong that public spaces get walled off for the preserve of the ticketed; it's especially egregious in a neighbourhood where many residents can't afford the cost of a $25 concert ticket, and so must look on from outside the prison gates at the use of spaces they've paid for, spaces we all own, are used for the the entertainment of the privileged few.
This is entirely within the control of the City Council, for events like this require a permit; if you agree with me on this, perhaps you could let your councillor know?