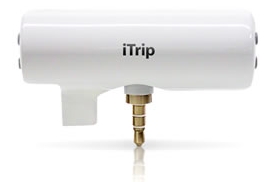 I just ordered one of these for my iPod — it's simply too well designed, and too "exactly what I need" to not purchase.

When I bought the iPod, I also purchased an iRock (must everything start with i now?). This unit works well, has a good battery life (though my father had a bum unit that needed to returned because of poor battery life).

It has two big drawbacks.

First, it only broadcasts on one of four frequencies (88.1, 88.3, 88.5, and 88.7 FM), which is a Really Big Problem here on PEI because Radio Canada broadcasts (or leaks heavily) onto all of them. A drive from Summerside to Charlottetown with the iRock tuned to one of those four frequencies will inevitably drop out at some point along Rte. 1 or Rte. 2.

Second, the "on/off" switch is a simply push button, with no lock, and it's impossible to carry in your pocket (or anywhere else, really) and not mistakenly turn it on (or off).

The iTrip addresses both of these problems: it's tunable (apparently using the iPod itself somehow) to any FM frequency. And, as it has no batteries (it gets its power from the iPod itself), there's no on/off switch problem. Indeed it powers off automatically after 30 seconds of silence.

It's not shipping until the foggy date of "Spring 2003," so I'm not sure when it will arrive; I'll report more when I've received and tested.