My great-great-grandfather, Nathaniel Caswell, was born, the first of 11 children, in 1835 in Innisville, Ontario. He died, 97 years later, in 1932, in Cobden. Here he is in 1925, at age 90, sitting atop the roof of a house he built himself: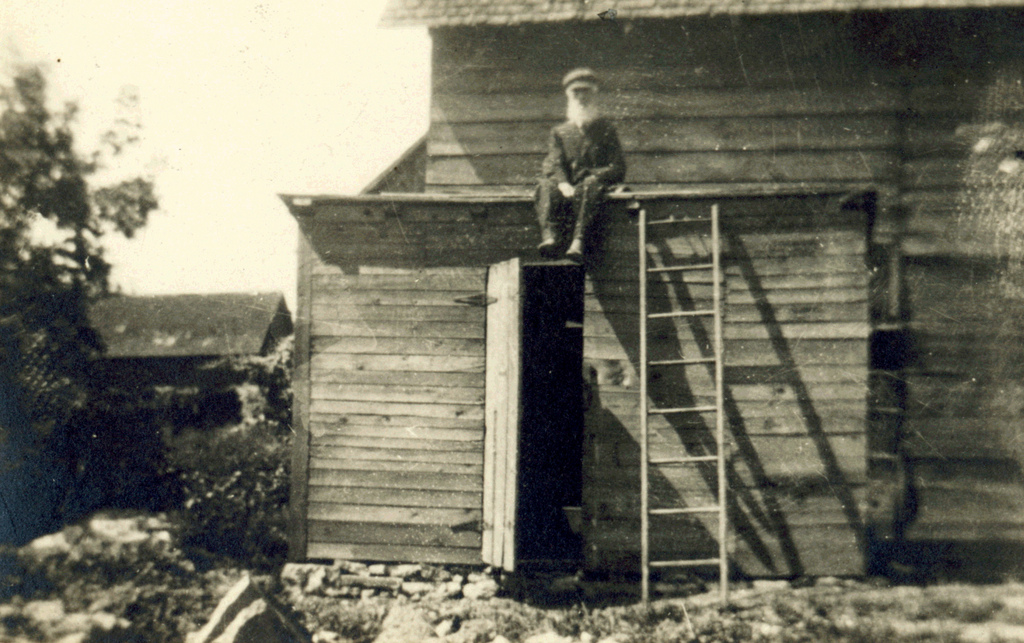 In Our Caswell Relatives he's described as a "man of high intelligence [and] an omnivorous reader [who] being gifted with unusual eyesight, could read without the aid of spectacles" and as someone who could "pass for having a much better education than he had ever received." His grandson, Dr. Robert L. Jones, recalls:
Nathaniel Caswell appears to have been very much respected as a citizen. He was notable for his easy-going nature and his tolerance of the opinions of others. He never got excited over things which were none of his business. He was a lifelong Conservative (except for one occasion when he voted for a candidate of the United Farmers of Ontario,  a deviation which he always subsequently regretted). My father, who considered this to be a compliment, not a disparagement, said of him that he lived so long and with so little illness because he never killed himself working. 
At the age of 92 he composed an autobiographical poem:
In 1835 I was born on a small piece of earth 
In a log house nine miles from Perth. 
My father and mother watched over my youth 
And taught me respect for religion and truth.

My brothers and sisters joined in my play, 
And helped me enjoy the sports of the day. 
My partner in life was loving and true; 
It was sad when the time came she had to depart. 
The hope of the Christian still rules my heart.

My sons and my daughters I also must say 
Are thoughtful and kind when I am old and grey. 
I never was rich but always had good hash 
A small share of brains, often scarce of cash.

And yet I have friends I'd like to greet 
But if on earth we never meet 
We all may come in love complete 
And join around the Mercy Seat. 
And when our earthly sands are run 
If we the great reward have won, 
We then may tune our voice and sing 
With Him who washed us in the blood 
And made us kings and priests with God.

If any should ask you who do you think I am 
You may answer and say, 
'It shure must be Than.'
If I'm still dangling my legs from the side of a shed and writing poetry when I'm in my 90s, I'll count myself lucky.