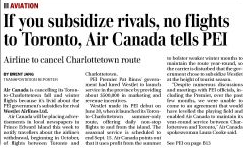 The CBC is reporting that Air Canada will cut its direct flight from Charlottetown to Toronto this fall. They quote a Globe and Mail story that begins:
Air Canada is cancelling its Toronto-Charlottetown fall and winter flights because it's livid about the PEI government's subsidies for rival WestJet Airlines Ltd.
The change won't exactly leave the Island cut off from the rest of Canada, but it certainly will have a negative impact on leisure and business travelers flying off-season because it will mean that all connections through Toronto will involve a flight to Montreal or Halifax first.