Back in the 60s when we first moved to Prince Edward Island (okay, it only seemed like the 60s — it was only 14 years ago…) you basically had two places to go for coffee that was better than plain old swill: the market and the hospital.
The Queen Elizabeth Hospital was home to the only Second Cup outlet on the Island, and thus one of the few places to have a machine capable of making good coffee. This led to the somewhat odd habit for Catherine and I of "going out to the hospital for coffee" when we first arrived here. Add in a couple of hours at the Charlottetown Driving Park betting on the horses, and you had a Saturday.
The Charlottetown Farmer's Market was, and is, home to Brett Bunston's small coffee stand, a regular stop for many market-goers.
This morning this included me: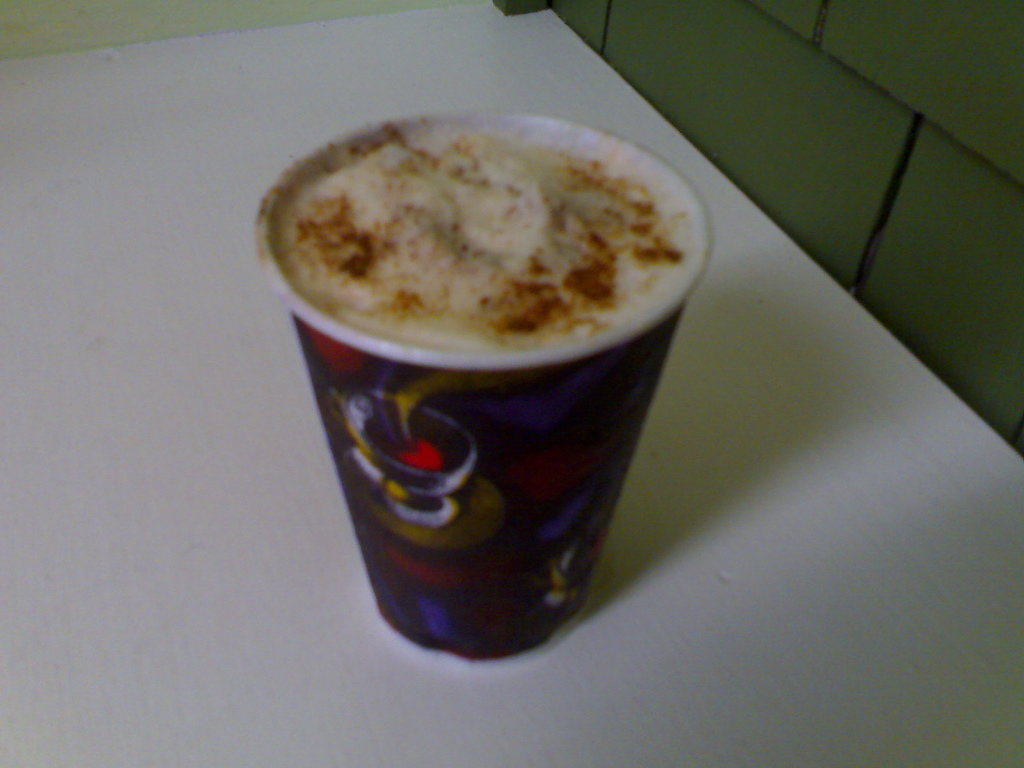 Now I understand what all the fuss is about, and why market people will arrange themselves in a claustrophobic line for 15 minutes to get a their fix: it was very, very good coffee.
The Styrofoam cup, of course, leads to some demerit points (they do offer "fill your own mug" service that would mitigate this). But otherwise I'd have no complaints: their foam was, at least in my limited 3-weeks as a cappuccino drinker, world-class. The coffee was robust without tasting like burnt rubber. Service was friendly.
This adds a new layer of complexity to the Saturday morning market routine: Saturdays have always been firmly rooted in Karin LaRonde's excellent iced tea, and I wasn't prepared to give that up (there's a good chance, I think, that if I stopped drinking Karin's tea, the whole house of cards might tumble down and she would stop making it). The solution was to go to the market earlier and stay longer, bracketing the experience with a cappuccino on one end and an iced tea — peach this week! — on the other.
The longer time spent at the market meant that we actually had time to buy produce, something, oddly, that we've never done before. So in addition to a coffee/tea buzz, we came home with 5 pounds of blue potatoes (from Taylor's Taters, operated by two of the absolutely nicest people you'll every meet: buy your vegetables there, please), 2 pounds of carrots (on orders from Don the Dentist, in order to encourage Oliver's wiggly tooth to exit), a cowboy cookie and three samosas.
And rather than splitting a smoked salmon bagel from Kim Dormaar's stand, we each ordered our own this morning, allowing Oliver to indulge in his love for capers and me in my love for dill.
Caledonia House has earned my Saturday morning cappuccino business, and I'm prepared to give Linda's a couple of days a week. Which means that the search is still on. Stay tuned.