Helpful readers Jevon and RobL pointed me to Linda's Coffee Shop in search of a decent cappuccino after my experiments earlier in the week turned up only pompous swill. Thank goodness they did.
At 7:00 a.m. this morning I walked down into the heart of Ye Olde Charlottetown and into Linda's, the only business open south of Grafton Street that early in the morning. I was the only customer in the place, and I parked myself right at the counter in front of the impressive coffee machine.
I ordered a cappuccino, an English muffin and a side of home fries.
And then I watched as my cappuccino was lovingly crafted by the owner — a complex dance of twists and turns and burbles ensued, and out the other end came my coffee: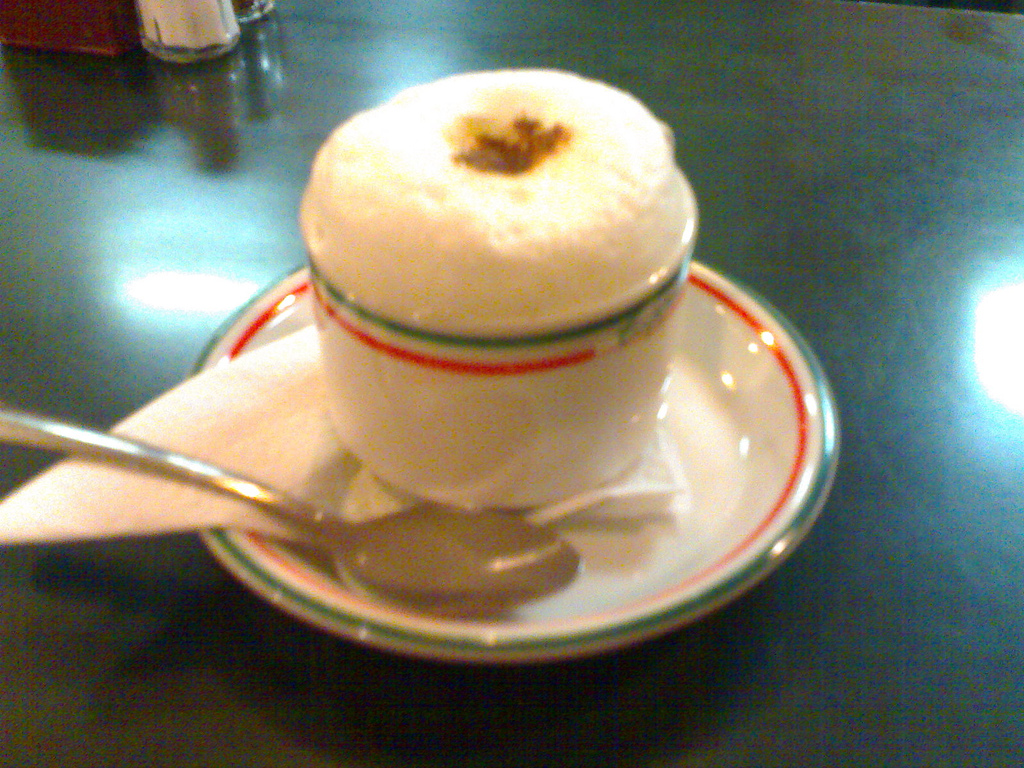 No precious glass decanter. No annoying wooden stir-stick. No attempt to create a multi-hued, multi-layered experience. Just coffee and foam served in a proper coffee cup with a tea spoon on the side.
I was beginning to lose hope. Obviously, by looking to the elite super-mochacinno-latte-bené palaces, I was staring in the wrong direction: if you want workaday cappuccino, go to a workaday coffee shop.
I was so happy to have found a place that approximates what I had in Italy that I walked over after my meal to thank the man who'd made it for me, and we had a nice chat.
Linda's cappuccino is still priced a little high for my tastes at $2.50, but after what I've been through this week I'm not going to complain. And they make a pretty good English muffin too.