Remember that night, back in the 1950s, when your Mom and Dad were out celebrating that new promotion. They were splurging — going to Enrico's downtown rather than the usual place around the corner. Enrico's had real cloth napkins, and a wine steward, and a fountain right in the middle of the dining room. After dinner they decided to make one last splurge — the bank was already broken anyway! — and have "special coffees" Maybe an "Irish Brogue" or an "Italian Sunset." The coffees came in glass decanters swaddled in cloth, on a special serving tray, with an exotic chocolate angel perched gingerly on the plate below.
Remember that night? Well that seems to be the plateau on which Charlottetown coffee shops place the cappuccino. Without sounding like a Euro-snob (okay, I realize it's too late for that): in Italy the cappuccino is a workaday drink, not special event. It costs about 1,20 EUR and it lacks any pretense or pomp.
Here in Charlottetown cappuccinos cost as much as a Big Mac, and they're served in pompous, delicate glass vessels that would be more at home at a cotillion than a jobsite. Like this one, at Mavor's: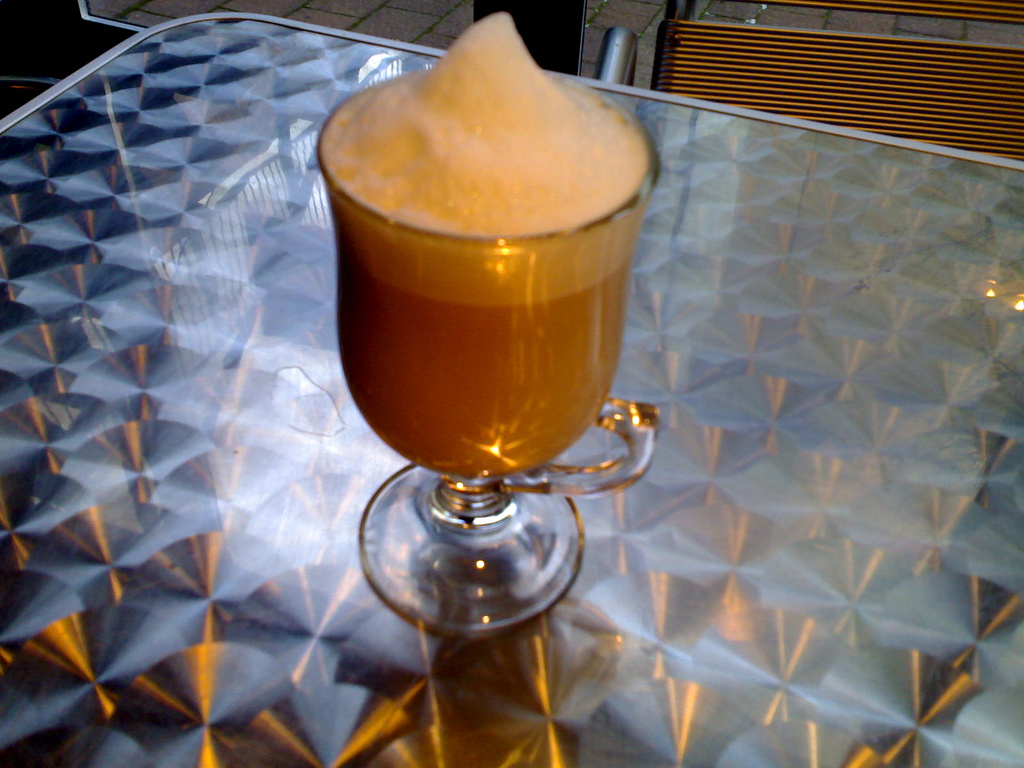 Not only are such vessels too precious to hold coffee, but they're not actually suited to the task at hand — they elevate the foam high about the actual coffee, thus preventing the two from the delicate dance required for each to achieve its optimal state.
Otherwise, the Mavor's cappuccino was about as bite-free and bland as you can imagine. It's not hard to imagine why Starbucks — whose coffee Mavor's "proudly brews" — has spread around the world like wildfire: if my cappuccino was typical of their swill, their product is designed to neither offend nor particularly delight anyone.
I promise that I'll shut up about all this shortly. Indeed I'm considered recanting my newfound coffee adherence, and going back to the simple life of an iced tea drinker.