Having failed to obtain cappuccino this morning, I launched a special follow-up mission at 11:45, integrated with lunching with Dan and Steven. Our destination: The Marketplace Café, the restaurant arm of Bruce MacNaughton's multi-tentacled downtown retail space in the old Woolworths store. I was not disappointed: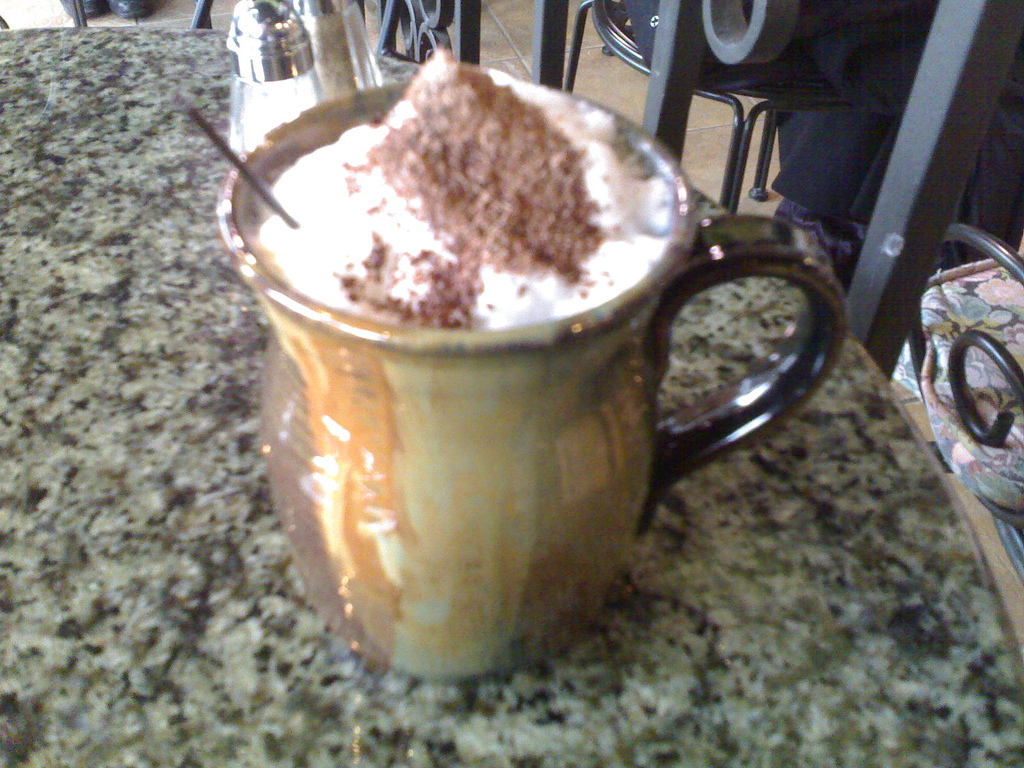 The coffee was excellent — Bruce tells me he sources it from Robert Bourgeois — and it was served piping hot in a quality Island-crafted mug. While the foam was a little too foamy for my taste, given the dreadful foam I've experienced elsewhere, I'll not complain. Given the hour I had chocolate sprinkles added to the top, something I wouldn't do at dawn; they were a nice touch.
All said, it was a pretty darn good cup of coffee; not quite hard-scrabble Italian workaday, but enough to satisfy my cappuccino fix.
Sadly the Marketplace Café doesn't open until 9:00 a.m., thus disqualifying it from a place in my newfound early-morningness. But as a later-morning fallback, I'll happily put it into rotation.
The rest of the lunch, by the way, was also quite good: I had a toasted club sandwich on focaccia and a bowl of cauliflower soup. This was served, pleasantly and unusually for french fry-obsessed Charlottetown, with a healthy bunch of raw carrots and celery . It was all very tasty.