So here's the problem: Catherine and Oliver are away in Ontario. I'm expecting an eBay shipment via Canada Post Xpresspost sometime today. At home. I hung around the house until 1:00 p.m., but eventually I had to get some work done, meaning that if the package comes I won't be there to greet it, and I'll have to go to the Post Office after 5:00 p.m. to pick it up.
But how will I know if delivery actually gets attempted?
Download SecuritySpy, install on Catherine's iMac, point her iSight camera out the front window at the vestibule, and configure to send me email when the camera detects motion.
Here's me, detected leaving the house: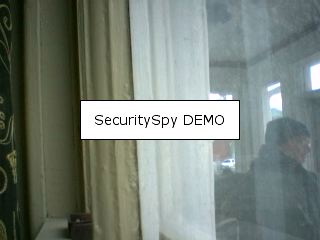 I'll let you know if this actually works out in the end.